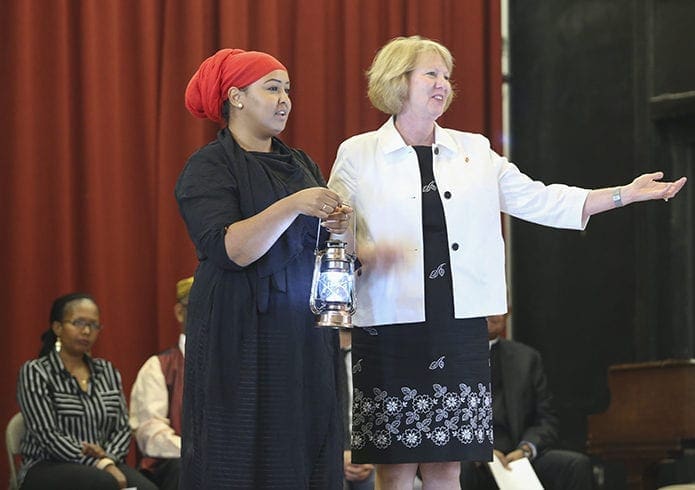 By ANDREW NELSON, Staff Writer
|

Published October 19, 2017

|

En Español

CLARKSTON—Before making the Atlanta area their home, the men and women on stage at the Clarkston Community Center faced persecution, and possibly death, before fleeing from Iraq, Somalia, Rwanda, Eritrea, Burma and Bhutan.

Leila Kabanda lived through the genocide in her native Rwanda. She watched the murder of her father as Hutu gangs targeted Tutsis because of their ethnicity.

Kabanda and her sister survived the slaughter by "hiding among the dead." She found safety by fleeing to a camp in Kenya.

On Wednesday, Oct. 11, Kabanda and others joined religious leaders from local Christian, Jewish, and Islamic faith communities to remind believers about the shared heritage across faiths to welcome the stranger.

"We pray today from the depths of our religious heritages to remind us all of the precious gift of freedom that we enjoy in this wondrous nation and the awesome responsibilities that flow from our freedom to care for those who come to us as brothers and sisters," said Archbishop Wilton D. Gregory.

The Archdiocese of Atlanta organized the multifaith community prayer, gathering people of different languages and faiths as part of Share the Journey, a campaign started by Pope Francis. At the launch of the two-year initiative on Sept. 27, the pope told the world, "don't be afraid" of migrants.

The papal initiative is supported by the U.S. Conference of Catholic Bishops, Caritas Internationalis, Catholic Charities and Catholic Relief Services.
Invited to engage with newcomers
The community center gathering launched the program in the archdiocese. Events for parishes in the archdiocese will be rolled out soon to encourage parishioners to engage with these newcomers.
The community center in Clarkston hosted the event. In this small community, about 40 percent of the residents are foreign born.
The refugees walked to the stage with unlit lanterns. Together, the migrants and a faith leader from each denomination later lit the lanterns, making them shimmering beacons.
Uhuru drummers provided music of Africa for the opening and closing processions into the center's Angora Hall.
The event's organizer, Kat Doyle, reminded the audience how the faithful are called to live with hope. Doyle is the director of Justice & Peace Ministries for the Atlanta Archdiocese.
"Hope is strong. Hope is good. Hope is what allows us to make a difference," she said, adding that fear accomplishes nothing.
Said Doyle of the refugees, "Listening to their stories makes it clear they are human beings who have suffered much."
About 10 percent of Georgia's residents were born outside the United States. The largest group of migrants is from Latin America, followed by Asia and then Africa.
Catholic Charities Atlanta's Refugee Resettlement Program welcomed some 280 individuals and families in the past year, said Francis McBrayer, director of the program.
"Leaving for safety"
At the community center prayer service, the six individuals who brought up the lanterns spoke briefly about what caused them to flee, with reasons ranging from helping American journalists and political coercion to civil war and genocide.
Nasra Yonis, 37, and her family fled civil war in Somalia in 1991.
"I heard a lot of gun shots. We had to leave for safety," said Yonis, wearing a red headscarf.
Her family spent a year in Kenya before resettling in Clarkston on what she remembered as a cold December day. Yonis arrived speaking only her native language, Somali. It caused challenges when she couldn't even ask in school about using the restroom. She now works to help settle other refugees with Catholic Charities of Atlanta, as a refugee support specialist.
"It's good to have community leaders who are here with open arms," she said. People who are fearful need only to talk with a refugee to hear their story, she said.
"Talk to refugees and immigrants, you'll see we're just like any other person," said Yonis.
At the ceremony, spiritual leaders from Christian, Jewish and Islamic communities shared reflections about caring and supporting immigrants. Among them were Bishop Robert C. Wright, of the Episcopal Diocese of Atlanta; Bishop Victor R. Atta-Baffoe, of the Anglican Diocese of Cape Coast, Ghana; and Rabbi Scott E. Colbert, of Temple Emanu-El, Atlanta.
Bishop Sue Haupert-Johnson, of the United Methodist Church North Georgia Episcopal Area, said when in Jerusalem she always visits the Yad Vashem Holocaust Remembrance Center. She said the Hebrew name means "a place and a name."
"Every human being is entitled to place and a name. A place where they are safe. A place where they can raise their family in peace. A place where they can be generation upon generation," said Bishop Haupert-Johnson.
Imam Salahadin Wazir, of the Ethiopian Higher Islamic Supreme Council, Stone Mountain, reminded the congregation how both Islamic and Christian scripture recognized one of the first migrations with Moses leading Jews from Egypt, followed by Jesus and the Holy Family escaping persecution. In Islam, the prophet Mohammed also fled people who threatened him, he said.
Migrants face severe difficulties as an exodus of refugees seek peace, he said.
"We need to learn better to help one another. We need to reach out to all of them and say to them, 'welcome to your new home,'" said the imam.
Archbishop Gregory said people forced to flee "need a gentle and compassionate welcome before all else. We open our arms in welcome and with a profound respect for their human dignity equal to our own."