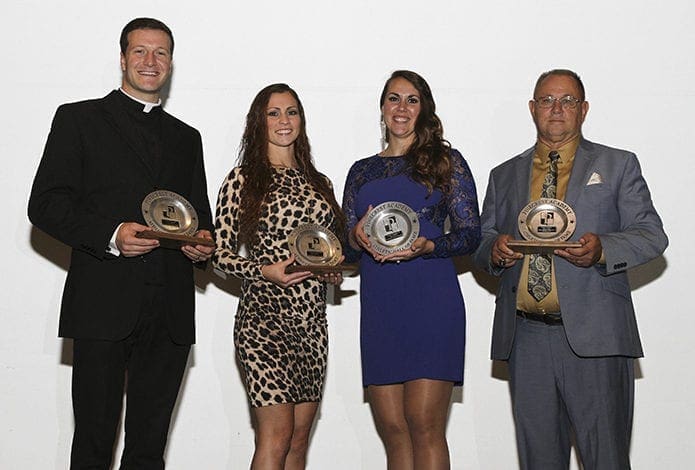 By MICHAEL ALEXANDER, Staff Photographer
|

Published September 21, 2017

CUMMING—Three former students and a coach became the first inductees into Pinecrest Academy's new Athletics Hall of Fame Sept. 16. The initial inductees include two sisters, 2007 graduate Leanne Cassandra and 2008 graduate Christi Cassandra; 2008 graduate Michael Metz, now an Archdiocese of Atlanta transitional deacon; and the school's first varsity head football and baseball coach, Charles Wiggins.

All four were acknowledged during halftime of the Sept. 15 home football game against The Walker School of Marietta. They were formally inducted during a banquet Sept. 16 in the Upper School gymnasium.
Leanne Cassandra
A three-sport athlete for the Pinecrest Paladins, Leanne Cassandra was captain of the varsity volleyball, basketball and soccer teams. She was a two-time All-Region and All-State selection for volleyball and soccer, and she was a three-time All-Region and two-time All-State selection for basketball. Leanne helped lead all three Paladin programs to the Georgia Independent School Association state playoffs in her senior season and the teams won regional championships in volleyball and soccer.
Christi Cassandra
Christi Cassandra was also a standout player in basketball, soccer and volleyball for the Pinecrest Paladins. She was a three-time All-Region selection for volleyball and soccer and a two-time selection for basketball. Christi also received All-State honors for all three sports. She helped lead the Paladin soccer program to two GISA Final Fours, and still holds the Lady Paladin basketball program record for rebounds in a career.
Rev. Mr. Michael Metz
Michael Metz cemented his Pinecrest basketball legacy during the team's January 2007 home opener against Holy Spirit Preparatory School of Atlanta. With approximately three seconds remaining in the game, and Holy Spirit clinging to a 1-point lead, Metz took the inbound pass, turned, took one dribble and threw up a shot from beyond half court. The shot went off the glass and into the basket to give Pinecrest a 2-point victory. From that moment on, it became known as "The Shot" or the "Metz Miracle." It marked the beginning of an intense rivalry between the two schools. Metz was a three-sport star athlete at Pinecrest, a three-time All-Region selection for football, and a four-time All-State selection for basketball. He was also instrumental in helping to establish the school's baseball program.
Coach Charles Wiggins
Charles Wiggins was Pinecrest Academy's first athletic director and he was also the first varsity head football and baseball coach. He helped the Paladins make a name for themselves in the GISA from 2004 through 2010. During that time, Pinecrest won four state championships and 16 regional championships. As the head football coach, Wiggins led the Paladins to regional championships in 2007 and 2009, and he was also selected as the Region Coach of the Year. While leading the football and baseball programs, 53 Paladin student-athletes garnered All-Region honors. Wiggins also led efforts to move Pinecrest into the Georgia High School Association in the fall of 2010, where Pinecrest currently competes today.
The new Hall of Fame program celebrates and showcases the history of Pinecrest Academy athletics.
"I think Pinecrest's inaugural Hall of Fame class represents what we wanted to accomplish in the first year," said athletic director Chris Kane, when the inaugural class was announced in August. "The inductees include some of the school's finest athletes from the earliest days of Pinecrest athletics and recognizes those who were instrumental in getting our programs off the ground. I could not have hoped for a more deserving group of athletes for our first Hall of Fame class."
Pinecrest Academy Hall of Fame inductees were selected by a 12-person selection committee, comprised of alumni, coaches, community members and teachers. A two-part voting process was conducted during the spring, with the committee selecting from more than 35 nominations. Eligible athletes must have graduated from Pinecrest Academy at least seven years prior to the year of nomination. Coaches who have not been in an active coaching position with Pinecrest athletics for three years prior to the year of nomination are also eligible.
---