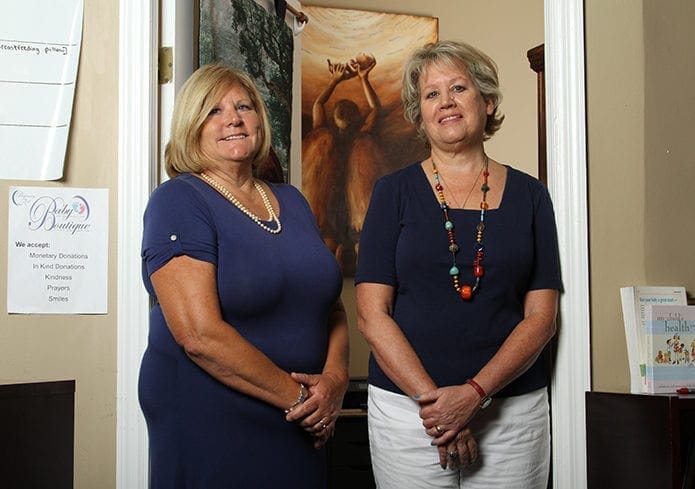 By NICHOLE GOLDEN, Staff Writer
|

Published September 7, 2017

|

En Español

ROSWELL—Jody Duffy, who became the director of Post Abortion Treatment and Healing in March 2016, knows firsthand the emotional and spiritual suffering of abortion, but also about the forgiveness available.

In her work with PATH, Duffy helps men and women suffering from a long-past or recent abortion decision, including a special outreach to military veterans.

Duffy, a mother and grandmother, found healing after attending a Mass for the Unborn at the Shrine of the Immaculate Conception in 2000. It was 20 years after she had had an abortion.

"I went there because it was time," said Duffy, of her attendance at the Mass. Her abortion took place when she was 21 while she was serving in the U.S. Army.

Duffy discovered PATH after attending the Mass. She attended one of its retreats. After healing from her own abortion, Duffy began to lead Bible studies and facilitate Rachel's Vineyard retreats for the ministry.

When PATH founder and director Mary Ann McNeil decided to step down to spend more time with family, she asked Duffy to consider taking the leadership role.

McNeil, who earned a bachelor's and master's degree in social work, began the ministry in 1996 after noticing the unmet needs of women who had abortion experiences.

"If it weren't for Mary Ann, I wouldn't be here," said Duffy.

PATH helps people face guilt and regret, and to reconnect with God. This step toward healing spurred Duffy to become involved in pro-life activities, even traveling to the nation's capital for March for Life events and giving testimony there to others about abortion.

"I never would've had the guts to go to Washington, D.C. It gave me the courage to do what I do now," said Duffy.

"When you have healing, it gives you confidence," said McNeil.

Often women or men have received the sacrament of reconciliation, but still suffer from the effects of abortion and loss.

"We can help with the grief process," said McNeil. "People stuff all these symptoms."

"Almost everyone we see blames themselves," said Duffy.

PATH volunteers also assist those dealing with anger toward others who played a role in abortion decisions.

"That's something that's not uncommon either," added Duffy.
Scriptures offer healing
PATH Bible study groups meet in various locations in the archdiocese. Men and women attend separate groups. They attend retreats together.
A new Wednesday morning Bible study will begin Oct. 11 in the Roswell-Marietta area.
The Bible study used is "Save One." Study workbooks are divided into chapters similar to stages of grief. Each requires looking up a number of Scriptures, which deal with the emotion referred to in the chapter. Participants complete journal entries that relate to the Scripture. This way of study helps the Scripture come to life and to be applied to an individual's experience.
PATH works confidentially and conducts intakes to see if clients need professional counseling for depression, anxiety or help with substance abuse.
Symptoms following an abortion may include an inability to forgive oneself, emotional numbness, guilt, shame, sorrow or depression. Often people use alcohol or substances to mask pain.
PATH has a variety of clients, including older women, couples and, increasingly, men who lost children through abortion.
PATH retreat "a safe place"
Steve Balmes attended a PATH retreat eight years ago.
"I had an abortion experience. I kind of buried it deep and knew I needed to get healing," said Balmes.
He had confessed to a priest his role in the abortion his former girlfriend chose, but initially was not open to further emotional work or retreats. While at the Eucharistic Congress one year, he spoke to a PATH volunteer. Balmes noticed PATH retreat dates in The Georgia Bulletin prior to the encounter.
"I remember thinking, I'm going to put this on the calendar," recalled Balmes.
The volunteer told Balmes she would pray for him.
Balmes was nervous as he drove to the retreat and thought, "How are these women going to look at me?"
He took out a rosary given to him by Father Paul Moreau.
"As soon as my hand hit the rosary, I sensed God was going to ask me to give it away," said Balmes.
He balked because of his sentimental attachment to the beads.
When the volunteer from the congress saw Balmes arrive, she started to cry.
Balmes surveyed the others attending and noticed a young woman with a tough exterior with her boyfriend.
"She really was mad at the world," he remembered.
When they broke into small groups, the woman's demeanor changed.
"She was totally different," said Balmes.
Being in the same group as the young woman, "helped me go back to that moment in time," said Balmes.
"I shared I had healing, but there were still a lot of missing pieces," he said.
A religious sister facilitating the group helped Balmes examine if he had done all he could to prevent the abortion. He realized he had blocked out experiences and conversations from that time period.
"My girlfriend said, 'I'm pregnant and there's nothing you can do about it'," remembered Balmes.
He admitted playing the victim's card, but the sister challenged him on that in a supportive manner. Balmes called the experience "life-changing."
"Does anyone have an extra rosary?" the sister later asked. It was for the young woman, who had arrived so angry.
Said Balmes, "This was the rosary I cherished for so many years. I just placed it in her hands."
Through the retreat, God spoke to Balmes and he helped someone else.
"The PATH retreat allowed me to have a safe place," said Balmes.
Balmes now has five children and he recently told the oldest two about the abortion.
The retreat helped strengthen his marriage and bring his relationship with his wife to a new level.
"I think he uses a lot of tragic things and brings beauty from it," said Balmes.
Healing from the abortion experience allowed him to be more involved in pro-life activities and follow God's calling.
Like an air mask, PATH helped him breathe. "The retreat gives you that time," he said.
Concern for military veterans
Duffy also focuses energy on outreach to post-abortive military veterans. She said unintended pregnancies are 50 percent higher in the military than in the regular population.
Many service members feel they have fewer options than those in civilian life. They may be more likely to choose an abortion if faced with being removed from training or reassigned or having a military career compromised, she noted.
"Regardless of the circumstances of the pregnancies and abortions, we are faced with a significant number of military women and veterans who are silently suffering from the choices they made while serving our country," wrote Duffy in the PATH spring newsletter. "I understand. I am a veteran who was once in that place. That is why the veterans outreach through PATH is of such special importance to me."
Duffy and volunteers attend numerous veteran events with ministry materials and raise awareness about a problem rarely discussed. The Catholic Foundation of North Georgia awarded PATH a $2,000 grant for the efforts.
Duffy graduated from Southern Illinois University with a degree in environmental science. She received a commission as a second lieutenant in the U.S. Army Intelligence Branch. She met her husband of 35 years, Maj. Gen. Bill Duffy (retired), while stationed in Arizona. She attended nursing school and worked as a health educator and nurse. They have three sons and several grandchildren.
The clients served become PATH's best ambassadors, agreed McNeil and Duffy.
What McNeil put together years ago, "really was a pioneer," said Duffy. "It builds and builds and builds."
"The healing really comes from the Scripture," countered McNeil.
God can use the experiences of clients to help others avoid abortion in the first place, noted the former director.
"PATH is not condoning abortion," emphasized Duffy. It's a misconception that some have about the ministry.
Something amazing would happen, said Duffy, if everyone who suffered from the effects of abortion would seek this type of healing.
"You would have the biggest pro-life organization out there," she said. "Mary Ann started something so profound."