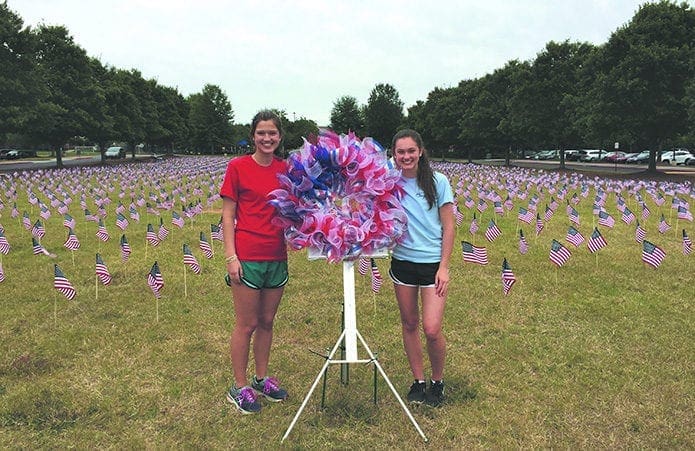 Published September 21, 2017
ROSWELL—Kathleen and Ryan O'Donnell, students at Blessed Trinity High School, noticed in the fall of 2015 that their Roswell school did not have a public memorial, like other local schools, recalling the 9/11 tragedy. The sisters instead would ask their mom and dad to drive by other local memorials to pay respect to the victims of the terrorist attacks.
In discussing the anniversary of the tragedy, the two thought about creating a 9/11 memorial themselves. This spring they received the endorsement of principal Brian Marks to create a 9/11 memorial on campus. Over the summer Kathleen, a junior, and Ryan, a sophomore, spent much time earning and collecting money with odd jobs and soliciting support from neighbors, going door-to-door and using babysitting and pet care to add to their funds. They reached their $1,000 goal before the new school year began.
They ordered 3,000 flags online to plant on campus, measuring the green space for the flags and planning the placement. Another friend made a wide red, white and blue wreath to place on the memorial. Each of the 2,977 victims was remembered by name with a laminated label placed on the wreath. The plan was to have the memorial on campus for students and staff through Thursday, Sept. 14.
The pair said that it's easier to pray for the victims and their families when their names are known.
On Saturday, Sept. 10, with the help of friends, family and faculty, the O'Donnells spent almost nine hours placing the flags on the green space in front of the high school, braving the cold, windy day.
However, Tropical Storm Irma caused the cancellation of school on Monday, Sept. 11, and the two and their mother went to repair and replace the flags that were moved.
Visiting the school the second day after the storm, the O'Donnells found some 1,000 flags displaced and damaged from the rain and wind. The two students and family members spent the morning of Sept. 12 repairing the memorial.
When school reopened the following day, the principal said a prayer for the victims of Sept. 11. Students could see the memorial for the event that took place before many of them were born.
At the day's end, friends helped remove the flags. The plan is to clean the memorial flags and store them for next year. The two hope it becomes an annual tradition at the school and will be preparing a how-to book to pass on the tradition to other students after the O'Donnells graduate.