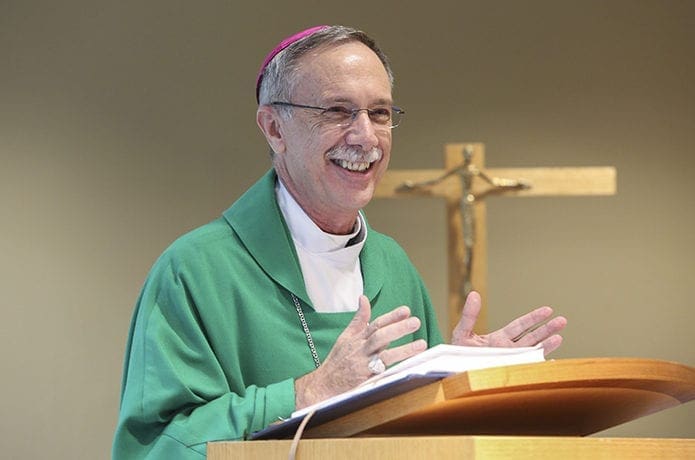 By GRETCHEN KEISER, Staff Writer
|

Published September 7, 2017

|

En Español

ATLANTA—In an interview before he left the Archdiocese of Atlanta, Bishop Luis R. Zarama smilingly acknowledged that every step forward in his priesthood—from pastor to vicar general to auxiliary bishop of Atlanta and now to bishop of Raleigh, North Carolina—has been "a surprise" and a significant new challenge.

Each time "I never expected it and I was not looking for it," he said.

It's no secret that his 10 years as pastor of two churches in the north Georgia mountains, St. Mark and St. Helena, were a great joy for the native of Colombia, perhaps just the right geography of land—and of the heart and spirit—for a young priest learning many things, including improving his English. Those were the years from 1996 to 2006.

Since he became a diocesan administrator in 2006 and an auxiliary bishop in 2009, the Lord has taught him "to enjoy chewing paper," he joked at his farewell luncheon at the Chancery.

But although it let him see how many challenges there are in the administration of the church and how often emails and letters replace face-to-face communication, he found the Lord called him to grow and that the mystery of life was "surrounded by plenty of signs of God's presence around us."

"Gratitude is my word for what all of you did for me," he told Chancery staff members. "The office is empty, but my heart is full of your love, which I appreciate a lot. All of you … helped me to be who I am today. You are coming with me in my heart. I will pray for you. Please pray for me. I love you."
"Be open to the people"
He will be drawing deeply from his experience as a pastor now that he is responsible for a diocese.
He thinks that the most important message for the church to communicate right now is "to let people know how much God loves them," following the lead of Pope Francis.
"We need to learn the true love of Jesus" and what that means, he said.
His motto as a bishop, chosen eight years ago, is "God is love." But he underlines that the love of God is not superficial or sentimental.
"Love is always a relationship with a challenge. Love is something that challenges us, but challenges us to do better," Bishop Zarama said.
Many people today "are living in the moment, without hope," he said. "Nothing tastes good."
"How do we let people know that love exists and hope is there?" he asked.
"The love of Jesus always helps us to go beyond the material things," he said. "Our hearts were created to love. He is calling us to love."
"In the mystery we celebrate, we always find hope, and when you find hope, you find joy."
Asked how he tried as a pastor to let people know the love of God for them, he said he would be at the church for confessions every Friday from 2 to 8 p.m.
"Be open to the people to come in and talk. Be able to go out and visit people in their homes, the emergency phone calls in the evening to go to the hospital," he said.
Driving the 25 miles back and forth between St. Mark's in Clarkesville and St. Helena's in Clayton to celebrate Mass "it was beautiful."
When he first arrived it was a two-lane road. Later it was widened to four lanes. He would celebrate Saturday vigil Mass at 5 p.m. in Clayton and 7 p.m. in Clarkesville and on Sunday celebrate 9 a.m. and 1:30 p.m. in Clarkesville and 11 a.m. and 7 p.m. in Clayton. Plus there would be weddings, baptisms and quinceañeras.
"I put in a lot of miles. At the end of the day Sunday, when I was driving back to Clarkesville, I would say, 'Lord, when I die, I want it to be after one of these Masses. … If you can do that, that would be great.'"
"Adjustment goes both ways"
During his years in the Atlanta Archdiocese, the diocese changed dramatically and his appointments mirror some of the changes. He was the first Hispanic priest to become a pastor in the archdiocese at a time when there were estimated to be about 200,000 Catholics overall. He became a U.S. citizen in 2000.
As he moves from Atlanta to Raleigh, there are over 1 million Catholics in this archdiocese and the whole Catholic community is characterized by diversity, among its priests and its people. The Hispanic Catholic community is a major reason for the growth, but to speak only of that doesn't communicate all that has happened in the last 20 years, he said.
"It is more than the Hispanic community. … We have a large Vietnamese community. We have a good number of Koreans. People are coming from many African nations," Bishop Zarama said.
Experiencing this growth and this diversification of cultures and languages within Catholic parishes has taught him that "the process of adjustment goes both ways."
Like siblings adjusting to a new baby in the family, newcomers and those already in a church community need time to get to know each other and "to see each other," he said.
"It is difficult to do something (together) if we don't know each other," Bishop Zarama said.
The community that receives new members needs to find a way "to tell them what it means to be here," he said.
"It is our responsibility as a church to help them acclimate to a new culture … helping them feel welcome in our churches, in our parishes, and helping them to know it is another country. The most important thing is to feel respect."
This is what he is most quick to point out when asked what brings him the most satisfaction from his years as a pastor in Clarkesville and Clayton.
"How we worked together across cultures," he quickly responded.
"The community was able to build a new church because the whole community worked together to build a church that was needed."
"The beautiful thing is to see how generous the people are," he said.
Adoration in the parish showed its effects in many ways that could be considered ordinary, but that were really exceptional, he said, such as creating unity, helping people work together well and spurring generosity.
"Luis, you need to be ready"
As auxiliary bishop of Atlanta, he was able to experience a larger perspective of the church and it has left him with two very strong memories.
"One beautiful gift and gratitude is how I was welcomed everywhere—for confirmations, schools, Masses—everywhere. That is a blessing—to feel the love of the people, to be with them," Bishop Zarama said.
"Another beautiful gift or memory is that I was able to drive all around the diocese, to see how each parish has its own personality. … Each child in the family is unique. It is the same thing with our parishes," he said.
Some time ago, Archbishop Wilton D. Gregory tried to prepare him for the possibility that he would be asked to lead another diocese and leave Atlanta.
"Luis, you need to be ready," the archbishop told him.
"Ready for what?" Bishop Zarama asked. "Ready to move," the archbishop said, adding, that since Bishop Zarama had had to leave his home country to come to Atlanta for the priesthood, this time a move would be easier.
Bishop Zarama responded, "When I left Colombia, I was 30. I have been living here in Atlanta for 28 years. It is not easy at all thinking of leaving Atlanta, not at all. My whole priesthood has been here in Atlanta."
When his cell phone vibrated while attending a meeting of bishops of the province in Charleston, South Carolina, he saw the 202-area code for Washington, D.C.—residence of the pope's U.S. delegate—and he knew its significance.
Archbishop Christophe Pierre told him he was named bishop of Raleigh.
"I was in shock," he said.
"Thanks be to God, I get along very well with the bishops in the province and each one will be a resource for me," said Bishop Zarama.
"That is a great joy, knowing I will stay in the same province."
In addition to Archbishop Gregory, the province includes Savannah Bishop Gregory Hartmayer, OFM Conv., who served as a priest in the Atlanta Archdiocese for many years and was a colleague of Bishop Zarama. He said every bishop in the province will assist him as he enters this new role as diocesan bishop.
"Everything is a treasure, every experience from the beginning until now. How many lessons I have learned. … Everyone who has been a part of my experience in Atlanta has been a blessing of the Lord."
He added, "My first priority in Raleigh will be to get to know the diocese. I am going there with a desire to know and love and serve them" and help them "in knowing and loving and serving the Lord."