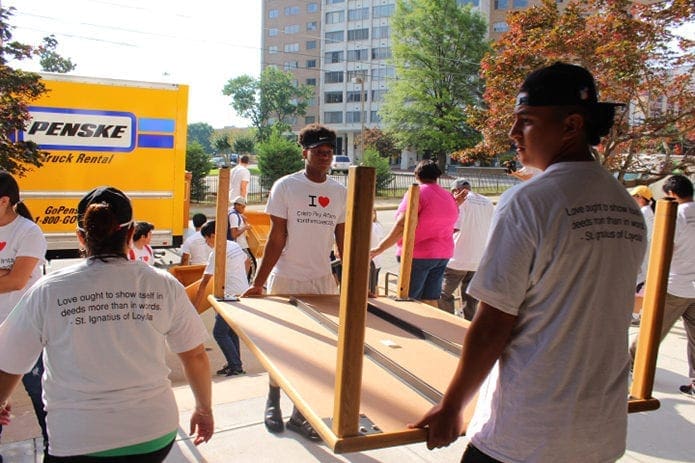 By ANDREW NELSON, Staff Writer
|

Published July 6, 2017

ATLANTA—Cristo Rey Atlanta Jesuit High School for the first time will have an entire high school student body, from veteran seniors to wide-eyed freshmen, when classes reconvene.

Freshmen students start arriving for a summer academy July 24 at the school's new location in downtown Atlanta after a $21 million makeover of the donated building. Classes for all grades begin Aug. 7.

"We are thrilled with our new building, but our big concern is maintaining the sense of community we developed when there were fewer students, faculty and staff," said Principal Diane Bush. "We've learned so much these last three years concerning how to meet the needs of our students, and we want to continue to improve what we do."

Construction crews ripped apart a 50-year-old office building at 222 Piedmont Ave. to convert it into a 21st century school, with state-of-the-art science labs and cloud-based internet access. It will be home to 525 to 550 students.

The Jesuit-sponsored high school for students from families with lower incomes outgrew its midtown Atlanta site where it opened in August 2014 with its first freshman class. A grade was added each year since. The school offers students a college preparatory education with a corporate work-study component. A fee paid by the employers to the school covers nearly all the tuition cost.

The renovated seven-story building is double the size of the previous site, formerly the chancery of the Atlanta Archdiocese. The school now occupies 70,000 square feet. The building at 680 West Peachtree St., which was provided to Cristo Rey Atlanta rent free by the archdiocese, is now on the market.

Jada Milligan, a rising senior, said saying goodbye to the midtown location was harder than she expected. The building held a lot of memories from when she faced her fears about learning business etiquette to the times she practiced volleyball in the parking lot. A gym was not possible there.

"In my experience, I've never been to a gym for volleyball practice," said Milligan, part of the first senior class.

But the new school has great new lockers and better classrooms, she said. School unity is important so she hopes the students find ways to keep the tight-knit atmosphere they've had.

A goal for school leaders was to be in a permanent location before the first graduating class received their diplomas.

Deacon Bill Garrett, school president, said the pioneering students who took a chance on Cristo Rey Atlanta and who will graduate in 2018 need to be tied by senior class memories to this new building. Students will then be proud of this school after they graduate, not the previous location, he said.

They will be treated to some traditional high school experiences that for them will be brand new.

"We've never had a home event. We've never had students cheer for other students. We've never had a pep rally," he said.

With their first gymnasium scheduled to be complete by Thanksgiving that will change.

"They would feel like this is their school when they came back. I think that's great," he said.

The former Oxford Industries building is topped with a large Cristo Rey sign, visible from Freedom Parkway and I-75/85 cutting through the city.

An Atlanta real estate developer, Jim Cumming, donated the Piedmont Avenue property. The contribution was valued at $4.5 million.

During the renovation, it became a modern school. Each grade has a floor. Students can break into small study groups at tables in common areas.

The principal called the science labs a key educational tool.

"Hands-on learning in the sciences is so important, and now our students have labs where they can take the lead in uncovering science principles for themselves instead of reading about science in a book," Bush said.

Where once executives of the clothing line had lunch with a view of downtown skyscrapers, teachers will relax in a contemporarily designed lounge with couches from Havertys. A volunteer crew of hundreds helped the school make the move in early June.

The high school has 140 corporate partners who provide entry-level job experiences for Cristo Rey Atlanta students. Each student works five days a month, gaining real world experience that is credited with making the model so successful in drawing Cristo Rey graduates to then attend and graduate from college.

Launched in Chicago in 1996 by Jesuit Father John Foley, there are now 32 Cristo Rey schools around the country with a total of almost 12,000 students. One hundred percent of Cristo Rey graduates have been accepted into college.

With the major milestones behind him, Deacon Garrett said the success was the payoff for a lot of work by others and prayer. He recalled how a final gift of $1.3 million ended the capital campaign as the deadline approached. He said those major gifts typically fuel a campaign at the start, never at the end. The school surpassed its capital campaign goal, raising $30 million.

"I have a feeling of great gratitude. My role in this was a tiny part. There were so many times it wasn't any of us. It was divine intervention," he said.