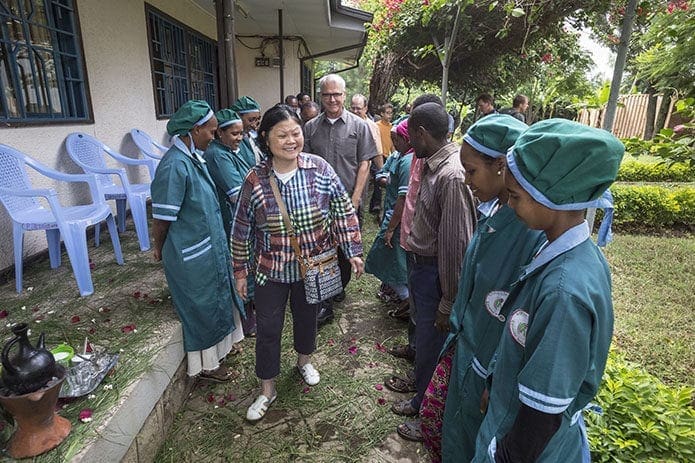 By ERIKA ANDERSON REDDING, Special to the Bulletin
|

Published March 23, 2017

ATLANTA—In an evening filled with prayer, personal sharing and even dancing, women from several walks of life came together to discuss their significance in the Catholic Church and their vision moving forward in today's world.

Hosted by the Aquinas Center of Theology at Emory University, "Women Leadership in the Catholic Church: A Conversation with Dr. Carolyn Woo," featured a woman religious, a not-for-profit leader and a theology doctoral student, who joined Woo for the event Feb. 23. Woo, who recently retired as president and CEO of Catholic Relief Services, was recovering at her home after a car accident and spoke to the audience via Skype.

She opened by saying that in her life, the one thing she is sure of is that God never leaves us.

"Through the whole journey—through the ups and downs and the difficult moments, and when I step back now, the statement I could make is that God has always been there," she said. "Sometimes we feel like it all depends on us, and we worry ourselves to death, but actually it turns out we were never alone."

The evening began with a Scripture reading and prayer led by Adrian Dominican Sister Mary Priniski.

"As we light the Christ candle, we know that God is always present with us, even when we don't recognize that. So tonight as we begin, we put all of what we're doing in the context of prayer, and we remember that God is present with us, and that God will be leading our discussion. Any insights that we give will be gifts of God and gifts to one another," she said.

They concluded the opening by playing "Brave" by Sara Bareilles and encouraging participants to dance and sing along.

Sister Priniski spoke first about the word "church" and what its implications are.

"When Vatican II came along, we were taught that we are a pilgrim church, and that the people are the church. The church is the people of God. But I have to tell you these days that when anyone says, 'the church says this,' I don't think about me as the people of God," she said. "I think about the hierarchy. I think about the institution. So we have this kind of schizophrenic thing in our heads: We are the church and the church is the institution."
Discovered faith community in college
After asking audience members to share in small groups about what the church means to them, Sister Mary turned the focus to Woo, who spoke about how she came to know the church as a child, as a young adult, and as the leader of the worldwide Catholic relief agency of the U.S. bishops.
Raised in Hong Kong where she was taught by Maryknoll sisters, she said her educational experience revealed to her what people were willing to do for the love of God.
"I saw the power of that love within (the sisters) and that can-do attitude. There was just nothing they couldn't do. And the spirit—the sheer joy and spirit that came with it. That was a very formative experience," she said.
Her next experience of church was as an undergraduate foreign student at Purdue University, in Indiana, where she made the Catholic student center her home and learned what community means.
"Church is community. It is the body of Christ," she said. "It gave me not only a very positive experience but a commitment to what it means to be part of that body."
She earned three degrees at Purdue, including her doctorate, and later served in an executive academic capacity there and then as dean of the Mendoza College of Business at the University of Notre Dame.
Her third experience is of the global church, which she got to know in her work with CRS. She became the president in January 2012 after serving on its board of directors from 2004 to 2010.
She spoke of the need for both the freedom of the spirit and the institutional structure of the church.
"The church must be spirit, because it's God's love. It must be people," she said. "But it also requires structures—structures that allow generations of people to know the word of God, to receive the sacraments to be able to go out and serve."
"I know some people may think negatively of the word hierarchy, but it's not necessarily a bad thing," Woo said. "It can be exploited. It comes with tremendous responsibilities. Sometimes those are exercised well—sometimes they're not. But when the hierarchy works, it is the reason the Catholic Church has been able to move through 2,000 years of history and do the work of evangelization and formation."
Honor commitments, glorify God
Woo shared more of her own experiences growing up in Hong Kong, where her grandmother was one of her grandfather's four wives. Women were tasked to marry well and be very dependent upon their husbands. She learned of the ingenuity and resiliency of women then.
"Women are always expected to do everything, so we are always multitasking. You have to raise your children; you sometimes have to take care of your parents—and at the same time you hold a job," she said. "I really deeply believe that God multiplies our work. I don't believe that we do our work on our own. I think that we're all doing one thing through different activities—and that one thing is to honor the people and commitments in our lives in a way that glorifies God."
Catherine Perry, founder of InwardBound Center for Nonprofit Leadership, and Layla Karst, a Ph.D. candidate at Emory, led a round of questions with Woo, who spoke about the women she has encountered throughout the world. Taking care of women's health and ensuring their basic rights can change the world, she said.
"How do we protect their health? How do we give them rights? Rights to land, rights to a bank account, for example?" she asked. "Because if you do those things right, you solve the rest of the problems. We now have 65 million refugees—the last thing they want is to be a terrorist. They just want safety and a better life for their children."
Many who attended the event left inspired. Renata Shore and Susan O'Donnell, friends and parishioners of St. Benedict Church in Johns Creek, came specifically to hear Woo speak.
Shore said she also learned a lot from the other panelists.
"I thought Dr. Woo was wonderful, but Sister (Priniski) really struck me as someone so wise," she said. "I was so glad she started us out with prayer. It helped set the tone."
O'Donnell said Woo was a great example of the power of women in the church.
"I've been involved in the church in so many ways—from faith formation to the nursery. I was even an altar girl when I was younger," O'Donnell said. "I also have friends who are very involved in Catholic Charities and other ministries. Hearing Dr. Woo speak tonight about women making a difference was really inspiring."