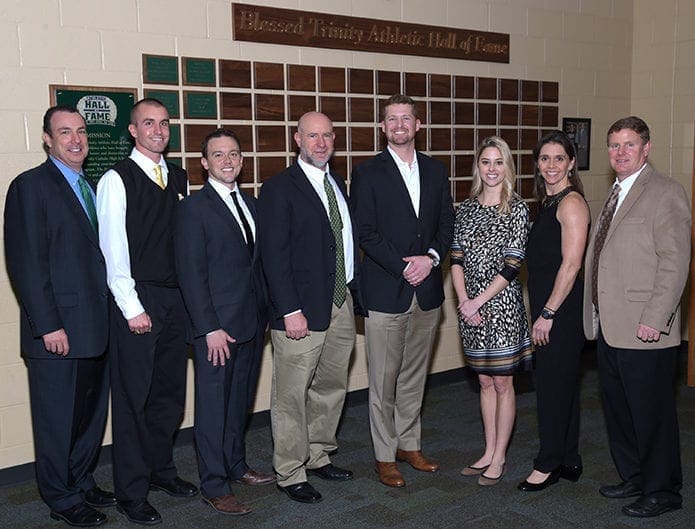 Published February 9, 2017
ROSWELL—Blessed Trinity High School inducted three alumni into its Athletic Hall of Fame during a ceremony on Jan. 14. The 2017 inductees were Chase Oliver, who graduated in 2004, and Eric Maust and Caroline Vaughn, both 2006 graduates.
"These three former student-athletes inducted into the Blessed Trinity Hall of Fame helped start the strong athletic program we have today," said Ricky Turner, Blessed Trinity athletic director. "Not only did they have outstanding high school careers, but they had a big impact on the university that each one attended."
Oliver ran cross-country for the Titans, leading the team to its first state championship in 2003. He was named an all-state runner in his junior and senior years. After high school, Oliver attended Auburn University, Auburn, Alabama, where he continued his running career for the Tigers.
Maust was a three-sport athlete for BT, playing football, basketball and baseball. He was a member of the 2006 state-championship baseball team, the 2005 regional champion football team and the 2004 basketball team, which made the playoffs for the first time in team history.
Maust was all-state in football and baseball during the 2005-06 school year and was the Class AAA state baseball player of the year as a senior. He attended the University of Notre Dame, South Bend, Indiana, where he played football and baseball.
Vaughn was a member of the Titans track and field team. During her high school career, she won three individual state championships, the 100- and 300-meter hurdles in 2004 and the 100-meter hurdles in 2005. Vaughn was also state runner-up five times in hurdles.
She attended Wake Forest University, Winston-Salem, North Carolina, where she continued her hurdles career and earned All-ACC honors as a junior.
"Chase, Caroline and Eric continue to represent Blessed Trinity with the career paths that they have chosen, their spiritual faith and their community involvement," said Turner.
This marks the third group of inductees, joining 2015 inaugural inductees Brooke Alexander and Tyler Flowers and 2016 inductees Jack Andrews, Kara Kasten Mullins and Alison West Hollstegge.