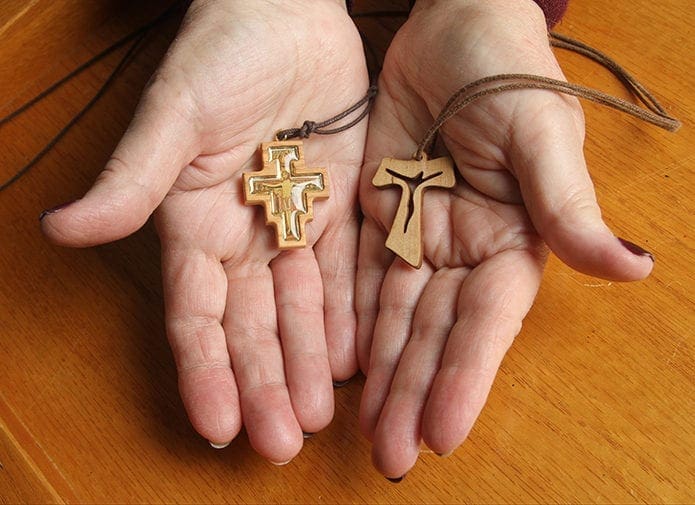 By NICHOLE GOLDEN, Staff Writer
|

Published February 24, 2017

This is the second in an occasional series featuring area Catholics deepening their faith by affiliating with religious orders.

ATLANTA—Every religious order has a special charism, and for the Franciscans it's about fraternity.

On the second Saturday of each month, a group of some 30 Catholics gathers around circular tables in the San Damiano House at St. Philip Benizi Church in Jonesboro.

After Mass, members of the Immaculate Conception Fraternity of the Secular Franciscan Order meet to pray, enjoy refreshments, partake in spiritual formation, and to hear ways their friends are living the faith daily.

The Secular Franciscans visit the sick, work with humane societies to find homes for stray animals, serve the poor and dedicate time to parish ministries.

"We are a joyful group," said Barbara Reich, a professed Secular Franciscan.

Some of the members are retired, some are homemakers, others teachers or business professionals. Professed members are not called to leave their world but to transform it through prayer and service in imitation of St. Francis of Assisi, who made Christ the inspiration and center of his life. Through prayer, frequent Mass and Communion, and serving others, particularly the poor, Secular Franciscans follow this particular charism.

The journey to becoming a professed member involves three stages—orientation, inquiry, and a candidacy period of at least 18 months. St. Francis himself established their rule of life. Some find their way to the Secular Franciscan Order by studying the life of St. Francis, and others through becoming acquainted with members.

For Helene Ward, a professed member of the Immaculate Conception Fraternity, it was a pilgrimage advertisement in a parish bulletin that started the process years ago.

"I went on the pilgrimage to Assisi. I knew I wanted to go," said Ward. Her travel companion was her elderly, yet willing aunt.

"Most of the people were aspiring to be Secular Franciscans," she said about the other pilgrims.

Ward found them all to be "so peaceful, loving and kind."

In addition to coordinating fraternity meetings, Ward lives the Franciscan spirit in a variety of ways. She takes the Eucharist weekly to nursing home residents who are unable to attend Mass.

At the group's first meeting of 2017, she organized the traditional Extraction of the Saints. Each member drew the name of a Franciscan saint as a patron of the year, along with the name of a fellow member for whom to pray.

The priests of St. Philip Benizi Church, who are Conventual Franciscans, support the group in spiritual endeavors.

"They'll come and do formation," said Ward.
Vital to be fraternal
In the Archdiocese of Atlanta, there are six fraternities, all under the regional Southeast fraternity known as the Brothers and Sisters of St. Francis Fraternity.
Kenneth Brooke, of the Stigmata of St. Francis Fraternity, which meets at St. Benedict Church in Johns Creek, said each local fraternity is "canonically established."
"We're in lockstep with Rome. We've always had that linkage," said Brooke, a professed Secular Franciscan, who also serves as treasurer of the regional executive council.
St. Francis of Assisi established the order in the 13th century. Secular people were drawn to his ministry and message of conversion and penance. St. Francis formed the penitents into the Brothers and Sisters of Penance, later called the Third Order of St. Francis. In 1978, the name was changed to the Secular Franciscan Order.
The Stigmata of St. Francis Fraternity members come from eight parishes within an hour's drive of St. Benedict.
"Our footprint is pretty large," said Brooke. "We're trying to grow. We have about 18 people. We have 13 professed."
The four pillars of the Secular Franciscan Order are spirituality, formation, fraternity and apostolate.
Brooke acknowledged that the fraternal nature of Franciscans is key.
"It's important to be with our brothers and sisters," he said.
A convert to the Catholic faith in his 30s, Brooke explored the Carmelites and Dominicans. He is also a member of the Knights of Columbus.
"I kept looking for a group," he recalled.
Brooke decided to see what Franciscans were about and discovered something about himself.
"Pretty much all my life, I'd been a Franciscan," he said. "It took me a long time to realize."
Brooke's background is in environmental engineering, air pollution control and groundwater remediation, and he has an interest in recycling. St. Francis, author of "Canticle of the Creatures," is often connected with care for the environment because of his love of creation.
Secular Franciscans don't need to "live large"
The fraternity members take part in pro-life activities, in adoration at the parish, and support the Haiti twinning mission of St. Monica Church in Duluth, fostered by the late Deacon Edward Rademacher, a Secular Franciscan.
"Francis, for him, it was always about the cross," said Brooke. "For seculars, our poverty is spiritual poverty."
Evangelical or spiritual poverty means placing total confidence in God, showing gratitude to God for goods received, and being good stewards of the gifts, sharing them with those in need.
"We don't need to live so large," said Brooke.
Continued spiritual formation is vital to fraternity members.
"We stay abreast of trying to grow in our faith," he said.
Other local fraternities meet at the Catholic Center at the University of Georgia in Athens, St. Francis of Assisi Church in Blairsville, St. Pius X Church in Conyers and St. John Vianney Church in Lithia Springs.
The Immaculate Conception Fraternity is the oldest in the archdiocese with its canonical establishment in March 1959. In 2009, Pope Benedict imparted a papal blessing for the group's 50th anniversary. It is growing, with two people initiated as candidates in January after six months of study in the inquiry phase.
During 2017, the Jonesboro Franciscans will study the beatitudes, one each month.
Lori Moran leads spiritual formation programs for the group and launched the program on the beatitudes, the "core of our Christian life."
The friars will present programs for the remainder of the year.
Practicing spiritual poverty
Moran said the first four beatitudes address one's relationship with God, while the second four deal with relationship to others.
The beatitudes, she said, are the highest ideals of Jesus' teaching on spirituality and compassion.
"And it works even within our fraternity," she said.
The group won't just read the ideals but practice them, like a ballerina would rehearse diligently to be proficient in pirouettes.
"We're going to have different things we need to work on," said Moran.
Moran read the first beatitude, "Blessed are the poor in spirit for theirs is the kingdom of heaven."
"The first part is God's blessing on us. And the second part is how we're being blessed. It's like our reward," she said. "There's got to be the realization that we have nothing and can do nothing without God."
Moran said to become spiritually poor one must be rid of anything that prevents growing in love with God.
Moran admitted she plans to work on not criticizing others and having patience.
"We must live our lives in total dependence on God and the way to do that is to come to him with deep contrition . . . just throw ourselves right before him and with no arrogance, no self-righteousness, and humble ourselves before him, just throw ourselves at his feet," she said.
The poverty of spirit will "bloom and grow as you empty yourselves," added Moran.
While in prayer, Moran likes to look at Jesus' outstretched arms on the crucifix.
"Maybe it could be a visual for you, too; to just open yourselves to God, to experience that freedom," she said.
Those who repent and submit to the will of God find the kingdom of heaven here.
"Coming into harmony with all people, that is what heaven on earth is. You transcend things. You transcend all of that junk, all the insults, all the things that occur that are keeping you from God. You completely surrender your whole being to God," said Moran. "And isn't that what Francis did?"
---
This is the second in an occasional series featuring area Catholics deepening their faith by affiliating with religious orders.