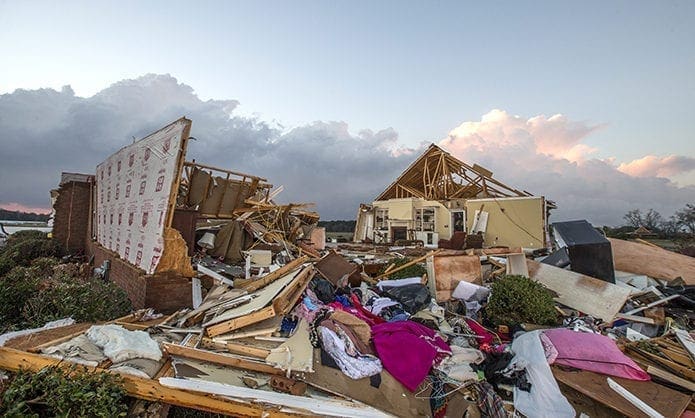 Published January 26, 2017
ATLANTA—Archbishop Wilton D. Gregory is encouraging parishes wishing to support tornado relief efforts in south Georgia to contribute to the American Red Cross.
Fifteen people in south Georgia died Jan. 22 in severe thunderstorms and tornadoes. Many families have been displaced from their homes.
Archbishop Gregory contacted Savannah Bishop Gregory J. Hartmayer, OFM Conv., and Catholic Charities about the devastation in the diocese and ways to respond.
After consulting with Sister Patricia Brown, director of Catholic Charities in Savannah, Bishop Hartmayer said he believes it preferable in this instance to work with agencies already on the ground providing aid and assistance.
The diocese does not have a mechanism in place to provide direct help, but the local parish in Adel, in Cook County, is supporting the efforts of the First Baptist Church. The church is distributing blankets, food and supplies to those affected. At least seven people were killed in Adel.
Donations to the American Red Cross may be made online at www.redcross.org. Click on the "Donate" tab, choosing "Donate Online" and then, under "I want to support," select "Southern Tornadoes and Storms."
"The important thing is not the way our Catholic families assist, but rather that they do," said Archbishop Gregory in a memo to pastors and parish administrators. "The people of God in our archdiocese are always incredibly generous in responding during these difficult moments."
The archbishop asked for continued prayers for all impacted by the storms.