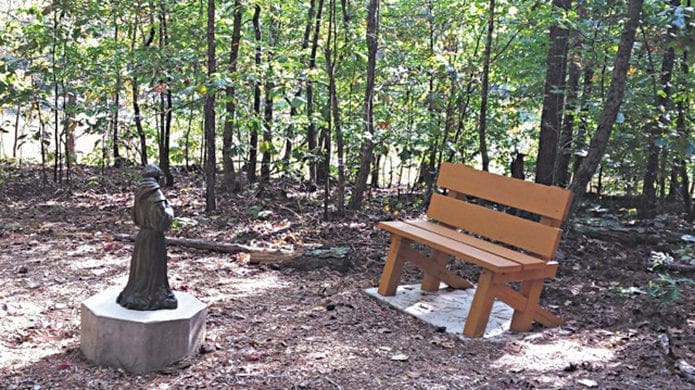 Published December 22, 2016
FLOWERY BRANCH—Members of Prince of Peace Knights of Columbus Council 13457 designed and installed a new St. Francis Grotto.
The addition of this new reflection area culminates another year-long effort to further beautify the trail, which has been adopted by the Knights for quarterly maintenance and renewal.
The 3-foot statue sits upon a rebar reinforced pedestal containing eight bags of Quickrete.
A dedicated crew of Knights leads quarterly workdays with parishioners to spread mulch upon the trail, remove downed trees and install new edging along the borders.
The trail was originally constructed as a nature path running from the church property to the rectory in 2006 and has been progressively expanded by Eagle Scout projects and Council 13457 volunteers. Last year, the council built and installed 12 new cedar stations of the cross, complete with tin roofs, to replace the original decaying stations. The trail was rededicated as the Deacon Al Samoranski Memorial Trail earlier this year to honor the former assembly friar and council chaplain, who died in 2015.