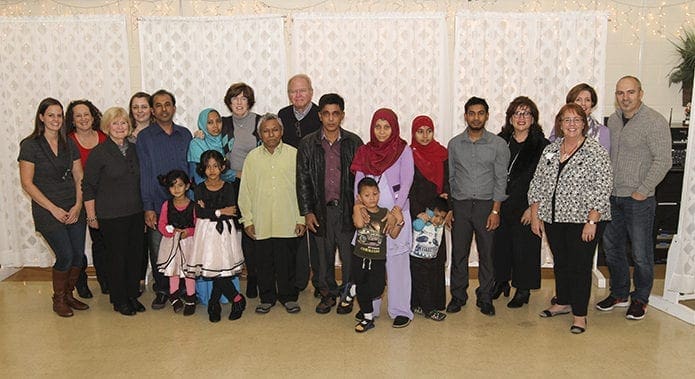 By NICHOLE GOLDEN, Staff Writer
|

Published December 22, 2016

PEACHTREE CITY—The support of volunteers from Holy Trinity Church in Peachtree City has helped a multi-generational family of refugees thrive since arriving from Myanmar in April.

Parishioner Jennifer Harmeling organized the effort, partnering with Catholic Charities to assist the family in adjusting to life in their new country.

Harmeling and others greeted the family at Hartsfield-Jackson Atlanta International Airport, furnished living spaces for them, and connected them with employment and educational resources.

The family of 11, who are Rohingya people, spoke no English. Amnesty International and other human rights organizations call Rohingyas the "most persecuted" ethnic group in the world.

Harmeling said the family no longer has to fear violence or death.

"They're not human," she said of how the minority group is viewed by the government in Myanmar. "You're not allowed to work, kids can't go to school."

The patriarch of the family, Mohamed, lost his wife to illness. She initiated the asylum-seeking process while in a refugee camp in Malaysia but did not live to see the outcome.

The father is joined by his three daughters, their husbands, and four grandchildren.

Refugees register with the U.N. High Commissioner for Refugees and request third country resettlement. If requesting asylum in America, they are referred to the U.S. State Department and undergo security and medical checks. If approved, the State Department sends names to resettlement agencies, including the U.S. Conference of Catholic Bishops' Office of Migration and Refugee Services. Catholic Charities Atlanta receives refugees via the bishops' conference.

Refugees receive Medicaid benefits for eight months but must pay back travel costs within 42 months. For the family from Myanmar, this debt was close to $11,000.

The family is increasingly self-sufficient and the younger men are employed.
Former refugee finds jobs for three men
While Catholic Charities uses volunteers known as Family Friends to help refugees, Holy Trinity is the first parish to officially adopt a family in 13 years.
Holy Trinity previously adopted the Hoti family escaping war-torn Kosovo in 1999.
Gerry Carolan led that effort and shared lessons learned with Harmeling.
"I've gotten so much out of it," said Harmeling. "They really are sincere people."
She said the family just wants security and education for their children.
Collecting household items and setting up the apartment was the simple part. Other issues have been tougher to address, including transportation.
"It's been the most challenging thing in my life," said Harmeling.
She has thanked God every night for providing for the family.
"People have come out of the woodwork. It makes me like fall and cry," said Harmeling.
There were times in the last eight months when a particular need arose and Harmeling had to admit, "I am lost. I have no idea what I am doing."
In those instances, divine interventions took place, she said.
Milaim Hoti, a son of the family the parish resettled 17 years ago, befriended the new refugees.
"He made sure all three of them had jobs," said Harmeling.
Hoshizaki, an ice machine manufacturer in Griffin, employs the men. For several months, a team of volunteers took the men to work and picked them up daily.
"It is miraculous," said Carolan of the opportunity.
For Hoti, it's about giving thanks for living the American dream.
"It's our responsibility to be able to go back and remember where we came from," said Hoti.
Camaraderie has developed between the men and their co-workers.
"They work hard. They do their job. I think they have huge potential," said Hoti.
The Hotis enjoys a special bond to this day with Carolan.
"I tell her all the time I still drive by her house," said Hoti.
Carolan's former residence is where the Hotis first came to stay after fleeing war and a grim stay in a refugee camp.
Hoti and his mother immediately felt comforted when they saw a picture of Mother Teresa in Carolan's home.
Many of Hoti's childhood friends were Catholic, and Mother Teresa, of Albania, was from their part of the world.
"I couldn't describe that morning," he said about waking up in America.
Hoti, who like the family from Myanmar is Muslim, has gone out of his way to help, said Harmeling.
Volunteers developed a relationship with representatives of the mosque in Fayetteville and were invited to a meal at a September event there.
"We were so warmly welcomed," said Carolan.
Cultural adjustment is daunting
Rallying behind the family has become an interfaith endeavor.
Harmeling's neighbors are Mormons and provided the family with diapers and other food pantry supplies.
Meals and hospitality are something the family, in turn, shares with their new friends.
"They can cook for us. It's the only thing they can give," noted Harmeling.
The young mother has learned much throughout the process.
"I finally am starting to grasp the cycle of poverty," she said.
Although the men are working, they have no established credit and are unable to move to a new rental property or obtain cell phone contracts.
Still, they are making plans for the future.
"They have the hope of owning a home," said Carolan.
Holy Trinity volunteers conduct ESL lessons with situational learning. Two of the children are enrolled in public school. Their English has improved immensely.
"They went to a Head Start program over the summer," explained Carolan.
Teaching the family to sort through mail and about the value of time is challenging due to cultural differences. In Myanmar, the family bartered or paid cash for needed items.
"It's very difficult to figure out what's important … this whole idea of having bills, writing checks," explained Carolan.
Harmeling bought calendars to stress the importance of writing things down.
"We're trying to give them the wings they need," she said.
First party of her life for 5-year-old
Volunteer Lisa Chambliss is called the "fun one." Chambliss meets up with the family for fun activities and treated them to their first Fourth of July celebration.
Harmeling gives special credit to Joan and Win Rorabaugh.
"She and her husband have been absolutely instrumental," she said.
Joan Rorabaugh loves spending time with the children. She planned a birthday party for Shamsheda, who turned 5 in August. It was the child's first party.
"It takes a village," said Rorabaugh. "It's been life-changing. You look in their faces and let them tell you their stories."
Win Rorabaugh pals around with the guys, who call him "Uncle." He taught them about use and care of golf carts, which helps the family get around in the cart path community. He also helped them shop for steel toe boots for work.
"I took him for granted. He took care of everything," said Harmeling.
Volunteer Cathy Nelmes focused on helping family members prepare for written driving tests. The parish committee purchased a used car and signed it over to one of the fathers when he earned a license.
Parishioners Mary Ann Cox and Kathy Fox, inspired to help through JustFaith, lent a hand by taking family members to doctors' visits and other appointments.
"I think people pitched in where they knew they had strengths," said Fox. "It's been wonderful to get to know them. I'm just really thankful to be part of it."
Cox was amazed that Harmeling, who was a new parishioner, was able to take on the challenge.
"Jennifer just fell out of the sky. She had these wonderful plans," said Cox.
On Dec. 4, volunteers held a brunch for the Holy Trinity community to meet the family. Father John Murphy, pastor, attended the brunch. Also attending were Vanessa Russell, CEO of Catholic Charities Atlanta, and Kimberly Longshore, refugee resource coordinator for Catholic Charities.
The Peachtree City family has a support system and welcoming environment that many of Atlanta's refugees don't have.
Increasing its volunteer base would enable Catholic Charities to provide this type of support to more refugee families.
Harmeling hopes other churches will follow suit.
"I want to encourage other parishes," she said.
"We have a special responsibility," said Carolan.
---
For information on volunteering to help refugees resettled by Catholic Charities, contact Kimberly Longshore at 678-222-3964 or klongshore@ catholiccharitiesatlanta.org.