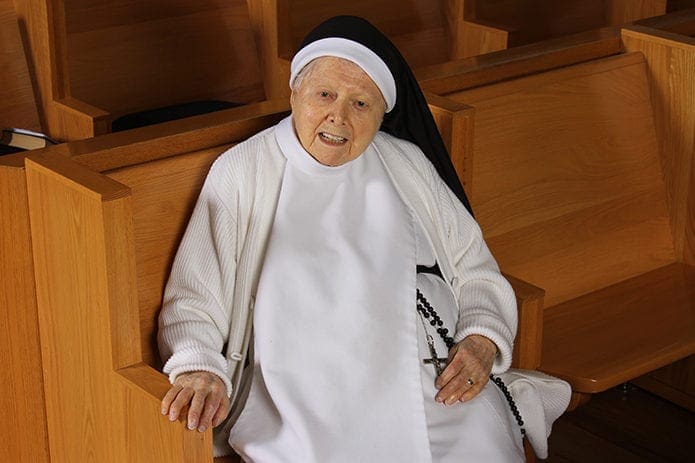 Published November 3, 2016
ATLANTA—Sister Mary Ellen Rahill, OP, of Our Lady of Perpetual Help Home, died after more than 50 years of ministry with the Dominican Sisters of Hawthorne. She was 96.
She died on Tuesday, Oct. 11, at Our Lady of Perpetual Help Home, in Atlanta, following an extended illness.
In 2013, she celebrated 50 years as a Hawthorne Dominican.
A native of Bayside, New York, Sister Mary Ellen was the third daughter of Thomas and Ellen Rahill. From her youth, she said her desire was to be a nun, but she didn't pursue it until she was in her 40s. Sister Mary Ellen had been around nuns her whole life, including attending Catholic school.
"I did want to be. I was afraid to ask," said Sister Mary Ellen in 2013 about her late-in-life vocation. She was 43 when she made her profession of vows on Sept. 14, 1963.
Sister Mary Ellen worked for her father and had other jobs, including as a bicycle mechanic after high school before entering the convent.
She entered the community on Oct. 7, 1961. She served at five of the eight homes operated by the Dominican Sisters of Hawthorne. She worked with impoverished cancer patients in Atlanta from 1989 to 1998 and again from 2002 to her death.
In his eulogy, Father Paul Burke, chaplain for the cancer home, said Sister Mary Ellen in her prayer book carried two letters, both dated 1961: one about her interest in the Hawthorne Dominicans and the other confirming the receipt of the dowry when she entered the community.
"This was her vocation and mission. She never doubted God's plan for her life," he said.
He said she shared a birthday with St. John Paul II and died on the feast of St. John XXIII.
"In my mind's eye, I can imagine her between them: 'Make room for me boys!' She had St. John Paul's faith, wisdom and compassion. And she had St. John's goodness, humor and height," said Father Burke, remarking about her Irish humor.
Through her early 90s, Sister Mary Ellen attended Mass every morning. Her daily prayers included asking God's help in finding others to serve the poor cancer patients after her death.
"It has been very fulfilling for me," she said. "It was good work here and I enjoyed it."
Predeceased by her parents, her sisters, Mary and Helen, and her brother, Thomas, she is survived by a sister-in-law and several nieces and nephews. A wake was held on Thursday, Oct. 13, at the cancer home, and a Mass of Christian Burial was celebrated on Friday, Oct. 14, at the chapel in the home. She was buried at Westview Cemetery.