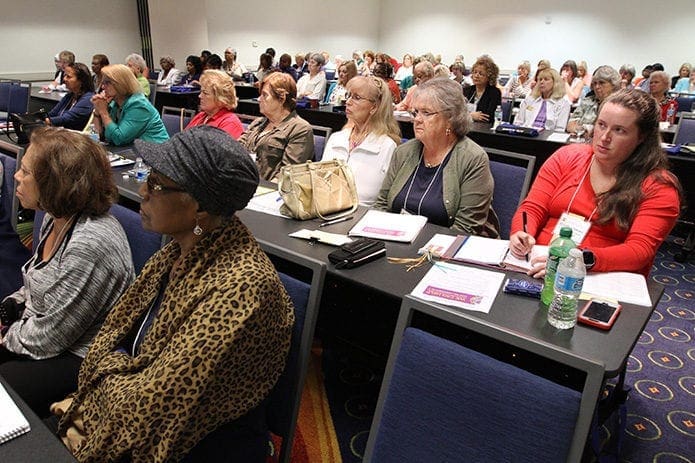 By JEAN DRISKELL, Special to the Bulletin
|

Published October 20, 2016

ATLANTA—In its 60th anniversary year, the Atlanta Archdiocesan Council of Catholic Women chose the theme of mercy for its convention held at the Atlanta Marriott Northwest at Galleria Sept. 16-18.

Over 130 women of the archdiocese gathered to learn about child sex trafficking, a major part of human trafficking; the importance of listening to God's voice in developing one's spirituality through forgiveness, mercy, and trust in God; and to hear encouragement from the archbishop and one of the recently ordained priests of the archdiocese.

Andrea Worley, training coordinator with Georgia Cares, spoke at the service commission workshop. Georgia Cares is a nonprofit developed in 2009 out of the Governor's Office for Children and Families to serve U.S. victims of child sex trafficking up to 18 years old.

Worley trains groups to raise awareness about domestic minor sex trafficking and commercial sexual exploitation of children.

"We are the single, statewide coordination agency for victims of domestic minor sex trafficking," Worley said.

She said staff follow victims throughout their rehabilitation.

"Our staff works with these victims for long periods of time until they are ready to resume normal life activity," Worley said, adding, "as normal as possible."

"We strive to bring hope and build resilience in the person," she said, "and give everyone the opportunity to heal and to resume a normal life. The purpose is that victims of this atrocity can lead healthy, successful lives as productive members of society."

Worley calls the children "our children."

"We live in community. What happens to one affects all of us. It is extremely important that we stop marginalizing people into socio-economic groups and saying that it doesn't affect me because it does," Worley said.

She said the average victim's age in Georgia is 14.9 years old, which falls in line with the national average of middle-school-aged children 12 to 14 years old. She said schools need to include education about sex trafficking of minors.

These exploitive practices make up a large part of human trafficking, which she called "a form of modern-day slavery."

She termed domestic minor sex trafficking and commercial sexual exploitation of children forms of violence and child abuse.

Worley talked about some of the myths and stereotypes that people have about these child victims. Boys as well as girls are victimized, she said.

These are not bad kids, Worley said, but children forced into the lifestyle of prostitution through coercion, through peer relationships where older children traffic younger children in school systems, through a parent, family member or neighbor exploiting children, through kidnapping, and through social media enticement.

Runaways end up homeless, she said, and quite often a trafficker will befriend a child and say he will protect, clothe and feed him or her as long as the child works as a prostitute.

"When a child is removed from their protective place, their home, that child is isolated from everybody that they know," Worley said.

They can be taken to another part of town, out of town, or to another state.

"All identity is taken away from them," she said. "They're given a new name like Baby or Angel."

There is also "degradation. They are usually raped immediately and can be raped by more than one person."

Worley also talked about reframing language so law enforcement agencies and the judicial system see these children as victims of sexual abuse and not as teen prostitutes.

"We must help these children. We don't like to talk about these things and we have not talked about these things. We've got to start talking about them," Worley said.

"It is real and these children are being exploited. It's extremely important we change our language from talking about teen prostitutes to acknowledging that they are victims."
Mercy requires nearness to Jesus
Continuing with the theme of "Women of Faith Showing Mercy," Sister Mary Francis Power spoke at the spirituality commission workshop. A sister of the Eudist Servants of the Eleventh Hour, before religious life she had a very active life and is a mother, grandmother, veteran and retired manager. Serving in the Blairsville area, she is a member of St. Francis of Assisi Church and leads a prison ministry team, is a hospital chaplain and spiritual advisor to the St. Vincent de Paul Society.
She said her congregation, which is open to those with a late-in-life religious vocation, has mercy as its ministry.
"That's what we do. We show mercy to others," she said. "After we've been called, we go through formation and we learn humility, we put structure into our day. Then we change."
Sister Mary Francis said to discover what great things God has for you, you need to go through a process.
"You don't have to be on the religious formation path to discover this," she said. "You just go into the stillness. Be still. Go to prayer. Ask God, Jesus, Mary and the saints to help you see what it is that God has waiting for you."
"Adoration is where I get a lot of my answers," Sister Mary Francis said. "I have a very close relationship with my best friend who is Jesus. When I remove all the distractions, I hear the answers."
"You can have compassion," she said, "but what are you doing with it? We have to physically move from feeling to acting. What else does God want us to do?"
"The corporal works of mercy are those works that are done physically where you are using your hands and feet," she said. For the spiritual works of mercy, Sister Mary Francis said, "This is where we are sitting with someone. It's a matter of presence. We are consoling them or counseling them. We are advising them. It's a one-on-one situation where we are there for them in spirit and in presence."
In order to "make room for what God has in store for us," she said, it is necessary to be cleansed spiritually.
"We must forgive others and ask for forgiveness. You don't have to do this in person, but you do have to do it. It's how you get well," Sister Mary Francis said. "No matter what has happened to you, no matter how somebody has hurt you, forgiveness is critical in terms of moving on."
"We then become present in the current day of our Lord, to be able to listen, actively listen, to what it is he wants to tell us," she said.
Sister Mary Francis said in order to become the merciful person God desires, develop a close personal relationship with Jesus, pray throughout the day, receive the sacraments of reconciliation and the Eucharist, and make a practice of adoration, Bible study, the rosary and other prayers.
"It's a process," Sister Mary Francis said. "You have to take it one day at a time. You have to stay in prayer. You have to stay focused. You have to trust. If you do these things, you will find the most amazing love waiting for you."
Women's council helped diocese grow
Frank Mulcahy, executive director of the Georgia Catholic Conference, spoke at the Saturday morning business meeting Sept. 17. He represents the bishops of Georgia at the state legislature. He spoke about human trafficking and religious freedom.
Mulcahy outlined legislation adopted over the last 10 years in Georgia making trafficking for sexual purposes or servitude a crime. Several years ago another law led to the placement of signs with toll-free help lines in places like hotel and airport restrooms, where victims could see them and escape from trafficking by calling a hotline.
In 2015 the Georgia General Assembly passed a law which creates a new commission to provide rehabilitative services for minors under the age of 18 who have been caught in sex trafficking, he said.
This is the Safe Harbor amendment that will be on the November ballot, he said.
"This will set up a special fund," Mulcahy said, "to help with the rehabilitation of young people who have been caught in this vise."
In his homily on Sunday, Sept. 18, Archbishop Wilton D. Gregory spoke of the creation of the Diocese of Atlanta in 1956, which was also the beginning of the Council of Catholic Women in Atlanta.
Sixty years ago, the new diocese had 18 parishes and missions, 30 priests and about 22,000 Catholics.
"Today, in that same territory, we have 98 parishes and missions, 275 priests and 1,100,000 Catholics," he said. "God has been very good to this local church, granting it growth and development."
Archbishop Gregory continued, "Throughout those 60 years, God's generosity has been especially present in the women who have served as members of the Council of Catholic Women and in the various women's organizations that comprise this local council."
He said, "Our time is a gift that we can use generously. The women of this local church, for 60 years, have used your time in many generous ways, in caring for the poor and in assisting your parishes as they grew."
"The women of this local church, who are professional women, mothers and grandmothers, find the time to do the works of mercy that come into your lives," Archbishop Gregory said. "The generosity of your heart helps you to do the things of mercy that build up the life of faith in this local church."
He thanked God for the past, present and new members of AACCW.
"Thank you for being the generous souls who have helped establish, shape and form this local church as we have grown rich in God's favor, and in God's mercy, and in his goodness," he said.
Showing girls church needs them
Father Desmond Drummer, the administrator of Most Blessed Sacrament Church, Atlanta, spoke at the Sunday brunch following Mass.
Father Drummer became a Catholic while attending Morehouse College, Atlanta, from which he graduated. He was ordained a priest on June 28, 2014. He completed graduate seminary studies at the University of St. Mary of the Lake Mundelein Seminary near Chicago. He is an alumnus of the Catholic Campaign for Human Development internship program and a global fellow associate with Catholic Relief Services. He is currently pursuing an online Diploma in Peace Studies through the United Nations-mandated University for Peace.
He said his first experience of AACCW was as a seminarian serving at Christ Our Hope Church in Lithonia.
"Eventually, as I began to experience life in other parishes as a seminarian," he said, "I began to realize that small piece of what you do for the archdiocese and in the archdiocese really galvanizes local parish communities. It really gives parishes and leaders in parishes an opportunity to affirm the work that people are doing."
"The church needs you," Father Drummer said. "Whether or not you get the attention or credit that you deserve. The church needs working together."
He said that Most Blessed Sacrament Church does not yet have a Council of Catholic Women, but with the help of the Knights of Peter Claver Ladies Auxiliary and its leadership he would like to bring a women's council to the parish.
"(AACCW) is more than just an institution, it is a family of faith," Father Drummer said.
He also spoke about the International Day of the Girl, an annual observance on Oct. 11, inaugurated by the United Nations.
"I would like my parish, with the help of CCW, the Ladies Auxiliary and the Junior Daughters of Peter Claver, to really profoundly impact in a positive way the development of young girls in my parish," Father Drummer said, "from toddlers all the way to the teenage years."
"We are thinking of ways that can empower (girls and young women), form them, and really give them an experience of how much we need them to be committed to the church," he said.
Father Drummer asked, "What signals are we sending them? How often are we preaching in a way that highlights the roles that women have played in salvation history?"
Pope Francis has announced that St. Mary Magdalene's feast day will be elevated to the level of the apostles' feast days because in announcing the resurrection of Jesus, "she was the apostle to the apostles," he said.
Father Drummer said, "When I see the different things that can happen in a parish, the leadership development and the empowerment that happens, we are carving out space for a very important community in our church to have a voice and to be a resource for the entire local church."
"As a Catholic priest I need to be … listening to the mothers, listening to the sisters, listening to the grandmothers in the parish. Listening to the experiences of women so that my preaching and ministry is responsive to realities that are not my own."