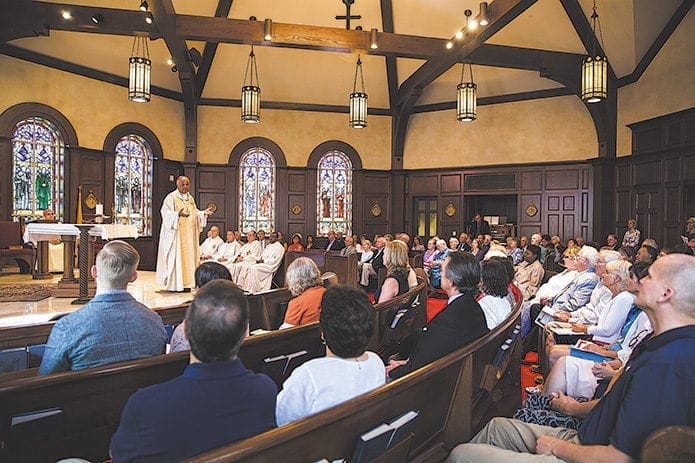 By JEAN DRISKELL, Special to the Bulletin
|

Published October 6, 2016

ATLANTA—Matthew Isaac Herrin was born on Feb. 15, 2016. He lived for 15 days.

"He was born with Trisomy 13," Brent Herrin, Matthew's father, said. "He had an extra copy of the 13th chromosome. Trisomy 13 comes with a lot of other conditions."

Herrin said that Matthew's brain did not form properly and he had severe heart conditions. He and his wife, Erika, of Woodstock, learned of the condition their son bore when she was 13 weeks pregnant. Prayers went up continuously for Matthew Isaac.

Aware of how fragile their unborn son was, the Herrins, parishioners of St. Peter Chanel Church, Roswell, began to consider also how Matthew's legacy could live within the greater community.

"One of the things I thought about was the Catholic schools," Herrin said. "I serve on the advisory council of Queen of Angels School. Is there some way Matthew's legacy could live on through the school?"

Both Brent and Erika Herrin said that in the time of her pregnancy and in their loss of their son the school community—faculty, staff, parents and students—supported them and their 8-year-old twin sons, Mercer and Andrew, who attend Queen of Angels.

So they set up an endowment fund named for Matthew Isaac Herrin with the Catholic Foundation of North Georgia. The earnings will provide scholarship money for children to attend Queen of Angels.

"If Matthew was still here today, we would have sent him to Catholic school," Herrin said. "We would have been paying tuition dollars for him. There are a lot of families who can't afford to send their children to school. So why not take the money that we would otherwise have been spending on his education and put it in an endowment fund."
"Giving comes from a deep sense of appreciation to our Lord for the gift of faith"
The Herrins, along with other members of the Deo Gratias Society and the Founders Society, were honored Aug. 27 at the Deo Gratias Mass, celebrated by Archbishop Wilton D. Gregory at Holy Spirit Church, Atlanta. An estimated 135 people came to the Mass and luncheon.
This annual event is a thank you by the Catholic Foundation to those who have contributed funds to set up endowments or have given to already-established endowments at CFNGA for Catholic parishes, schools, ministries and charities of this archdiocese. Deo Gratias is Latin for "Thanks be to God."
"The Catholic Foundation of North Georgia helps Catholics make a lasting difference in the community," said Nancy Coveny, executive director of the Catholic Foundation.
"When we give to the endowment funds held at the Catholic Foundation, more money becomes available now and in perpetuity to help those served in our community. This help is provided in the form of grants," she said.
Coveny said that there are 221 funds at the Catholic Foundation, and in this recent fiscal year, 35 of these funds provided 243 grants, totaling $1,194,465, which went to parishes, schools, nonprofits and archdiocesan ministries.
"The stories of why people decide to make a lasting gift are unique," she said. "For some it was the loss of a loved one; for others, the appreciation of a good education. Some feel a deep sense of calling to help people in need."
Coveny continued, "It seems to me the giving comes from a deep sense of appreciation to our Lord for the gift of faith which nourishes and guides us through everything."
"We're all here because we give," said Jeff Haidet, chair of the Catholic Foundation board of directors. "We give our time, our talent, our treasure, because we support the church and we're thankful for what God has given us. Everything we are and everything we have is a gift from God. Gratitude then is our only response. You all have shown your gratitude by your gift of treasure to your church and to the foundation."
New Catholic thankful to parish
Diane Beal, a parishioner of St. John Neumann Church, Lilburn, and a recent convert to Catholicism, went through a trying time in her life and was helped by the community of St. John Neumann.
Her journey led her to earn five college degrees, with two in theology, with honors, from a mainstream Protestant seminary. She also studied and traveled at sea aboard the S.S. Universe Campus that took her around the world and through 11 countries in Asia and Africa. She was an assistant director of field education while working on her doctorate. She also worked for a major company and retired after 15 years of service.
While watching Christmas Eve midnight Mass on television last year, she said, "I was really struggling to understand my suffering. During the Mass, I surrendered. I asked God to help me. The still small voice immediately responded, 'Explore the Catholic Church.' I was in so much pain that I immediately responded."
Beal said that she had not been active in any church for 25 years. She explored various Protestant denominations and the New Age movement.
"But nothing resonated until I had subsequently attended a Saturday evening vigil Mass at St. John Neumann," she said.
"My life is an unfolding journey in the mystery of faith," she said. "My gifts to the Catholic Foundation are an expression of my 'Deo Gratias' for (God's) love, grace and faithfulness throughout my journey."
"I'm especially thankful for the services of the Catholic Foundation of North Georgia," Beal said. "Juliet Greco (director of major and planned giving for the Catholic Foundation) and Nancy Coveny partnered with me to customize my bequest as my Catholic legacy. They were a powerful support system, provided expert guidance, and they graciously answered all my questions."
Bill and Helga Daniels, parishioners of St. Philip Benizi Church, Jonesboro, have been coming to the Deo Gratias Mass and luncheon for seven years. He served in the military for 30 years, in Vietnam, Korea and Europe, including in the Chaplain Corps. In the 1970s "I used to broadcast the pilgrimages to Lourdes (France) on the Armed Forces Network and it went all over the world," he said.
"We keep coming because we enjoy the atmosphere and meeting new people," Daniels said of the Deo Gratias gathering. "We've given before. What I like about this, everyone seems to be happy no matter what. … They've all donated, some a lot of money from their own pocketbooks, yet they're happy about it."
In his homily, Archbishop Gregory said that the purpose of the Catholic Foundation "is to make sure the gifts we have received continue to bear fruit and to bear fruit in the service of the Church and the service of our faith."
He said, "Your contribution, your support of the foundation, is the risk that you take in faith so that whatever God has given you in his generosity will be returned and it will grow. Thank you for believing that your gifts, that your support of the foundation will generate a return."
After Communion, Archbishop Gregory blessed commemorative pins, which were given out to each endowment donor as they were recognized at the luncheon.
---
For more information about the Catholic Foundation of North Georgia, visit www.cfnga.org or contact 404-497-9440.