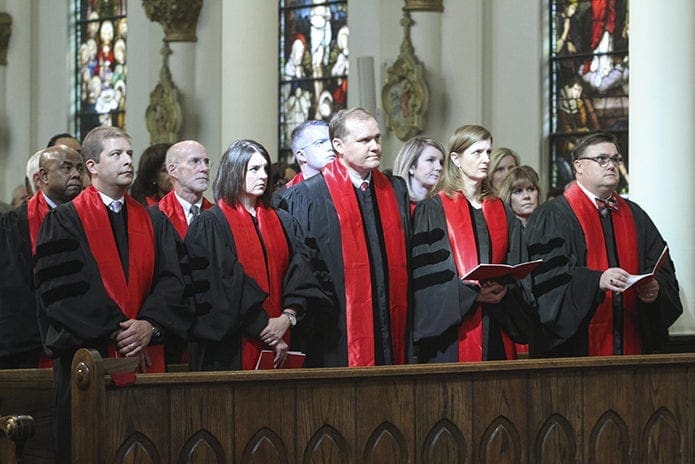 By ANDREW NELSON, Staff Writer
|

Published October 20, 2016

ATLANTA—Dozens of judges and clergy in scarlet robes and stoles entered the Basilica of the Sacred Heart of Jesus to the music of the Midtown Brass Quintet and the voices of the St. Thomas More Schola.

Attorneys, police officers and judges joined Archbishop Wilton D. Gregory to pray Thursday, Oct. 13, for those who administer justice in this region. The ancient celebration is called the Red Mass for the color of the vestments worn by clergy and those on the bench. The Mass by tradition dates back more than 750 years to medieval Europe and marks the opening of a new judicial year. Those gathered pray for the wisdom of the Holy Spirit for the legal community. The first recorded Red Mass in the United States took place in New York City in 1928.

The service celebrated the diversity of faith within the community. The first reading, from the prophet Micah, was read by Rabbi Scott Colbert, of Temple Emanu-El, Atlanta. The second reading from St. Paul's Letter to the Ephesians was read by the Rev. Rebekah LeMon, of First Presbyterian Church, Atlanta.

During his homily, Archbishop Gregory praised the judges and the legal community for their "very noble vocation."

The community needs them as the bedrock of wellbeing, he said.

"The law itself must be for all of us a bastion of security and harmony within each community. … Judges and lawyers are our first line of defense against lawlessness and mob rule," the archbishop said.

Laws are intended "to be sources of wellbeing and promote harmony within this community," he said.

For several years, however, "we have witnessed too many occasions when public officials have themselves become the target of violence and hatred and where ordinary citizens have become the victims of unnecessary violence," Archbishop Gregory said.

"Far too many of them have been people of color," he said.

Instead of confidence in the law, he said, this has resulted in "this regrettable increase of mistrust, frustration and fear."

A "healthy community" needs both "wise and honorable" public officials and "citizens who respect and can trust" all those who serve in public office, he said.

Turning to the prophet Micah, Archbishop Gregory said the prophet's words demand "an integrity of heart." Micah recalled what pleases God: "To do justice and to love goodness, and to walk humbly with your God."

Said Archbishop Gregory, "Our prayer for all of our legal and judicial servants today is wrapped in a greater prayer for our entire society that we might heed and follow Micah's description of what truly pleases God and renders us all the children that God continues to call his very own."
Honors for servants of justice
The St. Thomas More Society, a group of Catholic lawyers in the Atlanta Archdiocese, has hosted the Mass since 1995. At a luncheon at the venerable Capital City Club following the Mass, the group honored members of the legal community: a judge who gives young criminal offenders a second chance; the Dallas Police Department for its outreach to the community before and after the killing of five officers; and a deceased lawyer who was a champion for the underdog.
Judge Shawn Ellen LaGrua is a Fulton County Superior Court judge and former prosecutor. She created "My Life Matters." The program for offenders aged 16 to 29 has kept more than 400 people out of prison. It requires participants to be in school, or employed. They live under strict conditions with a curfew, random drug screenings, and must submit reports to the judge.
As a prosecutor and a judge, she's seen a common thread in defendants: lack of accountability and no reward when they do well. Participants named the program, which draws in social workers, public defenders, prosecutors and volunteer tutors.
LaGrua, who attends St. Jude Church, Atlanta, said most court diversion programs consider it a success if offenders stay out of the courts for two years. That isn't good enough, she said.
"Success for us is out of the court system. I'm not letting them go until they have an education and a job," said LaGrua, who received the society's St. Thomas More Award.
The award recognizes a commitment to justice and humanity, especially in difficult circumstances.
Jennifer Mann, who attends St. Stephen the Martyr Church, Lilburn, said the judge was a "perfect fit for the award." Mann and the judge early in their careers faced off as public defender and prosecutor. Mann said her colleague "could see people as something more than defendants" so she thought creatively in order to serve the community with greater justice.
Dallas police saluted
The Dallas, Texas, Police Department, under the leadership of former Chief David O. Brown, received the St. Francis of Assisi Award for its perseverance in building positive relationships and dialogue between the police and the community. It is only the second time an award was given outside the lawyer community. Archbishop Gregory introduced Maj. LaToya Porter, who accepted the award for the department.
Dallas police had adopted many of the best practices in community policing to serve residents. This past July, a sniper killed five Dallas officers as they patrolled during a peaceful protest over officer-involved shootings in other states.
In her remarks, Porter said the department strives to achieve "community-based policing through servant leadership." It offers many programs to be closer to the community, from police athletic leagues to civilian ride-along programs. The goal is always to develop trust and understanding between the community and the police, she said.
Officers strive to "be the example of fairness, equal treatment and mutual respect that extends beyond the boundaries of community lines," she told the room of lawyers and judges.
The late Jeffrey O. Bramlett was a lawyer at Bondurant Mixson & Elmore, LLP, and former president of the Atlanta and the state bar associations. Colleagues said he devoted himself to important issues, from civil rights to foster children's rights. He died in July. One of his lawsuits concluded with a settlement with Georgia officials to increase funding to reduce worker caseloads and reduce overcrowding in foster homes for children.
Law partner Jay Elmore said Bramlett's legacy continues after his death. Many who never knew him will benefit from his work because his cases left the court with oversight to push for resolutions, he said. Elmore said his colleague had a gentle way about him so that opposing lawyers would become friends. He was also awarded the St. Thomas More Award.