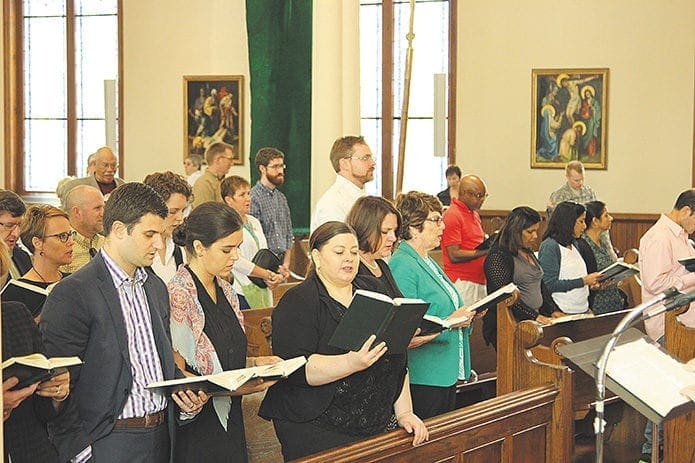 By NICHOLE GOLDEN, Staff Writer
|

Published October 20, 2016

ATLANTA—On the feast of St. Francis of Assisi Oct. 4, Archbishop Wilton D. Gregory celebrated a Mass to honor those who work in environmental sustainability and all who love and care for the earth.

The inaugural Green Mass was celebrated at the Shrine of the Immaculate Conception.

The text of St. Francis' "Canticle of the Creatures," composed at the end of his life in 1224 or 1225, with the exaltation "Praise be to you, Lord," provided the title of Pope Francis' encyclical on the environment, "Laudato Si'."

St. Francis has long been identified by his inspired and close relationship with all of creation and its creatures, noted Archbishop Gregory in his homily.

"He has become a 13th century ecologist without his even knowing it," said the archbishop. "He praised God for everything that God had created, and Francis placed himself in relationship to all of creation by seeing divine splendor in all of nature."

Archbishop Gregory said he supposes St. Francis would be shocked to see how God's generosity in fashioning the world has been desecrated—from the hoarding of the earth's treasures to the pollution of waters.

"We celebrate Francis today and ask him to rekindle within each one of us a share of his spirit of wonder and gratitude for God's creation," he said. "Without the benefit of our modern scientific acumen and expertise, Francis was able to view all of nature as a precious treasure that God has entrusted to us to be shared and preserved for those who will follow us."

The Green Mass served as a recommitment to preserving the gifts of God for future generations. It is expected to become an annual liturgy.

Archbishop Gregory said while caring for the earth is a task entrusted to each one of us, it also requires working together.

"In that regard, the Archdiocese of Atlanta is deeply grateful to our friends and colleagues at the University of Georgia who worked generously with us to develop our response plan to Pope Francis' encyclical 'Laudato Si','" he said. "Such collaboration is the only way that we can work together successfully to care for our common home."
Putting plan into action
Susan Varlamoff, retired environmental scientist from the University of Georgia and a member of St. John Neumann Church, Lilburn, visited Archbishop Gregory after the release of the encyclical in May 2015.
Varlamoff, who served as a lector at the Green Mass, expressed her conviction to the archbishop that "Laudato Si'" was too important a text to sit on a shelf.
The archbishop asked her to develop an action plan for parishes, schools and families to implement environmentally sound practices in response to the pope's document. Varlamoff assembled a group of scientists from UGA to help. The result was a 48-page plan, available in English or Spanish, with a range of actions that people can take to respect and sustain the life-giving vitality of God's creation.
Archbishop Gregory told worshipers that concern for the planet can be expressed both professionally and personally.
"Francis praised God for creating the entire world of nature," he said. "We make his prayer our own today so that working together and praying together we might preserve what God has given us and tend it carefully as God would have us do."
During the prayers of the faithful, the archbishop's intention was "for Franciscans everywhere."
Msgr. Henry Gracz, concelebrant and pastor of the Shrine, suggested the Eucharist be the source of strength to all who work to answer the pope's challenge "to be guardians and custodians of this earth."
A luncheon followed Mass for guests to enjoy fellowship. Volunteers decorated tables with green tablecloths and centerpieces of chrysanthemums.
Father Urey Mark, SVD, campus minister at the Atlanta University Center and chaplain at Georgia State University, also concelebrated and invited college students to attend the Green Mass.
GSU freshman Paola Queredo, who lives in Conyers, said she took away a commission from the Mass.
"We should be able to do what St. Francis did and make the world a better place," she said.
Classmate Lisette Mendoza, also of Conyers, said the Green Mass was a good spiritual reminder not to take the earth for granted and to appreciate "all the thought and detail God put into creation."
Rudy Schlosser, a leader of the GSU Catholic Students Association, said conservation efforts on campus are growing, but there is more that could be done.
"There was nothing at all," said Schlosser of recycling efforts when he arrived on campus 12 years ago.
A post-baccalaureate languages student, he said the university's sustainable energy organization is now very active. Strategically placed black recycling bins allow students and visitors to sort plastics from cans and other materials. The organization also works to raise awareness of conservation issues.
"There's a lot of work to do," added Schlosser.
---