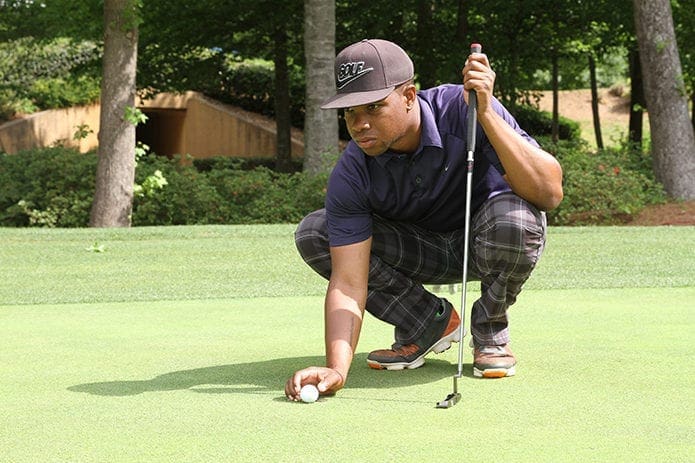 By NICHOLE GOLDEN, Staff Writer
|

Published September 1, 2016

ATLANTA—Professional golfer Wesley Yates, parishioner of St. Anthony of Padua Church in Atlanta, returned to China Aug. 27 to play in the second half of a PGA Tour China event.

It was a busy summer for Yates, a graduate of Our Lady of Mercy High School in Fayetteville and Florida A&M University. After six weeks of tournament play for the first half of the PGA Tour China events, Yates returned home just days before his wedding to his fiancée, Bianca. He spent the rest of the summer putting in seven-hour days at local courses improving upon his golf game.

Yates turned professional in 2014, becoming the first African-American from Atlanta to hold a PGA card.

"It's unbelievable; it's surreal," he said about the distinction. "It kind of inspires me to do better and greater things."

The May trip to China was Yates' first, experiencing the food, language barriers and new playing conditions. The last tournament of the event was held in Shanghai.

"Every day, it looks like a haze. The pollution was pretty bad," he said. "You adjust to it."

Golf is a new sport to spectators and players in China.

"It's growing there. It's in the beginning stages," said Yates.

Yates, who is 27, was a young boy when he first picked up a golf club.

"My dad had two lessons of golf. On his second lesson, I said, 'Hey, I want to go with you.' I literally fell in love with it," recalled Yates.

His dad gave up the game, but Yates continued.

"It was too expensive for both of us to play," he said

Yates first took lessons at River's Edge Club in Fayetteville and then followed his coach to the First Tee Atlanta program. He still drops by First Tee to talk with the young golfers participating in programs there.

Yates' parents, Willie and Elisa, have also encouraged him.

"It's been great. The support has always been there," he said.
Former OLM golf team member
At Our Lady of Mercy, Yates was a regional championship winner.
"At the time, we were very competitive," he said of the school's golf program.
His former OLM teammate Wade Binfield is pursuing the same dream of professional golf and is now part of PGA Canada.
"That's pretty astonishing," said Yates.
After high school, Yates entered Florida A&M on a four-year scholarship. He had several top finishes in his college career. In the 2011 PGA National Minority Collegiate Championship, he was the only player to shoot a 69.
In 2014, he competed on the PGA Tour Latinoamérica and last year was a cast member of the NBC Golf Channel program, "Altered Course."
"It was a ton of fun," he said.
The reality golf competition show was filmed in Montego Bay, Jamaica.
Although Yates likes to keep things fun while golfing, it's also his full-time job. He sticks to a strict schedule.
"I have a good breakfast," he said about the day's start.
Sometimes, he works out in the morning prior to golfing and typically plays six to eight hours a day when not in tournament play.
He maintained this schedule even during the summer, playing at least six days a week and sometimes a seventh.
"I really can't even think about it," he said about the heat.
By competing in China, Yates hopes to earn a spot on the Web.com Tour, a qualifying path to the PGA Tour.
Yates played in the Advocates Pro Tour tournament in Los Angeles Aug. 20-21. The goal of the Advocates Pro Tour is to bring greater diversity to the game of golf. The program utilizes professional tournaments, career fairs and mentoring sessions for African-Americans and other minorities interested in careers in golf.
In addition to his family, the parish community has been supportive of Yates' dream.
Sol Brannan, a member of St. Anthony of Padua Church since 1969, befriended the Yates family many years ago.
"I've known them since Wesley was a little boy," said Brannan. "He's really a first-class person. He's such a good role model for the kids."
When Father Victor Galier, the pastor, suggested parish members organize to play in a golf tournament, they had a secret edge over competitors.
"We won by a landslide because we had Wesley," said Brannan.
When he learned of Yates' professional aspirations, Brannan posed an important question to him.
"I asked what was the biggest holdup," recalled Brannan.
Community raises funds for golfer
The stumbling block for many talented, young golfers remains the expense of competing at a higher level.
"Golf is not like any other sport," said Yates about upfront costs.
Purchasing new balls, paying caddies, and travel expenses are just a small part of what makes competition unreachable for many.
Brannan organized a spring dinner and fundraiser for Yates, raising $20,000 to assist him. Catholics, both golfers and non-golfers, joined in to help.
Yates' college studies also provided a foundation for budgeting, seeking sponsors and managing travel.
"Economics helped me tremendously," said Yates.
When the young golfer suffered a back injury, he worried about letting benefactors back home down.
Brannan encouraged him to relax, saying no one was worried about money.
"Just play," he told Yates. "We just want you to be successful."
Brannan hopes to organize another fundraiser because he knows Yates has a lot on his plate.
"Being away from home … that's not easy," said Brannan.
The next China tournament, the Yulongwan Yunnan Open, began Aug. 29 and continues through Sept 4. The series of China tournaments go through mid-November and are either televised or available by webcast.
Yates' new wife is not able to attend all of his tournaments as she teaches school in Clayton County.
"We went to the same high school. We knew each other," he said.
They reconnected years later and were married June 25 at St. Anthony of Padua.
Deacon Fred Sambrone, Yates' grandfather, officiated at the wedding.
Deacon Sambrone is the only other family member who plays golf.
"He's taught me a few things," said Yates. "He'd be a good caddy."
Yates said the parish is special, and his Catholic faith impacts him tremendously.
"It's the only church I know," he said. "If you don't have any faith, you might as well not be out there. Your faith will bring you around."
Yates said the game of golf is another "love he can't quite escape."
"It's definitely inspiring to know you don't have to be Superman to compete," he said.
Yates' website features the saying, "You can do anything your mind can believe."
Since elementary school, Yates has envisioned being a professional golfer.
"I never wanted to be anything else," he said.
---
To learn more about Wesley Yates, visit www.wesprogolf.com.