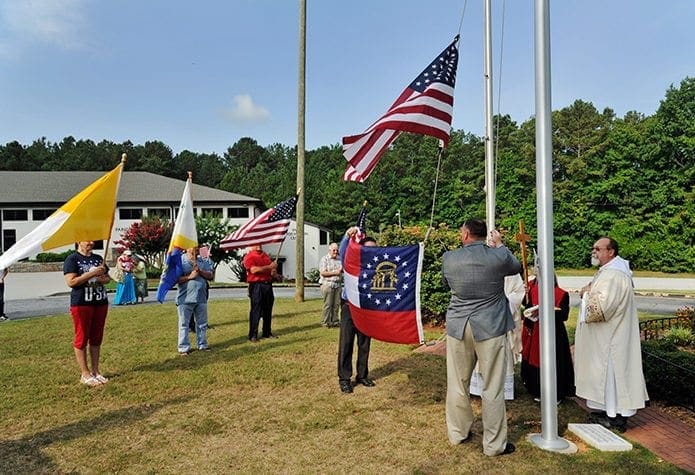 By ANDREW NELSON, Staff Writer
|

Published July 7, 2016

CONYERS—A row of white crosses and American flags along the edge of St. Pius X Church property reminded passing drivers and parishioners of the sacrifices of veterans on July 4.

Members of the parish commemorated the contributions of their late family members and friends who served this country by wearing a military uniform. Folks like U.S. Air Force veteran Boyd Grant, U.S. Navy sailor Edward Carlile, World War II WAVE Peggy Goolsby and Operation Iraqi Freedom veteran Stephen Robert Bost.

On Independence Day, before the frivolity of barbeques and colorful, streaming fireworks, parishioners gathered to give thanks to God for the blessings of this country and those who swore to uphold it. The parish grounds are along Georgia Highway 20, a four-lane divided road.

Following morning Mass celebrated by the pastor, Father Greg Goolsby, four new flags donated by the parish Knights of Columbus council were blessed and raised on the church flagpoles.

Then the congregation of over 125 people walked in procession to the roadside where 58 white crosses had been placed. A member of each family who sponsored a cross carried a small American flag and placed it at their memorial and the area was blessed.

At the Mass, the names of the honored dead were read aloud by Deacon Fred Johns. The prayers of the faithful were adapted from the prayer composed by Archbishop John Carroll for the inauguration of President George Washington in 1789.

Parishioner Iris Grant, herself a U.S. Army veteran, organized this cross display, which she hopes to see carried out at the parish on every Memorial Day, Independence Day and other civic holidays for veterans.

"I want them to feel the pride I feel in being American," she said about the community seeing the tribute along the busy road.
Wartime letters had family code
Speaking of military service, the Catechism of the Catholic Church says, "Those who are sworn to serve their country in the armed forces are servants of the security and freedom of nations. If they carry out their duty honorably, they truly contribute to the common good of the nation and the maintenance of peace."
As Grant brainstormed and collected the $25 donation for the simple white crosses, she said people thanked her for organizing the project, but she believes it is more important for the women and men who served in the military to get the recognition and gratitude. The name of each honoree is on the cross bar. If they served in a theater of war, that is also inscribed.
Grant's late husband, Boyd, was an Air Force veteran. Between the two of them, they gave 30 years to military service, and assignments to new posts required them to uproot several times to move across the country, to Germany and England.
"I enjoyed my years in the service. I liked the small tight-knit community. I liked the lack of prejudice. It gave me that sense of getting things done," Grant said.
Margie Schaetzly remembered her late father, Edward Carlile, who served in the South Pacific on a Navy ship in World War II.
He created his own code to help his family follow along on his travels. Before he left, on a map of the Pacific he wrote salutations, such as "Dear Mom" and other greetings, beside each major island. He left the map with his family stateside. When in the Pacific and if he had time to write, he'd open each letter with the salutation closest to the island where he then worked and lived. That way the family kept tabs on him and got an idea of his location by looking at the salutation and the map, Schaetzly said.
She said her father was kind and smart, a man who never had a cross word about anyone. He and his peers returned from the war "to live lives of quiet inspiration," said Schaetzly, who is one of the original members of the parish. Her brother is a veteran of the Vietnam War era.
Pastor's mother served
Father Goolsby comes from a family of veterans. His dad served in World War II as a sailor. His mother served in the U.S. Naval Reserve, better known by the acronym WAVES (Women Accepted for Volunteer Emergency Service), a program created in 1942 to help provide crucial military personnel during the war. By the war's end, 80,000 women had enlisted. He sponsored crosses for both of his parents.
He said their experience made them a patriotic family, flying the American flag at appropriate times. His mother's career brought her to serve, in effect, as the executive assistant to a general at now closed Fort McPherson Army Base. His family had "great esteem and high regard" for service women and men, he said.
Also, Father Goolsby said his mother was a first-generation American, with roots in Italy, so the military was one way those newly arrived could show their love for the new country and assimilate into the society. At St. Pius X Church, a parish with many new immigrants, largely Spanish-speakers, the pastor can see people making similar decisions to become part of society, he said.
The crosses are symbolic of people "giving their everything for their service to the nation," he said.
Father Goolsby said he has been touched by how parishioners across generations are participating.
Charles Kempton placed a flag before the cross in memory of his grandson, Stephen Robert Bost, who served in the U.S. Air Force in Operation Iraqi Freedom and died shortly after he returned home at the age of 22.
"We were very close to him," Kempton said. "We are very happy to remember him here."
In Georgia, there are approximately 750,000 veterans, including 570,000 who served in wartime, according to the U.S. Veterans Affairs Department.