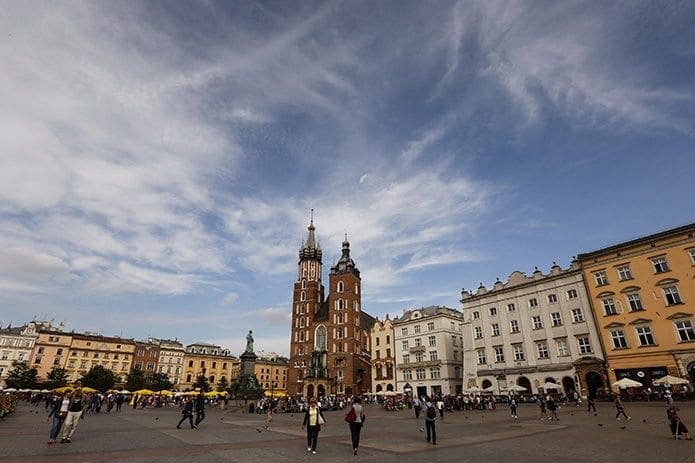 By JONATHAN LUXMOORE, Catholic News Service
|

Published July 7, 2016

WARSAW, Poland (CNS)—Young people attending World Youth Day 2016 in Krakow, Poland, may have to walk up to nine miles to and from one of its key sites, event organizers said.

"They'll have to be ready for a long foot journey of several hours, but this has always been a feature of World Youth Days," said Anna Chmura, WYD's communications coordinator.

"There'll be several designated routes, mostly from Krakow, and they'll all be used heavily. But we're confident the logistics and security have now been carefully worked out," she told Catholic News Service.

The event, which runs July 26-31, is expected to bring 2 million people from 187 countries to the southern Polish city. They will be accompanied by 47 cardinals, 800 bishops and 20,000 priests.

The July 30-31 vigil and Mass, on the fourth and fifth days of Pope Francis' visit, will require nearly all of the participants to make the nine-mile journey to Campus Misericordiae, near Poland's Wieliczka salt mine, Chmura said.

Buses will be available only for the 2,000 handicapped people registered for the event, elderly pilgrims and those with special needs, she added.

"Although we don't have a final number for the buses, there'll certainly be dozens, but the foot pilgrimage theme is central to the WYD," Chmura explained.

"All registered groups from the various sectors will have their paths precisely indicated, to keep people moving and avoid logjams or safety hazards."
"We're … building a city of 2 million here"
The closing events include an evening prayer vigil July 30 at the campus as pilgrims stay overnight at the site. World Youth Day concludes the morning of July 31 with Mass and recitation of the Angelus before Pope Francis departs for Rome.
Organizers said seven new bridges had been constructed nearby with 20 giant "eucharistic tents" as well as computer links to enable people worldwide to follow activities using 32 "pilgrim avatars."
Meanwhile, Wieliczka Mayor Artur Koziol said roads and highways had been widened, and irrigation ditches and dikes strengthened following heavy summer rainfall on the 450-acre site.
"We're effectively building a city of 2 million here, so there must be an appropriate infrastructure," Koziol told journalists June 29.
Krakow Mayor Jacek Majchrowski said an expected doubling of the city population during the event had necessitated "elasticity in transport and communications." Both Krakow and Wieliczka would be "as secure as the Vatican" during the celebration and that numerous scenarios had been reviewed for months by Poland's security personnel, he said.
Meanwhile, Cardinal Kazimierz Nycz of Warsaw said he believed God would be "waiting for us with open arms" at World Youth Day, "whatever our sinfulness and failings." He predicted the event would foster "an attitude of mercy in the church toward all needy people."
"When discussing pastoral priorities, it's often asked whether it's essential such events are massive or whether forming groups and communities is more important. In reality, they both matter," Cardinal Nycz told the Polish church's Catholic information agency, KAI, June 28.
"I've heard from parents, both in Poland and abroad, that many are afraid of sending their children to Krakow because of the terrorist threat. I appeal to them to trust God and those responsible for security. Otherwise, the success will lie with those who wish to scare us," he said.
More than 920,000 people have registered
In a late June report, Krakow officials said 275 individual locations in and around the city would be used for events and that 184 schools had been requisitioned for overnight accommodation. There also are camping facilities for 28,000 people.
KAI reported that more than 920,000 people had registered for events by the June 30 deadline, including more than 77,000 Italians, 31,000 Spaniards, 35,000 French, 27,000 Americans and 14,000 Brazilians.
However, Father Grzegorz Suchodolski, secretary general of the World Youth Day Organizing Committee, cautioned that previous celebrations suggested up to three times as many could turn up without registering.
"We must reckon with the spontaneity of young people. Many still haven't even heard there's a registration system," the priest told KAI July 1.
"We're already seeing a miraculous increase in numbers, and I'm convinced God will bring many, many more. As the organizational team, we've given our two fishes and five loaves, and God is preparing baskets for all the leftovers."
Poland's state rail network, PKP, said June 24 it would provide 350 additional trains for visitors.
The head of the Polish church's Krakow-based Child Protection Center, Jesuit Father Adam Zak, said he was working with organizers to ensure safety of underage participants, particularly among the 200,000 expected to be lodged with private families.
"All organizational procedures are being implemented satisfactorily, as planned, and we're waiting for pilgrims to arrive," Chmura told CNS.
"There are still a few details to be completed and sorted out. But there's still a month to go, so there's no need for alarm."