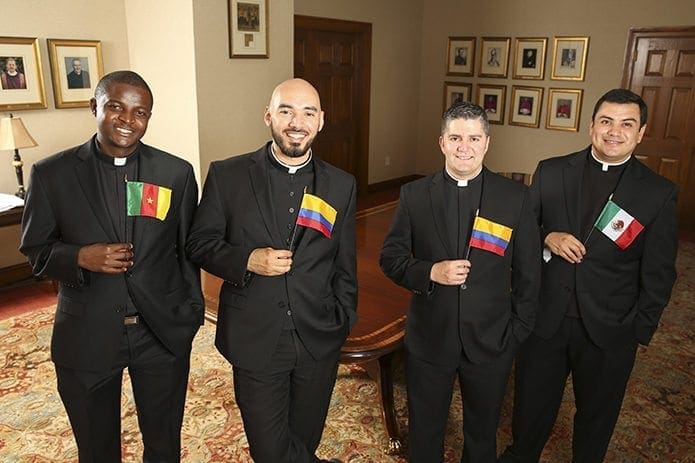 By NICHOLE GOLDEN, Staff Writer
|

Published July 7, 2016

ATLANTA—The ordination of four new priests for the Archdiocese of Atlanta is a time for rejoicing in an "abundant harvest," said Archbishop Wilton D. Gregory.

At the rite of ordination June 25 at the Cathedral of Christ the King in Atlanta, Archbishop Gregory said the newly ordained are gifts in response to the prayers of the people for holy, upright and zealous priests.

"Catholics everywhere have come to understand that this need for more priests cannot simply be a numbers' game. Above all, it must be a quality game, and we have a fine harvest today," said the archbishop in his homily.

The new priests are Father Valery Akoh, Father Gerardo Ceballos, Father Carlos Cifuentes and Father Roberto Suarez Barbosa.

The new priests range in age from 27 to 33 and represent the diverse cultures and communities of faith that enrich the local church. Father Akoh is a native of the Central African country of Cameroon. Father Ceballos is from Mexico, and Father Cifuentes and Father Suarez Barbosa were born and raised in Colombia, South America.

Joining the archbishop and auxiliary bishops, Bishop David P. Talley and Bishop Luis R. Zarama, were Bishop Immanuel Bushu of the Diocese of Buea, Cameroon, and Bishop Hercules Medina Garfias, auxiliary bishop of the Archdiocese of Morelia, Mexico. The visiting bishops assisted in the investiture of the priests from their home dioceses.

The candidates, dozens of concelebrating priests, and the bishops processed into the sanctuary as worshipers sang "Crown Him With Many Crowns."

Archbishop Gregory expressed gratitude to the families of the young men for forming and preparing them with love. He encouraged them to continue challenging their sons to be worthy laborers in the Lord's vineyard. He advised the candidates to serve as Jesus served.

"Always remember whose vineyard it ultimately is and always respect the disciples that you are sent to serve. Being a priest, or a bishop for that matter, is a ministry of service exercised in the name of the Lord," he told them. "Ours is never a simple function of power or control but always of humble self-surrender and mercy."
Be merciful judge, not prosecutor
During his homily, Archbishop Gregory provided instruction to the men set to make priestly promises. When celebrating the sacrament of reconciliation, he reminded them always to have in mind their own identity as sinful men who have sought mercy.
"A good confessor is always a merciful judge who warmly welcomes and strengthens those who sin and who seek reconciliation, much like Jesus did repeatedly throughout his ministry," said Archbishop Gregory. "A confessor in the image of Christ is first and foremost a pastor and never a prosecutor."
The archbishop provided encouragement about the promise of celibacy already embraced when they became deacons, and about obedience to him and his successors. He focused on the importance of good preaching and urged them to "make Mass the very hallmark" of their lives and pastoral service.
"The hallowed words that you will speak and the actions that you perform did not originate with you. They belong to Christ, and he must always shine through you so that God's people will see and hear him in you," said Archbishop Gregory.
The ancient rite of ordination includes promises by the elect of fidelity to the Church and to the duties of priestly office, as well as the promise of obedience to the archbishop and his successors.
The archbishop silently laid hands on each candidate to signify the conferral of the Holy Spirit upon each. Then, all priests came forward and repeated the gesture, one by one placing their hands in silent prayer upon each candidate.
Following a prayer of consecration, the new priests were vested with stoles and chasubles of white with gold embroidery. Friends and family members of the ordained brought gifts of bread and wine forward, which were then presented by the archbishop to the new priests as signs of their office.
"A huge day, a huge blessing"
During their final year of seminary, the 2016 ordination class served as transitional deacons, visiting the elderly and homebound, celebrating baptisms, and assisting in a variety of ministries.
Father Akoh, 28, served at both St. Catherine of Siena Church in Kennesaw and at a parish in Glenview, Illinois, in the past year.
"Engaging in these ministerial opportunities has helped me realize that being a servant of God is all about selfless service and doing everything for the glory of God and the sanctification of his people," said Father Akoh.
Members of the Cameroonian community wore colorful native dress to the Mass, some featuring images of Father Akoh on their sleeves. They sang and danced joyfully outside the cathedral's Kenny Hall following Mass.
Father Akoh's brother, Musi Ndah, traveled from his home in Delaware for the ordination.
Ndah said his brother has all the qualities one can think of to make a good priest, including being "kind, truly helpful, and gentle."
Becoming a priest has been a dream since childhood for Father Akoh.
"Since he was small, he wanted to do something like this. God always provides it," said Ndah.
For Father Suarez Barbosa, who begins his priesthood at St. Jude the Apostle Church in Sandy Springs, serving as a transitional deacon was a "magnificent experience."
"It was a year full of excitement because the power of the Gospel," said Father Suarez Barbosa.
The priest had more than 20 family members and friends attending the Mass, including his mother, Margarita Barbosa, and grandmother, Maria Leonor, both of Colombia.
"It's a huge day, a huge blessing that God has given me," the priest's mother said through a translator.
She added that her son, who wanted to a priest since he was a boy, is fortunate to be serving in the Archdiocese of Atlanta.
Ordination Mass interpreted for deaf
Father Cristobal Villamil was vesting priest for Father Suarez Barbosa, whom he has known for many years.
The spiritual mentor spoke about the strengths of the young priest.
"He's very active. He knows how to talk well with young people. He's very music-driven," said Father Villamil.
Lubin and Aura Trivino, parishioners of St. Joseph Church in Marietta, have been second parents to Father Suarez Barbosa during his years in Atlanta. Mrs. Trivino makes home-cooked meals for him.
"We love him so much," said Lubin Trivino.
Father Cifuentes, who celebrated his 31st birthday two days after being ordained, wanted to make sure members of the deaf Catholic community were included in the ordination Mass. Father Cifuentes learned American Sign Language as a seminarian.
Kathy Daykin, coordinator of deaf services for the archdiocese's Disabilities Ministry, said he called ahead to make sure ASL interpreters and seating would be available for the deaf.
"We interpreted his diaconate Mass," said Daykin. "We try to do it because our deaf wouldn't have the opportunity to witness this."
Seven deaf Catholics from across the archdiocese attended the Mass to celebrate the ordination of Father Cifuentes, and were assisted by two ASL interpreters.
Daykin said she worked with Father Cifuentes over two summers. He also studied ASL at Gallaudet University in Washington, D.C., at a month-long program.
"He's so good at it. He really needs to be immersed in it," said Daykin.
Father Cifuentes' first assignment at Prince of Peace Church in Flowery Branch will allow for that immersion. Prince of Peace is one of several parishes with an active deaf ministry, including ASL interpretation of some Masses.
The new priest is also interested in ministries that involve teaching, including RCIA and preparation for first Communion.
Father Cifuentes said the past year as a deacon was a good preparatory year.
"I had the opportunity to celebrate many baptisms, and a lot of preaching," he noted.
"I see the light of Christ in him"
Gail Crouch, a parishioner of Transfiguration Church in Marietta, became acquainted with several seminarians volunteering at her parish in recent years.
Watching the newly ordained give blessings to well-wishers at the reception following Mass, Crouch expressed a new hope and confidence in the generation of young men being called to the priesthood.
"I just feel things are going to be better," said Crouch.
Her involvement in ministries at Transfiguration has given her the chance to get to know Father Ceballos.
"I see the light of Christ in him," said Crouch. "I think the quality Father Gerardo will bring is joy and peace to people."
Father Ceballos, 27, believes having served at a multi-ethnic parish in Ohio while completing studies at the Pontifical College Josephinum is of great benefit.
"This helped me enormously to prepare me for my future ministry in the Archdiocese of Atlanta," said Father Ceballos.
Father Timothy Hepburn, director of vocations for the archdiocese, thanked the families, bishops and brother priests and deacons for their constant support. He also expressed gratitude for the seminarians and the sacrifices they are already making.
"I hope today that you are inspired as you see your brothers ordained to the priesthood," Father Hepburn told them.
"I would like to thank all of you who pray for vocations to support the work. It's God's work of raising up vocations in the Church," he said to all.
In his final blessing, Archbishop Gregory asked for Mary's intercession to "watch over her newest sons as only a mother can."
---