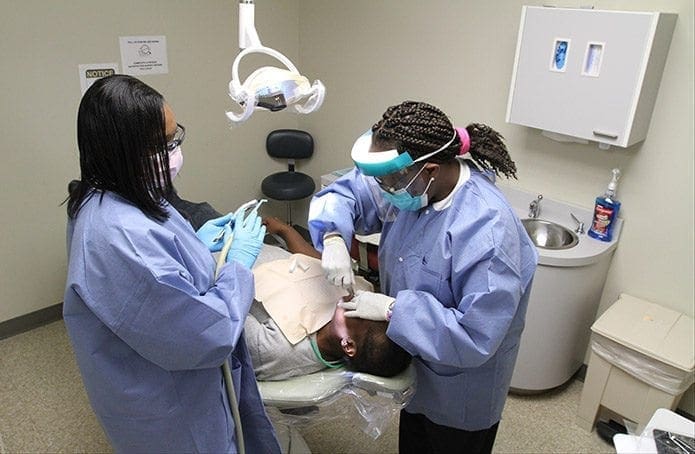 By ANDREW NELSON, Staff Writer
|

Published July 7, 2016

ATLANTA—Outside the doors of the Mercy Care clinic, within view of the towers of downtown, patients wait, hoping to get a coveted walk-in slot in the dental clinic.

For those who work at the clinic on Decatur Street, their work goes beyond pulling teeth and filling cavities. It is about lifting people up whom others mistreat or overlook.

"It is part of the healing process of getting their lives back in order," said Dr. Rochelle Butler, the lead dentist, her braids pulled back and her face behind a plastic shield as she works.

In an effort to increase access to oral health care, Mercy Care is one of eight Georgia health centers to share nearly $3 million awarded by the agency of the U.S. Department of Health and Human Services concerned with the medically uninsured, isolated or vulnerable.

The $525,000 grant for Mercy Care, announced June 16, will help the agency to expand to serve adults and children in crisis. The funding may help reduce the two-month waiting list for an appointment with a dentist. There were some 7,435 patient visits in 2015 to see four full-time Mercy Care dentists.

Once an offshoot of Saint Joseph's Hospital, Atlanta, the nonprofit now stands on its own since the hospital became part of Emory Healthcare in 2012. Mercy Care began as an extension of the ministry of the Sisters of Mercy, who founded Saint Joseph's Hospital in the 1880s. In 1985 Mercy Care incorporated as a nonprofit and in 2001 built its headquarters and clinic on Decatur Street, opposite the Martin Luther King MARTA station. Its services are extensive, from primary care to mental health care, including sending mobile care clinics to shelters and church halls where the homeless congregate.
Dentist asks, "Is Jesus pleased?"
It began offering dental services in the mid-1980s and expanded about 10 years ago to include women, men and children without shelter, folks without insurance and other patients. Today about a third of its patients have been diagnosed with HIV. The dental service is unique in the community, offering cleaning, filling, X-rays, extractions and evaluations. Butler could think of only two other Atlanta area agencies doing dental care dedicated to serving men and women without the ability to pay.
Butler, who is 50, marks a decade at Mercy Care in July. A New Orleans native, she thought about a career in medicine and studied at Xavier University of Louisiana. An unplanned encounter with Dr. David Satcher, the future U.S. Surgeon General, led her to Meharry Medical College's dental school in Nashville, Tennessee. After practicing in California and Georgia, she started at the Mercy Care clinic.
"I wasn't feeling fulfilled in what I was doing. I've been here since. I love it. I feel like it is my calling in life. It is what I was created to do," she said. "It goes beyond dentistry. With our patients, you have people who are used to being mistreated. What we are doing here is what Jesus told us to do."
Butler said she judges the work by asking, "Is Jesus pleased with what we are doing here?"
Most of the services are pulling teeth that cannot be saved. She understands that for those coming to this clinic a dental visit can be a lower priority, competing with immediate needs, like keeping a roof over your head and eating.
"Most people come because they are in pain. The teeth are usually too far gone. Patients don't come until the last minute," Butler said. "I do understand their fear. I'm going to treat them like my mom and dad. Number one, Jesus Christ told us to."
Poor often forego dental care
Medical studies link dental care access to overall good health. Dental care can identify serious health problems before they appear in other parts of the body. Poor dental coverage is a barrier to oral health care for low-income adults. Compared to people with high incomes, the poor are 40 percent less likely to have visited the dentist in the past 12 months, reported the Kaiser Family Foundation's Commission on Medicaid and the Uninsured. And the U.S. Public Health Service reported dental disease puts people at higher risk for diabetes, heart disease and stroke, in addition to reduced employment.
Lawrence Whitefield, 46, has been visiting the clinic for a year. Before that he guesses he went about three years without a dentist appointment.
"Nobody wants to go to the dentist. You go to the dentist at the last part," he said.
But his doctor, also at Mercy Care, prodded him to see one, said Whitefield, with a salt and pepper beard and two earrings in one ear. He got a cleaning and some cavities were treated.
"Either you are going to the dentist or you are going to be miserable," he said. Whitefield said he has since encouraged a friend to get services at Mercy Care because of the staff's compassion.
The federal grant from the Health Resources & Services Administration will help the agency expand. The plan is to enlarge the dental program at Mercy Care at Gateway Center, on Pryor Street in downtown Atlanta, and services for adults and children at Mercy Care at City of Refuge, on Joseph E. Boone Blvd. Mercy Care is seeing a growing number of immigrant patients at its Chamblee clinic, so the nonprofit hopes to hire a bilingual dentist who speaks Spanish.
95 percent of funding from grants, donors
The downtown clinic has six dental work areas, with the whine of dental drills filling the office. Staff members wearing light blue scrubs hover over patients with mouths wide open and their feet up. There are two dental hygienists and six dental assistants on staff. Patients are seen five days a week, both walk-ins and those with appointments. Dentists see as many as 14 patients a day.
The program costs about $1.5 million with only about 5 percent coming from paying patients and insurance reimbursements. Grants cover close to 60 percent of costs. More than $570,000 has to be raised from individual donors, corporations and foundations to cover the remaining dental program expenses, according to Mercy Care.
Dr. Katrina Schuler-Bacon has worked in the dental field for about 20 years, including in her own practice. She's been at Mercy Care for a year.
She views the work as providing understanding and compassion.
"God had me in the field for reason. I can use my hand for helping," she said. "We can give them medication, take away pain, give them hope. This blesses me."
Cynthia Pickard, a dental hygienist and one of the agency's longest serving staff members, marked 10 years with Mercy Care last January. She wiped and sterilized equipment as she waited for her next patient. A clipped magazine cartoon hangs in her office. In it, a woman talks to a priest outside a confessional booth. The punchline is " …. and I lied about flossing."
Pickard said some patients come to her covering their mouths, ashamed of being judged because of bad breath, or won't shake hands out of fear of rejection.
"I'm not afraid. We can hug," she said.
"This is kind of a way to do mission work here in Atlanta," Pickard said.
"The Lord calls you to serve and there are many areas to serve."
---
For information about Mercy Care, its locations and services, visit mercyatlanta.org.