By NICHOLE GOLDEN, Staff Writer
|

Published June 10, 2016

COLLEGE PARK—In celebration of the Holy Year of Mercy and the gift of the Eucharist, tens of thousands of people attended the 2016 Eucharistic Congress of the Archdiocese of Atlanta June 3-4 at the Georgia International Convention Center.

"Be merciful just as your Father is merciful," from the Gospel of St. Luke, was the theme for the 21st annual congress.

Organizers estimate that nearly 30,000 people attended this year's event, making it the largest gathering of Catholics in the Southeast. Nationally recognized speakers presented programs on the faith in English, French, Spanish, Vietnamese and American Sign Language, priests offered the sacrament of reconciliation in a dozen languages, and children enjoyed activities tailored to the year's theme.

For the first time, a hunger project dubbed Starve Wars took place the morning of June 3, as 500 volunteers assembled 100,000 meals to send to Burkina Faso in West Africa through Catholic Relief Services' Helping Hands program.

The message of mercy was foremost in the thoughts of many congress participants.

Sara Espana, from Holy Cross Church, Atlanta, came as a Spanish-language prayer team member for the opening night healing service. She said she had come back to her faith eight years ago.

"I feel like this is a special year because we all have the opportunity to return to the Father. He is open," Espana said. "It is a huge opportunity. It doesn't matter how many times we fall away, how big our sins are."

The congress is a metaphor for this special year, she said.

"It is like having all these doors open to anybody," Espana said, pointing to the people walking into the convention center. "It is mercy."

She said the impact of the congress was hard for her to put into words, but she felt it deeply.

"When we are all together, it is the entire body of Christ together. It is a feeling," Espana said, her eyes filling up as she spoke.

She added that hearing teachings from clergy and lay theologians and the testimonies of faith also motivate her to come each year.

"It is important to keep learning about our faith," she said.

For many, participating in or watching the Eucharistic procession on Saturday morning is a highlight. One hundred groups, carrying colorful banners, took part in the procession. Parishes, ministries, school groups and religious orders were represented. Groups in brilliantly colored costumes performed traditional dances in honor of the Virgin Mary, including the San Felipe de Jesús dance troupe of Forest Park.

"I just love it," said Isabela Barkes, 13, as she watched the procession file into the exhibit hall and cross in front of the altar. Barkes attended with fellow members of the Federation of North American Explorers from St. Francis de Sales Church in Mableton. The group is a Catholic youth organization.

Liliana Barkes, Isabela's mother, brought several girls to the morning session and expected other explorers to join them later in the day.

"It's about saving souls for our youth," said Barkes of the group's mission. "It's our faith first."

The youth learn they can have fun while learning about faith.

First-time attendee Nancy Gessling came with a group of parishioners by bus from Good Samaritan Church in Ellijay.

Sporting a bright yellow T-shirt designating volunteer status, Gessling was delighted to attend her first congress. She decided to become a Catholic four years ago after watching Bishop Robert Barron's series, "Catholicism" on PBS.

"It was the most beautiful thing," she said. "It was faith and reason."

Gessling's eyes filled with tears as she described her first visit to the parish.

"I walked into Good Samaritan and there was so much love. Jesus is here," she remembered thinking.
Mercy is a gift and a mandate
Archbishop John C. Wester of the Archdiocese of Santa Fe, New Mexico, was homilist for the morning liturgy Saturday, speaking on the parable of the Good Samaritan.
Archbishop Wester said he thinks often of St. Thomas Aquinas' Eucharistic prayer, "Adoro Te Devote," and the critical link it makes between the sacrament and the sacrifice made by Jesus on the cross.
"Under this simple form of bread, Jesus Christ truly exists body and soul, as Thomas says, 'Godhead here in hiding'," said Archbishop Wester. "In this sacrament, we adore Christ, who, as Pope Francis tells us in the inauguration of this Year of Mercy … is the face of the Father's mercy."
From the Incarnation, to his dying and resurrection, Jesus reveals the compassion of God, he said.
Jesus' parables, particularly those of the fifteenth chapter of St. Luke, including the parables of the lost sheep, the lost coin or the prodigal son, demonstrate mercy.
"Scripture scholars tell us if we had nothing in the New Testament but this one chapter of Luke's Gospel, we would have grasped the core of the Gospel message—the mercy of God expressed in his only Son, Jesus Christ," said Archbishop Wester.
The archbishop said it is clear that we must act mercifully toward others in gratitude for mercy shown to us.
"In receiving the gift, we also receive a mandate," said the archbishop.
"Pope Francis reminds us of this very strongly," said Archbishop Wester. "He says to us, Jesus affirms that mercy is not only an action of the Father, but becomes a criterion for ascertaining who his true children are."
The story of the Good Samaritan was Jesus' response to the lawyer who asked, "Who is my neighbor?" The law was a stumbling block for this man who questioned Jesus.
"He had a minimalist approach to mercy, and he was using the law to narrow the scope of those to whom he should be merciful," explained the archbishop.
"Jesus answers him from the heart. It's not mysterious or remote, up in the sky or across the sea. No, mercy is something very near to you, already in your mouths and in your hearts. You have only to carry it out."
"Jesus asks who becomes a neighbor. … The example Jesus gave us in the Incarnation when he became our neighbor and pitched his tent among us."
He noted that the Good Samaritan treated everyone with mercy, even the innkeeper with whom he entrusted money for the care of the injured man.
"This mercy must become who we are … a lens through which we see every situation, our foundation, our basis for living," said the archbishop.
Don't be distracted from compassionate acts
He spoke of the importance of listening and not having a hardened heart.
"We must trust our gut, that God created us as merciful," he said. "We need to remember that God placed deep within us that sense of mercy."
"We put a great emphasis on data and knowledge and intellectual acumen. It is important of course, but it cannot replace the heart," he said.
"You and I must trust our hearts and listen to them."
Being grateful is the key to having an attitude of mercy.
"Gratitude is something that in some ways I think is evaporating in our society," noted the archbishop. "People have a hard time saying thank you, and they have an equally hard time saying you're welcome. We're losing that interchange of gratitude and a reception of a favor given."
While attending the congress and preparing to receive the Eucharist, the visiting archbishop urged attendees to remember family, teachers, and strangers who have supported them. He encouraged thankfulness for "the promise of a new day, things to do, places to go, people to meet, projects to complete, and prayers to say."
"It's too easy to allow the world to distract us from the compassion we feel," he said.
Many times, said the archbishop, we pass others by because of no time, or fear of becoming too involved, or relying on someone else to help.
He urged all to use adoration and prayer to become the body of Christ, and living mercy in the world.
"This is a transformational process," he said. "We, like the Good Samaritan, are becoming Jesus. We're becoming the very mercy of Jesus."
He also emphasized the importance of forgiveness, saying that, "only forgiveness, only mercy, can free us from the past … and open us to new horizons."
"We must set out on the deep ocean of mercy," Archbishop Wester said.
A festival of speakers
Following the homily, Archbishop Wilton D. Gregory welcomed all to the congress and presented a refresher on the corporal and spiritual works of mercy, listing each—from feeding the hungry to comforting the sorrowful.
"These are the ways of life that Christ taught us when he became man and walked upon this earth just as we do," said Archbishop Gregory.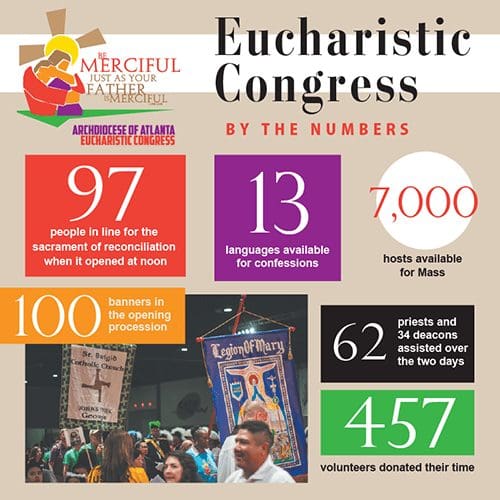 It's the Eucharist that provides faith and courage in an unpredictable world, said the archbishop.
"On those days when the challenges seem too heavy to bear or to overcome, then as Christians we must remember that there is only one answer for what will help us; one source of power, of understanding and of strength to help us to move forward—the living, the true presence of Jesus Christ in the Eucharist," he said. "Understanding that and taking that to heart is what this congress and all our congresses have been about."
It was the 12th congress for Archbishop Gregory, and he said it has become a model for other dioceses to have similar gatherings.
Deacon Dennis Dorner, chancellor and chair of the Eucharistic Congress steering committee, said work would begin immediately on next year's event.
"It's like coming to an amazing family reunion. We are all family, and we come here to gather and we see old friends and we have a grand time doing it," Deacon Dorner said.
The 2016 congress began Friday evening, June 3, with an opening Mass celebrated by Bishop David P. Talley, auxiliary bishop of Atlanta. A healing service followed, led by Father Tim Hepburn, director of vocations for the archdiocese, and Father Jorge Carranza, parochial vicar of Good Shepherd Church in Cumming.
Hundreds of young adults attended REVIVE Friday evening at the neighboring Atlanta Airport Marriott Gateway hotel. REVIVE featured a program of charismatic music, and a presentation by Doug Tooke who works in youth ministry for the Diocese of Helena, Montana.
French-speaking Catholics from across the Caribbean and African nations enjoyed a Francophone track Friday night.
Saturday speakers included evangelist and author Allen Hunt; Jennifer Fulwiler, writer and Sirius XM show host; John Allen Jr., editor of Crux and senior Vatican analyst for CNN; Dr. Carolyn Woo, CEO of Catholic Relief Services; musicians Collin Raye and Andrea Thomas; and Father Donald Calloway, who shared his conversion story.
Father Christopher Klusman, one of just a few deaf priests in the United States, presented a powerful message on the corporal works of mercy during the American Sign Language track. Spanish and Vietnamese tracks were also held.
A Mableton father, Sammy Zamarrón, stood in line for a copy of Fulwiler's book after her talk for his daughter. He said he appreciated the "positive messages" of the congress "and the energy." He likes the great diversity of the Catholic Church.
"We all should know mercy is very important, but we need to be reminded," he said. "It is always good to reenergize your faith."
A member of St. Thomas the Apostle Church, Smyrna, Zamarrón said, "The way society is today, we always make time to go to sporting events, concerts."
"This is something very positive for your family. This is a good activity to do, especially for kids, for them to get more involved."
He liked the addition of the Starve Wars service project.
"When you put service in, that drives the younger people, which is good for the church," he said.
Ministries, orders, vendors
More than 65 exhibitors set up displays to promote ministries or to sell products ranging from prayer pillowcases to pilgrimages.
The Lingap Children's Foundation, the world missions project supported by Transfiguration Church in Marietta, was one of the ministries with an exhibit.
"Let's do something to build awareness," was the thought behind participating, said board member and Transfiguration parishioner Rick Higdon.
The foundation serves Filipino street children by offering shelter, food and education with the goal of building a stronger society in the Philippines.
Higdon said they were able to network with another parish for possible future projects by participating in the exhibitor fair.
Holy Spirit Church parishioner Ellen Cocks, owner of "Compassionate Gifts by Sweet Little Soul," was participating for the second year as an exhibitor. She sold handcrafted cards with messages of compassion for anyone facing struggle, and one-of-a kind baby rings for women who have lost children.
The creation of the jewelry, arts and cards came from a personal experience.
"I lost a baby in 1998," explained Cocks.
As a 6-year-old, her son Luke created a painting of an angel, which she believed could bring comfort to other bereaved parents, even for a brief moment, in the form of a card or bookmark.
"I think the Holy Spirit worked," she said.
Outside of the exhibitor/vendor marketplace, Catholic Charities set up a mock refugee resettlement scene to give passers-by a glimpse into life at a refugee camp. Catholic Relief Services displayed information about its Starve Wars meal-packing campaign, held the previous morning.
Throughout the day, a steady stream of people visited the silent adoration chapel for quiet time before the Blessed Sacrament exposed in a monstrance.
Several live radio broadcasts were part of the congress experience. Stations with broadcast tables were Radio Ablaze from St. Monica Church, Duluth, Radio Inmaculada, Radio Kerigma, the Catholic Channel, and Catholic Cast Radio. Father Dennis Dorner also recorded podcasts.
Several religious orders, the archdiocese's Office of Vocations, and the Office of the Permanent Diaconate attracted visitors with fun displays and photo ops.
Deacon Dorner expressed gratitude to the diaconate community for volunteer work, the priests and seminarians who joined in, the congress steering committee for its leadership and joyful service, and to Archbishop Gregory for his "stalwart support."
"I have been touched by the change in demographics over the past 10 years," said Deacon Dorner after the congress. "Our Spanish track has grown, and we even expanded the number of seats available this year. Once again they were full to capacity."
At the closing Vigil Mass Saturday evening, Archbishop Gregory spoke on the Gospel of Jesus raising the son of the widow of Nain, another parable of mercy.
"That is the pattern of God's mercy," Archbishop Gregory said. "We receive it and then are obliged to share it with others."
"That reality must be the takeaway from this year's Eucharistic Congress," he said. "The Father of all has forgiven and loved all of us and we, in turn, must forgive and love one another."
A dramatic video was unveiled, promoting the 2017 Eucharistic Congress, which will take its theme from Joshua 24:15, "As for me and my house, we will serve the Lord."
"For those who have never participated, you are missing something extraordinary," said Deacon Dorner.
---
View the video announcing the 2017 Eucharistic Congress.
Gretchen Keiser contributed to this article.