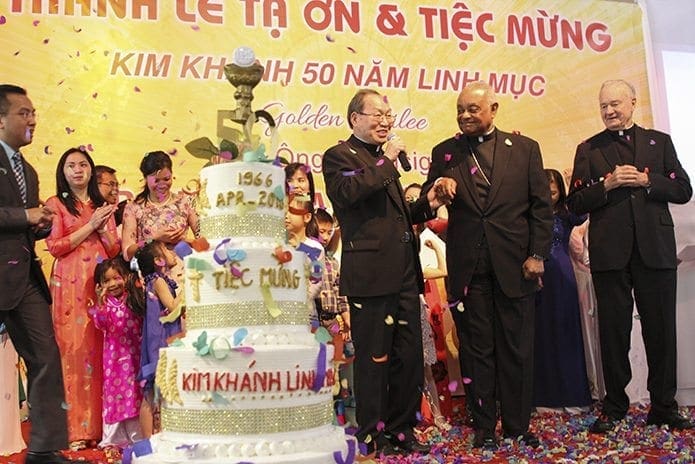 By NICHOLE GOLDEN, Staff Writer
|

Published May 26, 2016

RIVERDALE—Msgr. Francis Pham Van Phuong, retiring as pastor of Our Lady of Vietnam Church in Riverdale July 1, was the only Vietnamese priest in the Archdiocese of Atlanta for many years.

More than 1,000 parishioners helped Msgr. Phuong mark the 50th anniversary of his ordination to the priesthood and retirement during an April 24 Mass at the church. Archbishop Wilton D. Gregory was the principal celebrant. The pastor's longtime friend who first brought him to Atlanta, Father Richard Morrow, concelebrated the Mass.

Father Peter Duc Vu has been appointed as the pastor of Our Lady of Vietnam, effective July 1.

Msgr. Phuong was just 12 when he entered the minor seminary of Phuc-Nhac, Phat-Diem in 1951. He was ordained April 29, 1966, in the Basilica of Saigon, Vietnam.

At that time, entering the seminary at a young age was encouraged for young men from devout families.

"In my country, my parents were very fervent, very religious, very devoted," explained Msgr. Phuong. "So parents who are devoted want their children to become priests because being a priest is respected, cherished by all the people."

The young priest was assigned to be assistant pastor of Ke-Sat Parish in the Diocese of Xuan-Loc. He then served as principal of St. Monica High School and assistant pastor at another parish until his bishop offered him a unique opportunity.

"The bishop asked me did I want to come to the United States to study so that later I could come back to Vietnam and be superintendent of the schools," he recalled.

He agreed, having no idea that his life would take a much different path, and he wouldn't be able to return home because of the war.

"I stayed here because of the collapse of Saigon," he said.

Earning a master of education degree in 1974 at Fairfield University in Fairfield, Connecticut, he began serving as a chaplain to Vietnamese entering the United States as refugees. He had no real commitment but would fill in on Tuesdays as a hospital chaplain.

There he met Father Morrow, a Connecticut native, who was visiting his parents.

"I bring holy Communion to Father Morrow's parents, who are sick in the hospital, and I prayed with them and I met Father Morrow," said Msgr. Phuong.

The pastor of St. John the Evangelist Church in Hapeville studied the new acquaintance and his youthful energy and said, "Why don't you come and work with our Vietnamese families?"

"So I said yes," said Msgr. Phuong. "Father Morrow wrote home and he got a letter from Archbishop (Thomas) Donnellan. He made an arrangement for me to come here to meet with him."
Ministry began with 30 families
In 1976, Archbishop Donnellan named him an assistant pastor of St. John the Evangelist and leader of the Vietnamese apostolate for the archdiocese.
At the time the Vietnamese community, based in Hapeville, numbered about 30 families.
Today Our Lady of Vietnam Church, one of two Vietnamese-language parishes in the archdiocese, has 850 member families or about 3,000 people. The second is Holy Vietnamese Martyrs Church, in Norcross, where growth has been exponential.
Msgr. Phuong wonders who would have served the community if the meeting with Father Morrow hadn't taken place.
"God makes everything," he said. "Years ago, I was the only priest, but now we have 13 priests working for the Vietnamese community."
The Vietnamese community has three permanent deacons and is served by eight Dominican Sisters of Our Lady of the Rosary from Vietnam. Good Shepherd Sister Christine My Hanh Truong has offered social services for many years near the Norcross church.
Msgr. Phoung has enjoyed a good working relationship with all of Atlanta's bishops throughout the years. In 1986, he began working to establish a church for the Vietnamese to worship God in their language and according to their customs.
Three years later, Our Lady of Vietnam Mission in Forest Park was established with him as administrator.
Archbishop Eugene A. Marino, SSJ, who gave permission for the mission challenged him about being the only Vietnamese priest and wanted to know who would be there to continue after him.
"So I said, 'Archbishop, the Vietnamese are very, very devoted, religious people. We will have a vocation'," he recalled.
In 1997, the mission was elevated to a parish and moved to Riverdale. Msgr. Phuong became the first pastor. Archbishop John F. Donoghue was involved in selecting the location.
"Archbishop Donoghue came with me to see the property," said Msgr. Phuong. "He said, 'Francis, it's a good deal. Buy it right away'."
The parish has since renovated its parish buildings and added a new social hall and pavilion. Members raised $4 million for the project between 2010 and 2015.
Parishioners are generous to church
His leadership in Georgia garnered national recognition for Msgr. Phuong. He was elected president of the Federation of Vietnamese Catholics in the United States in 2001. He also served as general chaplain for the Vietnamese Eucharistic Youth Movement in the USA, which has a membership of 23,000 children.
Along the way, Msgr. Phuong also pursued further education. He earned the degree of doctor of ministry and pastoral counseling from the Graduate Theological Foundation in South Bend, Indiana.
The pastor enjoys giving tours of the church to first-time visitors. Vietnamese artisans created the sanctuary's stained glass windows, statues, tiling and other decorative features.
"Everything here is from Vietnam … even the chairs," said Msgr. Phuong.
This allows worshipers to feel connected and closer to their homeland.
"So the people feel very happy," he said.
The new pavilion provides space for large weekly gatherings after Mass. Parishioners cook special meals to sell with profits going back to the parish.
The parish also has an outdoor Sacred Heart Shrine. A 13-foot statue of Our Lady of Vietnam welcomes visitors to the parish property. The women of the parish collected the funds for the Marian statue.
Although Msgr. Phuong will live at the rectory in Riverdale, he plans to travel to see friends from coast to coast and beyond.
"I will have more time to pray and I think I will go back to Vietnam from time to time maybe once a year… as long as my health permits me to do so," he said.
Upon retirement and celebration of his golden jubilee, Msgr. Phuong expressed gratitude to Father Morrow for his insight.
"I learned from him," he said.
In the Mass program, Msgr. Phuong included words of thanksgiving to past students, all parishioners, his blood and spiritual relatives, and brother priests.
"For having been part of my priest life, may our good Lord protect and bless you and your family always," he wrote.
Like a missionary apostle
In his homily, Archbishop Gregory remembered April 1966 when the war between the U.S. and Vietnam still raged with no end in sight.
"It was a very difficult time for the people of these two nations," said Archbishop Gregory. "But it was also a time of grace for an event that would touch the hearts of both peoples for the next 50 years as Francis Phuong was ordained a priest of Jesus Christ at that very moment in time."
The archbishop said Msgr. Phuong has brought many gifts to the service of the church.
"Msgr. Francis has been a faithful minister of the Church in two different nations and for that we praise and thank Almighty God," he said.
Archbishop Gregory likened the work of the retiring pastor to that of Paul and Barnabas whose journeys to proclaim the Gospel took them far from home.
"Over the centuries more modern disciples have brought the Gospel to many other locations, including those European missionaries who brought the Catholic faith to Vietnam and thus enriched the lives of the people within that community," he said. "And the modern day disciple most identified with that blessed work of evangelization locally in north Georgia is none other than our own Msgr. Francis Phuong."
---