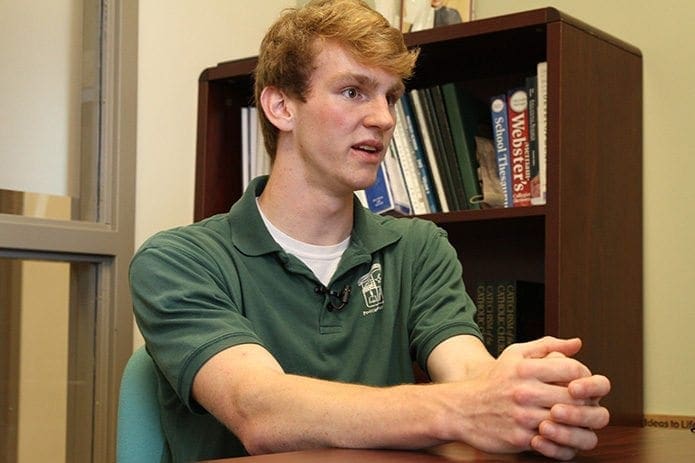 By ANDREW NELSON, Staff Writer
|

Published May 26, 2016

CUMMING—Zayne Rice has been a three-year starter on Pinecrest Academy's varsity basketball squad with his 6-foot, 3-inch frame. But it's when he talks about the Special Olympics that his face lights up.

"I've played with the same people for the past eight, 10 years. They are basically my second family. It's a blast doing it. I do it because I enjoy it. Helping out, and seeing the joy in other kids' faces, the athletes' faces, that just makes it that much better for everyone," said Rice, who in a touch of senior class rebellion wore shorts to school that day.

Rice is kid brother to Madison, who has been diagnosed with autism. Rice teamed up with her and other athletes on Forsyth County Special Olympics teams, competing in basketball and flag football, among other sports.

As a competitor, he doesn't let up. The victory is sweet with the Special Olympics. He plays to win with the Forsyth County basketball team, which is a squad with players with and without intellectual disabilities. The team is a perennial medal winner. Rice shared a happy memory from 2015 when he scored at the buzzer, putting his team up by one and winning the gold.

"I was very excited, but seeing the joy in their faces just made it all much better for me," he said.

It isn't just about what happens on the court. His participation has ingrained in him life lessons.

"I believe anyone can do anything. You shouldn't judge anybody. I know how to act on the court better now. I know when I get upset I know not to express it on the court. I don't want the athletes for Special Olympics to see you get upset."

Coach Wayne Hancock has watched Rice grow up alongside the Special Olympics athletes, from a youngster to a leader. Rice mentors and is a friend to athletes, and he's inspired his Pinecrest classmates to join in the effort with Special Olympics, said Hancock, who leads basketball, flag football and softball teams for Forsyth County.

"He's very caring. He just knows how to work with those who are a little different. He helps them achieve better. He's going to be one of those guys who is going to change the world," Hancock said, adding Rice's service with Special Olympics athletes has already changed their world.

Rice is the youngest of three children of Melissa and Don Rice, of Cumming. His mother works with families with developmentally delayed youngsters and his father is an educator. The family attends St. Clement Episcopal Church in Canton. Rice began at the Cumming independent Catholic school in kindergarten. The small class sizes make it impossible for students to hide, a trait he believes will serve him well this fall when he enters Reinhardt University, in Waleska. He hopes to study physical therapy and he has signed to play basketball for Reinhardt.

He advised freshmen entering high school not to limit themselves to one group of friends.

"Branch out and become friends with everyone, no matter what grade. I have close friends in every grade and that really makes high school great," he wrote in an email.
---