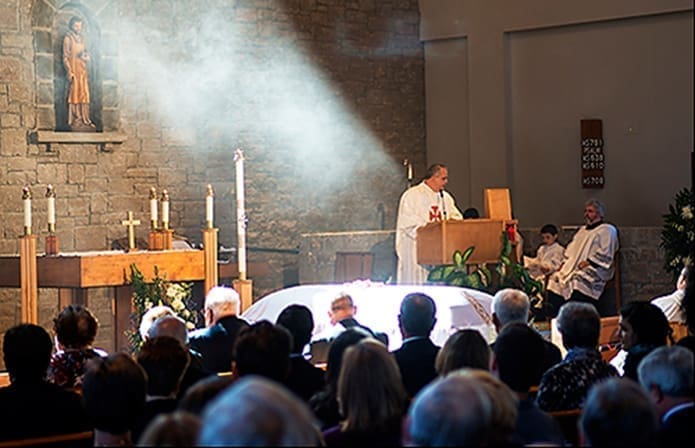 By NICHOLE GOLDEN, Staff Writer
|

Published May 12, 2016

FAYETTEVILLE—A Georgia-born priest, Father Michael McWhorter loved Civil War history, his family's Southern roots, his faith, and, most especially, the Eucharist.

Father McWhorter, 52, died unexpectedly April 29, in his sleep. It was discovered when he failed to come to St. Gabriel Church for Mass.

Archbishop Wilton D. Gregory was principal celebrant of the funeral Mass May 5 at the church in Fayetteville where Father McWhorter was pastor. Bishop David P. Talley, who was in the seminary at the same time as the priest, and Bishop Luis R. Zarama concelebrated the Mass.

A longtime friend, Father Timothy Gadziala was homilist.

He said ordination to the priesthood was the pinnacle of his friend's life.

"He loved the faith, he loved the church, and most importantly he loved the Lord and never forgot his roots, his Christianity," said Father Gadziala.

"When we think about Father Michael, we have to go back to 1963," he said. "He was not a Catholic but a full-fledged Baptist and loved his faith."

As he grew up and searched for truth, he changed his church home, first to the Methodist and then the Episcopal churches, before he became a Catholic, entering through the RCIA program at Corpus Christi Church in Stone Mountain.

The two priests met at a gathering for seminarians and realized their parents were already acquainted. "That started the journey," said Father Gadziala.

People questioned why they were friends when Father McWhorter was such an introvert and Father Gadziala such an extrovert.

"We shared a lot of commonalities: a love of God and the Eucharist and tradition," said Father Gadziala.

Even when assignments took them apart, they would get together frequently and visit Civil War and Revolutionary War historical sites.

"Michael was a real gift to me," said Father Gadziala, who is currently serving in the Diocese of Mandeville, Jamaica. "He certainly knew who he was and what he was—a priest."

"He was an old soul in many ways," said Father Gadziala. "He researched everything. He made sure things worked. He always took care of the little details."

Father Gadziala attempted to emphasize the importance of exercising and urged Father McWhorter to take up golf. He didn't enjoy the game or watching football or baseball but did call his friend one day with a new discovery.

"Father Tim, I've got a sport—NASCAR," said Father McWhorter. His friend broke the news that watching NASCAR was not a form of exercise.

Father McWhorter was almost obsessive about the things he loved and was a scholar of philosophy, history and the liturgy.

He studied his maternal family's roots in Dahlonega and traced them to the Confederacy.

"He loved his mother's roots. He was a true son of Georgia," said Father Gadziala.

Michael McWhorter, son of Billy and Dorothy McWhorter, was raised in Stone Mountain. He graduated from Stone Mountain High School in 1981 and then Georgia State University before seminary at St. Meinrad School of Theology in Indiana.

Ordained to the priesthood in 1992 by Bishop Thomas Larkin, bishop emeritus of St. Petersburg, Florida, Father McWhorter first served as a parochial vicar at St. John Neumann Church in Lilburn from 1992-94. He then was parochial vicar, administrator and pastor of Holy Trinity Church in Peachtree City. Subsequently, he spent 12 years as pastor of Sacred Heart Church in Milledgeville before being assigned as St. Gabriel's pastor in 2009.

His priest friend said he was committed to praying for the deceased, even those not known to him personally, including famous people.

"Really, Michael taught me about the mystery of the body of Christ. He taught me that love of Christ is not just Catholic," but for all God's kingdom, said Father Gadziala.
Priest just preached to rejoice at a funeral
Many of St. Gabriel's parishioners said their pastor's last Sunday homily took on a new meaning after his death. Father McWhorter spoke about how Catholics tend to celebrate the resurrection as if they are going to a funeral.
"We should not be glum; we should rejoice. Life is transitory; it is not ending," was the message he shared with parishioners.
A survivor of bladder and colon cancer, Father McWhorter worried about his family, not himself.
When preparing for his funeral, loved ones found several copies of St. Francis de Sales' prayer, "Complete Trust in God" in the priest's Bibles and books.
The prayer reads in part: "Do not look forward to the trials and crosses of this life with dread and fear. Rather, look to them with full confidence that as they arise, God, to whom you belong, will deliver you from them."
The priest's younger brother, Shawn, said in a eulogy that he noticed one consistent thing about his brother when looking through parish photos over the years.
"He never stopped smiling. He absolutely loved what he did," said McWhorter. "He loved teaching. He loved ministering. He loved his church family so much that you could see it in his face."
His brother had never been away from home when he went to St. Meinrad.
"Mom and Dad and I went up there with him to help him move in. We still talk about it today. There was this seminary student who came up and made him feel welcome, helped him move in, helped that transition. He introduced himself as David," said McWhorter as he turned gratefully toward Bishop Talley.
His elder brother wasn't secure as it came time to move for new assignments.
"He liked things the way he wanted them. You accepted his ways," McWhorter told those attending the Mass. "Thank you very much for allowing him into your lives."
Mary Harris, St. Gabriel parishioner, said Father McWhorter was very supportive of the St. Vincent de Paul conference, vocally helping them when they would collect donations once a month.
"He would stand after Mass along with other Vincentians and yell out 'alms for the poor.' Our collection was usually better when he helped collect," she said.
Harris, who is president of the parish SVdP conference, said not long after the pastor's arrival, he asked what the most needed items for the food pantry were.
"After that, as he would hear confession, he would not tell the 'sinner' to say three Hail Marys, he would tell them to bring three jars of peanut butter or six rolls of toilet paper, or whatever it was that we told him we needed that week," she said.
He then would discreetly whisper to her that she could expect 18 cans of chili or a dozen jars of peanut butter.
Advocate for deacon with disability
Deacon Francis Head of St. Gabriel said that Father McWhorter's real gift was speaking and listening to people individually.
"He was so compassionate. People would come into the office with a problem. He would spend all day with them," said Deacon Head. "On a one-on-one basis, he was phenomenal."
The children of the parish loved the pastor, said Deacon Head.
"He claimed not to understand them. They got him," said the deacon. "One little guy … he would follow Father Michael around and try to give him his stuffed elephant."
During Head's formation for the permanent diaconate, Father McWhorter provided valuable support. The deacon, who uses a wheelchair, knew that other priests weren't sure how he would fit into ministry.
"He was a big advocate. He never questioned it," said Deacon Head.
When Deacon Head reads the Gospel, an altar server holds the book as the ambo is too high for someone in a wheelchair.
"Father Michael thought that up. It was, 'How can we help you?'" said the deacon.
As part of formation, Deacon Head visited patients at Saint Joseph's Hospital, and on the drive home, he would call Father McWhorter.
"We would talk the whole time. He would kind of let me unload," he said.
Deacon Head said the priest was an honest man with no agenda.
"He loved the parishioners. They prayed him through cancer," said the deacon.
The two had many discussions about death while the priest underwent treatment for cancer.
"Aren't you afraid?" Deacon Head asked Father McWhorter. The priest answered, "How can I do what I do and preach what I preach and then be afraid to go and be with Jesus."
His one concern was that no one would pray for him after death.
"Remember to pray for him and all the dead," said the deacon.
When Father McWhorter was late for a Mass, parishioners knew something was wrong. They found he had died in his sleep. Immediately, a group prayed the Divine Mercy chaplet. Teens of the parish later held a candlelight vigil.
"He gave great homilies"
Cindy Sencindiver served as Father McWhorter's secretary during his 12 years at Sacred Heart Church in Milledgeville. When he found out she was from Pennsylvania, the teasing about Yankees began. She found a way to respond by hanging a picture of Gen. Ulysses S. Grant in the office.
"Father Michael came in, and he's just not saying anything," recalled Sencindiver. He finally spoke and asked, "What's that doing there?"
She said people of the church responded to his homilies.
"He gave great homilies," she said. "Father Michael's homilies were more like getting a history lesson."
One time, he discussed the Book of Revelation, and she later told him she didn't really understand. He came back 30 minutes later figuring out the reasons behind her misunderstanding.
"He re-explained it to me and I got it," she said.
At the parish carnivals, Father Michael would always wear costumes. One year, he was Darth Vader and brought his own light saber to do battle with the children.
"He was a big kid," she said.
Last September, Sencindiver had a chance to visit the priest while passing through Fayetteville. She surprised him during a festival in St. Gabriel's parish hall.
"His face just lit up," she said of the memory.
While she attended his funeral Mass, Sencindiver couldn't bring herself to go to the reception in the parish hall. She wanted to remember their last visit there as it was.
"He had such a good heart. He always wrote thank you notes. He was a very caring person," she said.
She found comfort in a poem that asks the question, "Why cry for a soul set free?"
"We will have Masses for him," she said. "He doesn't have to worry about being forgotten."