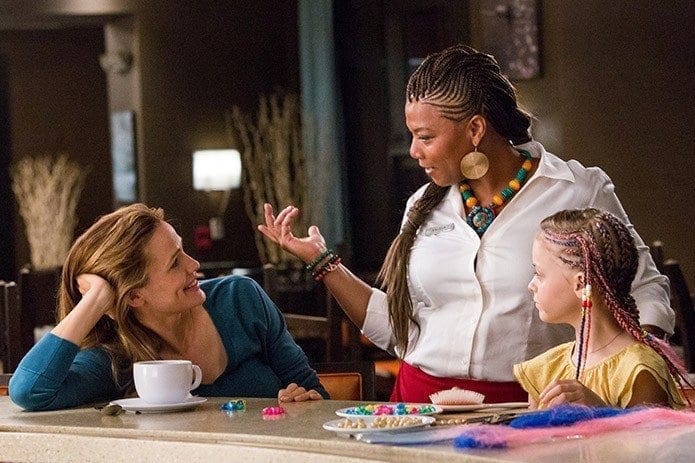 By JOHN MULDERIG, Catholic News Service
|

Published March 18, 2016

NEW YORK (CNS)—The fact-based drama "Miracles From Heaven" (Columbia) tells a remarkable story.

Though director Patricia Riggen's screen version of Christy Beam's 2015 memoir is clearly designed for believers—and sometimes feels padded—even dedicated skeptics may have trouble dismissing its underlying narrative.

A wife and the mother of three daughters, Christy (Jennifer Garner) is going about her everyday life in the Fort Worth area of Texas when tragedy strikes without warning: Her 10-year-old middle daughter Annabel (Kylie Rogers) develops an unexplained but seemingly unshakable illness.

Alarmed, Christy refuses to accept the series of more or less casually delivered misdiagnoses from unfocused doctors with which she's presented. And eventually, the grim truth emerges. Annabel's symptoms are identified as stemming from pediatric chronic intestinal pseudo-obstruction, or CIPO, a rare, painful and incurable condition that prevents the body from digesting food.

Persistent Christy now focuses on obtaining the care of one of the few specialists in CIPO, Dr. Samuel Nurko (Eugenio Derbez). However, although kindly and caring, Dr. Nurko proves powerless to combat the disease—and Annabel's death sentence stands.

Although Christy and her easygoing veterinarian husband, Kevin (Martin Henderson), are dedicated churchgoers—John Carroll Lynch plays their good-humored pastor—Christy's faith crumbles in the face of Annabel's current torment and impending demise. She finds herself unable to pray. She's also deeply angered by the misguided notions of some fellow parishioners who seem to entertain a pre-Christian understanding of the connection between sin and misfortune.

Yet a startling, almost inexplicable, turnaround awaits Christy—one which is certainly providential if not indeed miraculous.

Though it may be aimed at a self-selecting audience of the already convinced, screenwriter Randy Brown's script minimizes neither its protagonist's crisis of doubt nor the larger mystery of innocent suffering.

The dialogue also takes a wide view of what counts as a divinely inspired marvel, highlighting the above-and-beyond kindness shown to Christy and her clan by an ensemble of secondary characters. The most significant of these is Angela (Queen Latifah), a gregarious waitress who takes an instant—and cheering—shine to Annabel.

While squeaky clean as far as the normal array of objectionable elements is concerned, "Miracles From Heaven" nonetheless includes both subjects and sights that make it inappropriate for the youngest viewers.

The film contains mature themes as well as potentially upsetting incidents and medical procedures. The Catholic News Service classification is A-II—adults and adolescents. The Motion Picture Association of America rating is PG—parental guidance suggested. Some material may not be suitable for children.
"The Young Messiah" (Focus)
This engaging dramatization remains faithful to the underlying message of scripture even as it speculates about the childhood of Jesus (played here, age 7, by Adam Greaves-Neal), a topic on which the Gospels are virtually silent. As Joseph (Vincent Walsh) leads his family back from exile in Egypt, he and Mary (Sara Lazzaro) struggle to understand and guide their unique son, whose supernatural identity is at least partially known to his relatives—including his uncle Cleopas (Christian McKay) and cousin James (Finn McLeod Ireland)—and whose miraculous powers are already apparent. Danger pursues the extended clan in the person of a Roman centurion (Sean Bean) who has orders from King Herod (Jonathan Bailey) to find and kill the boy and in the figure of Satan (Rory Keenan) whose presence only Jesus can sense. Director and co-writer Cyrus Nowrasteh's screen version of Anne Rice's 2005 novel "Christ the Lord: Out of Egypt" sensitively explores the mystery of the Incarnation in a way that will both intrigue and entertain viewers of most ages. Though discreetly handled, some mature elements bar endorsement for the youngest moviegoers. Combat violence with slight gore, scenes of crucifixion, an attempted rape, at least one crass term. The Catholic News Service classification is A-II—adults and adolescents. The Motion Picture Association of America rating is PG-13—parents strongly cautioned. Some material may be inappropriate for children under 13.
"10 Cloverfield Lane" (Paramount)
Audacious, witty, intelligent and skillfully made, this bracing combination of suspense and science fiction from director Dan Trachtenberg is also refreshingly free of vulgarity. Held captive in an underground bunker by a paranoid and possibly murderous survivalist (John Goodman) who insists he saved her from an apocalyptic event in the wider world, a lone traveler (Mary Elizabeth Winstead) must decide between the claustrophobic evil currently confronting her and the unidentified dangers that may be lurking outside. Probably acceptable for mature teens. Some bloody physical violence, including a shooting death, an intense atmosphere, a single use of rough language. The Catholic News Service classification is A-III—adults. The Motion Picture Association of America rating is PG-13—parents strongly cautioned. Some material may be inappropriate for children under 13.
"Whiskey Tango Foxtrot" (Paramount)
A low moral tone pervades this fact-based blend of comedy and drama, set in the early 2000s, about a deskbound reporter (Tina Fey) who impulsively transforms her life by becoming a war correspondent in Afghanistan. As she befriends her guide and translator (Christopher Abbott) as well as one of her few female peers (Margot Robbie), she also falls into a largely commitment-free romance with a dashing photojournalist (Martin Freeman) notorious for his womanizing. In adapting Kim Barker's 2011 memoir "The Taliban Shuffle," co-directors Glenn Ficarra and John Requa showcase the oppressive restrictions placed on women in some Muslim cultures, along with the hypocrisy of some public officials (personified here by Alfred Molina) charged with enforcing such mores. But their film takes for granted the off-kilter ethics that currently prevail in the West, exaggerated here by the decadence-breeding perils of a combat zone. Thus Robert Carlock's screenplay gives an amused pass to cocaine-sniffing, drunkenness, alcohol-fueled promiscuity and even sex with animals. Scenes of armed conflict with brief but graphic gore, drug use, a debased view of human sexuality, semi-graphic nonmarital bedroom activity, fleeting pornographic images including an act of bestiality, numerous uses of profanity, pervasive rough and crude language. The Catholic News Service classification is O—morally offensive. The Motion Picture Association of America rating is R—restricted. Under 17 requires accompanying parent or adult guardian.