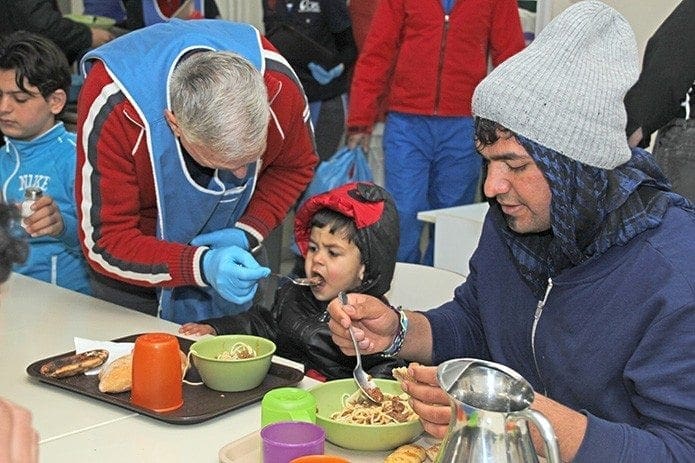 By NICHOLE GOLDEN, Staff Writer
|

Published March 3, 2016

ATLANTA—Refugees from Syria, Afghanistan and Iraq are arriving by the thousands daily in the nation of Greece, a country struggling with its own devastated economy.

Deacons Steve Swope and Bill Hampton of the Archdiocese of Atlanta are spreading the word about the plight of refugees following a nine-day trip to Greece and Serbia for Catholic Relief Services in January.

Deacon Swope, of St. George Church in Newnan, and Deacon Hampton, of St. Matthew Church in Tyrone, were part of a 10-member delegation that went to see emergency operations firsthand and help serve the refugees.

"It was really different from other CRS trips," said Deacon Swope, a global CRS fellow.

Unlike a 2014 trip he made to Kenya, where the emergency response was related to drought, poverty and hunger, those flowing through Greece and Serbia are fleeing violence and persecution. The refugees are primarily families who were once middle class, having worked as accountants, lawyers or other professionals.

"Frankly, six or seven years ago, they were just like us. Now they're on the run," said Deacon Swope.

"The poorest of the poor can't leave" the war-torn region, he said.

CRS is working with local partners in Greece, Macedonia, Serbia, Croatia and other countries to provide food and shelter, sanitation, medical care and translation services. Catholic partner organizations include Caritas Greece and Caritas Athens.

Nikki Gamer, CRS communications officer for Europe, said emergency relief has been provided to approximately 235,000 people in the region since last summer. The number could rise sharply in the coming months when warmer weather arrives, she said.

A March 1 report by the United Nations High Commissioner for Refugees said over 122,000 people had landed in Greece in January and February 2016 after crossing the Mediterranean Sea, and the build up of refugees in the country was an imminent humanitarian crisis. Forty-one percent are from Syria, 27 percent from Afghanistan and 17 percent from Iraq.

Food and emergency living supplies distributed to refugees include winter clothing, sleeping bags and mats, hygiene packages, food rations and water.

In Macedonia and Serbia, doctors are treating hundreds daily. Temporary shelter camps of trailers with beds and bathrooms are situated in Serbia.

CRS and other partners are providing translation services, information and legal resources about rights to apply for asylum so refugees can make informed decisions.

Deacon Swope underscored the difference between being classified as a migrant, who is leaving a country for economic reasons, and a refugee, who is escaping war or persecution.

In this crisis, only those fleeing Iraq, Afghanistan or Syria are permitted to apply for asylum in Europe. Deacon Swope said that at every step in their journey, refugees are interviewed, photographed and fingerprinted and compared with terrorist databases.

Those from countries like Morocco and Libya are not allowed outside of Greece and have 30 days to seek asylum, which is typically not granted. They must return to their native countries.

Deacon Swope called it an "irrational fear" to believe that the Syrian refugees all want to come to the United States and are terrorists.

"Americans are not getting the reality of the situation," he said. "They don't hate the West. They detest ISIS," he said.

While in Greece, the delegation of deacons, priests and two CRS staff members volunteered at a Caritas Athens refugee soup kitchen and visited refugee camps in Serbia.
"We have a moral obligation to help"
Deacon Swope has been sharing the stories of people he met, including refugees and aid workers, on his blog, "A Deacon's View."
A young widow, Hiat, is one refugee the group encountered. The woman had already sent an 8-year-old son to Germany to live with an uncle and is unsure of the future for her other five children traveling with her.
"My children have done nothing wrong," she told the group.
Hiat's husband was a civilian killed in the Syrian civil war.
Imagine an emergency forcing you to leave your home. You can only pack what's absolutely necessary for survival. This young mother made this decision to depart, leaving her wedding album and other possessions behind. Each child carried a backpack with needed items.
"It has to all fit. There's no sentimentality," said Deacon Swope.
When the deacons speak to parish or civic groups, they are often asked why the Syrian people didn't fight back.
He recalls Atlanta's Civil War history when the city fell to Union troops led by Gen. William T. Sherman.
"No group of citizens can fight an army. They weren't organized as an army," said the deacon.
Deacon Swope urged Catholics and Americans not to be afraid of helping the millions in need because of potentially suspicious individuals he believes are few in number.
"We have a moral obligation to help people in need. That's our Christian duty. We've always done it," he said. "Previous generations have not even considered ignoring the plight of others."
Deacon Swope also urged Americans to be intellectually honest about the crisis being one of the consequences of U.S. actions in the region, regardless of intent.
"Our allies are left picking up the pieces," he noted.
On "A Deacon's View," he also outlined economic reasons for supporting the refugees and countries accepting them.
There are many groups working alongside CRS, and Deacon Swope praised the large number of organizations collaborating together with no bickering or gaps in services.
"They work together seamlessly," he said.
Donations, prayers for peace, and communicating with lawmakers are three practical things all Catholics can do, say both deacons.
"We have to give alms. Make it a sacrificial gift," said Deacon Swope. "That's what the heart of Lent is all about."
"Their faces were just scared"
Deacon Hampton, who has traveled to Haiti and Nicaragua for CRS, remembers much joy in those countries despite the extreme poverty.
"There was always hope. I can't say I saw that on the faces of the people I met," said Deacon Hampton about the trip to Greece.
As a father and grandfather, Deacon Hampton said the most disturbing aspect was meeting children who are 9 to 13 years old.
"Their faces were just scared. They had seen too much," he said.
The CRS relief effort in Greece and surrounding countries is true emergency relief, he emphasized.
He called Catholic Relief Services "the best in the world in emergency relief."
"The church should be proud," he added.
Deacon Hampton has presented programs in Florida on the refugee response since returning. He said those attending seem surprised how much they have in common with the Syrians.
"These are moms and dads just like us," he said. "They want to go home. They know they can never go home. It's not going away."
The relief workers are often the first welcoming and willing people the refugees have encountered since fleeing. Deacon Hampton saw only patience from aid workers despite fuses running short sometimes.
"They try to love them back," said Deacon Hampton.
Like Deacon Swope, he suspects European nations will begin closing their borders due to the influx of refugees.
On March 1 the U.N. refugee agency said while European nations had committed to relocating 66,400 refugees from Greece, only 1,539 spaces have been pledged and 325 actual relocations have taken place. Border restrictions were adopted by Austria, Slovenia, Croatia, Serbia and Macedonia.
"At some point, the U.S. is going to have to step up. Advocacy at this point is very important," said Deacon Hampton.
As Catholics, the Eucharist commits Christ's disciples to serving those in need, reminded Deacon Hampton.
"We've got to become involved," he said.
---
To learn more about the work of Catholic Relief Services and church partners in Greece and Serbia, go to www.crs.org and click on "Europe" under the tab, "Our Work Overseas." Secure donations to the efforts can be made online. To read about the deacons' trip, visit http://deaconsview.com.