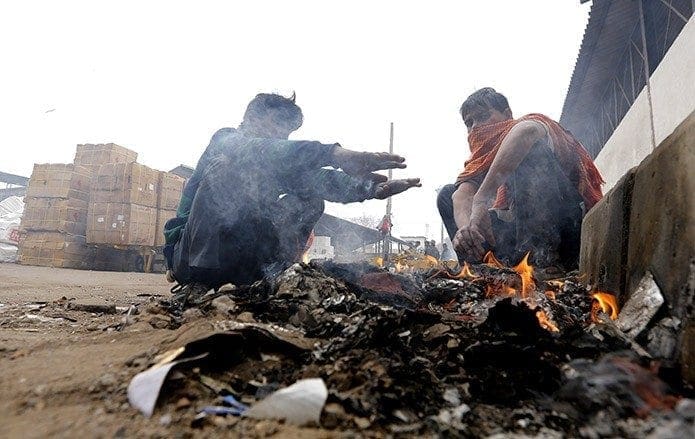 By CAROL GLATZ, Catholic News Service
|

Published February 5, 2016

VATICAN CITY (CNS)—Don't be afraid of acting fairly and compassionately toward the poor, Pope Francis said in a written message to global business leaders attending the World Economic Forum in Davos, Switzerland.

And do not let the sweeping innovations in robotics, science and technology "lead to the destruction of the human person—to be replaced by a soulless machine—or to the transformation of our planet into an empty garden for the enjoyment of a chosen few," he said.

The pope's message was read at the meeting Jan. 20 by Cardinal Peter Turkson, president of the Pontifical Council for Justice and Peace.

The annual meeting, held Jan. 20-23, brought together more than 2,500 people representing business, government, academia, media and the arts to discuss current challenges such as global economics and security, climate change, gender parity and the so-called "fourth industrial revolution," which refers to new technologies blending the physical, digital and biological worlds, resulting in greater interconnectivity of tools and objects that can collect and exchange real-time data.

In his written address, the pope said world leaders must "guide and govern" these new processes and "build inclusive societies based on respect for human dignity, tolerance, compassion and mercy."

Today, he wrote, fewer opportunities "for useful and dignified employment, combined with a reduction in social security, are causing a disturbing rise in inequality and poverty in different countries."

"Clearly there is a need to create new models of doing business which, while promoting the development of advanced technologies, are also capable of using them to create dignified work for all, to uphold and consolidate social rights, and to protect the environment. Man must guide technological development without letting himself be dominated by it," the pope said.

He urged leaders, "Do not forget the poor," and told them they have a duty to help those who are less fortunate to live a dignified life and develop their full potential.

"We must never allow the culture of prosperity to deaden us, to make us incapable of feeling compassion" for those who are poor and suffering, and to believe problems are someone else's responsibility, he said.

Once people realize that "our own actions are a cause of injustice and inequality" and that "we are compelled to heed their cry for help," the pope said, then "we become more fully human, since responsibility for our brothers and sisters is an essential part of our common humanity."

"Do not be afraid to open your minds and hearts to the poor. In this way, you will give free rein to your economic and technical talents, and discover the happiness of a full life, which consumerism of itself cannot provide."

Business is "a noble vocation, directed to producing wealth and improving our world," especially "if it sees the creation of jobs as an essential part of its service to the common good," he said.

Oxfam Great Britain released its "pre-Davos report" on global economic disparity saying 1 percent of the world's people own more than the remaining 99 percent of the earth's inhabitants.

"Although the number of people living in extreme poverty halved between 1990 and 2010, the average annual income of the poorest 10 percent has risen by less than $3 a year in the past quarter of a century. That equates to an increase in individuals' daily income of less than a single cent a year," the report said.

"Had inequality within countries not grown between 1990 and 2010, an extra 200 million people would have escaped poverty," it added.