By NICHOLE GOLDEN, Staff Writer
|

Published November 26, 2015

CONYERS—The title of Maria Morera Johnson's new book is meant to give a bit of a jolt.

"My Badass Book of Saints: Courageous Women Who Showed Me How to Live," published by Ave Maria Press, is no ordinary profile of the saints.

Right off the bat, Johnson addresses the book's title in its forward.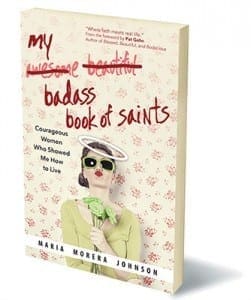 We need a little shock sometimes to get our attention, says Johnson, a first-generation Cuban-American who is active in Catholic new media.
"Not too much though," she explained. "Vulgarity for its own sake precludes the rich opportunity for communication opened up by an unexpected zinger such as badass. It gets your attention, and believe me the women in these pages deserve our attention."
Johnson, a professor at Georgia Piedmont Technical College and member of St. Pius X Church, Conyers, writes about well-known saints like St. Teresa of Avila and St. Rita of Cascia and holy women who aren't household names like Sister Blandina Segale and St. Christina the Astonishing.
The 24 women featured are bold, daring and audacious in practicing virtue in tough circumstances. The spiritual role models have helped Johnson in her own life, and she hopes others will find courage in their stories.
In many ways, the book has taken a lifetime to develop, said Johnson.
"I have so many holy cards. I really need one of those books the kids have for trading cards," said Johnson. "So, I love my saints."
However, for most of her life Johnson had a problem with the saints. She thought they were perfect and led boring lives. The information about them was often reduced to one-liners or bullet points on cards.
"I was really just stuck at looking at them as one-dimensional holy cards," she said.
Now in midlife, with more time for reflection, Johnson has started to look past the cards and delve into the lives of saints.
Nun who evangelized American West
As a child, she believed St. Teresa of Avila to be serious and dour. A native of Cuba, Johnson never had the opportunity to pick a patron saint, having been confirmed as an infant, a common practice in her homeland. She began to study St. Teresa and found commonalities between their lives, including suffering from migraines, having a sense of humor, and scribbling thoughts or poems on scraps of paper.
One of her favorite saints in the book is St. Rose of Lima, "who apparently has been pursuing me," said Johnson. On her recent trip to Cuba, she discovered a St. Rose of Lima likeness prominently displayed in an unexpected place and says St. Rose keeps "popping up."
Each chapter of the book pairs a holy woman with a saint recognized by the Catholic Church, interwoven with reflections from Johnson.
For instance, the chapter on perseverance and strength focuses on writer Flannery O'Connor, who wrote brilliantly while she struggled with the debilitating illness of lupus, and St. Margaret of Antioch, who clung to her faith despite suffering and torture. Johnson shares her own family's trial with her husband John's diagnosis of Lou Gehrig's disease. They have three grown children.
Mother Mary Lange, who co-founded the first sustained religious order for women of color in the United States, and Irish-born Edel Quinn, a 20th-century missionary to Africa, are some of the other women not yet canonized who are paired with recognized saints.
At the end of each chapter, the professor in Johnson decided to include questions to ponder.
"It's like a little hors d'oeuvres for people," said Johnson about the book.
A six-week study guide is included. "It would be easy for people to lead it," she said about study groups.
A nun whose mission work took place amidst the violence of the American West was the impetus for Johnson to write the book of saints.
Sister Blandina Segale, a Sister of Charity, worked in and around Trinidad, Colorado. She saved a man from lynching and had three different encounters with outlaw Billy the Kid. Her canonization process opened in New Mexico last year.
Johnson read about Sister Blandina in a Huffington Post article that referenced the "Fastest Nun in the West." Johnson thought to herself, "Who's this?"
"She's the reason the book got written," said Johnson.
---
Maria Morera Johnson is a contributing writer to CatholicMom.com and a co-host of SQPN's Catholic Weekend podcast.