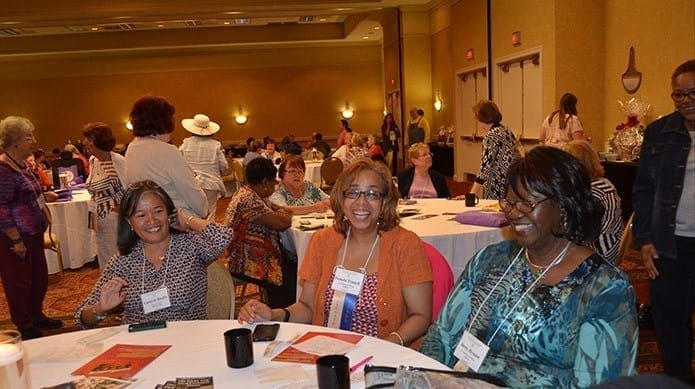 By JEAN DRISKELL, Special to the Bulletin
|

Published November 12, 2015

PEACHTREE CITY—Women from around the archdiocese gathered to learn about faith and family, exchange ideas and socialize at the 59th annual convention of the Atlanta Archdiocesan Council of Catholic Women at the Wyndham Peachtree Conference Center in Peachtree City. Over 100 attended the event, entitled "Strong Faith, Strong Family," on the last weekend in September, Sept. 25-27.

Julie Pardo, newly elected president of the group, said, "I believe AACCW is an expression of hope and love to those around us and those that need us. At this time we are confronted with new challenges."

Speakers at the convention supplied eloquent talks about life's challenges, making this event both educational and inspiring.
'Be transformed'
Patricia Everett, of St. John Neumann Church, Lilburn, spoke at the first luncheon about renewing minds and striving for continual change into the image and likeness of Christ.
"Be transformed by the renewal of the mind. That is the one Scripture that kept coming to mind for me today," Everett said. "We must be willing to continually be changed into the image and into the likeness of Christ."
She spoke on how, at 21 years old, married and a new mother, and new to Norcross in the 1960s, she met an elderly woman at a family store where everybody knew her husband. The woman asked her who was worse, communists or Catholics.
Everett, a cradle Catholic, said, "I was shocked. I said there's no comparison and walked away. I did not know anything else to say. I did not know enough to argue it."
When she found herself explaining to her Methodist mother-in-law that Catholics do believe Jesus died and rose again and that she was a Christian woman, she said she realized she needed to learn more about her faith, about God.
"God sent me on a search," Everett said. "Almost a frenzied search to find more knowledge and to find more understanding of who is this God and how do I know him, to be able to verbalize who Jesus was that I walked with."
She said that her search led her on a faith journey with her husband, John, who became Catholic, which ignited their lives and passion for God and the Trinity. "For the first time we could share faith," Everett said.
"I finally found what I had been missing," she said. "It was a way to express God all of my life. To be able to open up and share with other people and share with women who I was and who it was that I served. It was a profound change for both of us."
They became involved in the Catholic charismatic renewal and prayer groups.
'For our children, without knowing it," Everett said, "we were teaching the supremacy of Christ in our life as a family and in their lives as individuals. We encouraged them in their prayer."
She spoke about two phrases, fitting in and belonging. She said that fitting in meant raising your children right and they'll grow up right.
"But the word belonging is the word to let linger in your heart," Everett said. "When we know we belong, our heart is full. We are fulfilled and we are cared for. For a lot of our family members, that is the only touch of God they're going to have, is to see you looking at them with eyes of love."
She said, "We are called to constantly be changing as we become more like Christ. We have to change, we have to pause for people, we have to love, we have to care. God honors us when we make people belong in life."
"We are called to be women of God," Everett said. "It all wraps around the word relationship. Without relationship with Christ, I would be a nobody. Have relationship with your spouse, your children and grandchildren, and the people that are in your life."
'Build relationships'
Another speaker, Deacon Greg Ollick, who serves at St. John Neumann Church, has been involved with catechetical workshops, retreats and parish missions throughout north Georgia. He earned a bachelor's degree in geological studies and a master's degree in theology from St. Joseph's College of Maine, where he is currently an adjunct faculty member.
As an undergraduate student he took a course in the philosophy of gender. This course "taught me that men, by nature, want to acquire and build things," Deacon Ollick said. "Women, by nature, want to acquire and build relationships. That's what changes the world, relationships."
He continued, "There are a lot of Catholics who don't realize that you could actually have an intimate, loving, personal relationship with God through Jesus Christ. As church, we help them come to know God first."
He found in one study that 23 percent of young people leave the church because they simply do not relate.
"Those who felt that they could not relate to the church was because of one reason, and one reason only," he said. "It was because their faith was external and not internal. It was never internalized. It never went from the head to the heart."
Deacon Ollick continued, "What we believe in the heart is what we do and who we are. The Christian faith from the heart is an intimate, personal relationship with God through Christ, and it spills over onto every family member and then onto everyone he meets."
He also used Jesuit Father Robert Spitzer's explanation of the four levels of happiness, which he believes are what all people are on a quest to find: pleasure, achievement, contribution and relationship.
"The fourth level has everything to do with relationship. It's the ultimate happiness. The enduring happiness," Deacon Ollick said.
"We have a deep, loving, personal relationship with Jesus Christ and one another," he said. "That happiness is enduring. The only thing that will matter on your last day are the things that endure for eternity, your relationships; first with God and then with your family and others."
Deacon Ollick talked about a time when his children were young, and he did not pay attention to them. He said he was too busy. During this time, his daughter became a devout Southern Baptist.
"I prayed for her every day and for my own conversion. I asked God to make her Catholic and to draw her into himself and to bring her back to the church," he said.
He said that his daughter is a teacher and became unhappy at the school where she was teaching. He asked the principal of St. John Neumann Regional School to interview her when a position opened up. She was later hired to teach fifth grade.
He said, "She's thrilled. She said, 'I just love it here. I love going to the school Mass.' Then she announced she wanted to become Catholic," he said, with his voice breaking momentarily. Everyone clapped for him.
"Prayer for our children works," he said.
'Adorn yourself with grace'
Brenda Sharman, a parishioner at St. Peter Chanel Church, Roswell, spoke in the Service Workshop session. She is the founding national director of Pure Fashion, a program that encourages purity of heart, mind and body for teen girls, and has worked as a professional model appearing in advertising campaigns, magazines, television, talk shows and fashion shows. She was crowned Miss Georgia USA in 1990.
"We do imitate those whom we admire," Sharman said. "Sometimes when we are watching people on TV, we want to act like them or be like them."
She said that when watching people on television or seeing them in other media, "sometimes we want to emulate those who don't live such healthy lifestyles."
"My work is talking to teenagers and women about the dignity of the human person," Sharman said. "There are so many influences in our culture and in the world, and, sometimes, we as women can be confused about who we are as women."
She spoke about how sex is used as a way to sell products. She said, "We see this everywhere we look. Open up a magazine or (look at) the billboards, wherever in our very 'porn-ified' culture, this message is everywhere and it is confusing to our children. We have to be very savvy as women."
Sharman spoke about growing up in an agnostic family. She would sometimes go to church with her Southern Baptist grandparents.
Her father would have "gentlemen" magazines, as Sharman called them, lying around the house.
"My three sisters and I grew up with those magazines all over and it was never a big deal to us to see women like that," she said. "My dad was often proud of the fact that my mother had been a cocktail waitress in the Playboy Club. Now she promotes modesty. God can do those miracles."
"Growing up I always wanted to get into the modeling industry," Sharman said. She said she started modeling for Rich's department store while still in high school and continued that career path after graduation. At 19 she met her husband, Steve, backstage at a fashion show.
She said that they dated for four years and when she got engaged, her fiancé, who was Catholic but not practicing his faith, suggested they get married in the Catholic Church. They married at the Shrine of the Immaculate Conception, Atlanta.
"When my husband and I got married, I felt like some of the graces of God started opening my heart, softening my heart," Sharman said.
"He's a very charming, loving, good man," she said. "Together we've been on this wonderful journey. We went into spiritual overdrive when I became pregnant with our first son, now 20 years old."
Sharman continued, "When I was pregnant and feeling this other person growing inside of me, I felt very, very compelled to figure out who God is, where is God, how can I love him, how can I know him, how can I serve him. It was pure grace that I had that compulsion to figure out who God is and how I can find him."
She said that she purchased a New Testament cassette tape collection and listened to it in the car. "That was such a beautiful time of study and learning and prayer. In 1999, I decided to join the Catholic Church," she said.
"The night I was baptized, received my first Communion and confirmation, all those graces filled me. I knew I was a different person," Sharman said.
She said that she was called to be a different person and had to revisit everything in her life. "I knew I had to invite Christ into my heart, into my home, into my marriage, my professional life. I also had to invite Christ into my closets. I realized that there were some outfits that I never looked at the same way."
"I knew I was called to be a woman of God," Sharman said, "and everything I did or said or wore represented Jesus to others. I am a walking billboard for Christianity. I wanted to have authenticity in that. … I had to weed out my closet."
Sharman said that young women want others to think they're cute or pretty.
"Their hearts are starving for love and they don't realize that the only way to really feel that love is to have a relationship with Jesus and having a strong faith life," she said.
"We don't need more beautiful faces or more people looking like they're 20 years old," she said. "We need more love, like that genuine loving spirit that Pope Francis is showing to the world."
Sharman said that her favorite supermodel is Blessed Mother Teresa, a supermodel of faith. "She models for us what sacrificial love looks like and what it means to love until it hurts."
"Our bodies are temples of the Holy Spirit," Sharman said. "We should adorn them with grace, decency and discretion."
"Sometimes we forget our own value, forget our dignity," she said. "We succumb to the pressures of our culture, for if we are not there to help our children know their value, their dignity, we fall into the traps. We have to focus on what we know is true."
'Let God help'
The Spirituality Workshop speaker was Martha Smith, of St. Jude the Apostle Church, Sandy Springs. A spiritual director at the parish, she is involved with Bible studies, book studies, retreats and inspirational talks. She has a master of arts in theological studies and spiritual direction from Spring Hill College, Mobile, Alabama.
Smith shared her spiritual journey when her oldest son suffered a nervous breakdown while attending Notre Dame.
Her son was earning high grades at the school, working on a double major to be able to enter medical school. During his second year of college, she said, "We see him at Christmas break and he does not look that good. We just chalked it up that he wasn't getting enough sleep. He seemed to do better by the time he went back."
"Then the crash happened. He had a total nervous breakdown," Smith said. "We did not know what was going on because we could not see the grades. We never heard from him, and we could not get him by cell, we could not get in contact with him. It went on for weeks."
She said that she went up to South Bend four times to try to find him. And the last time, she said, "I ended up at the grotto in sleeting rain. It was miserable. I was asking Mary to help me find my son. I could not find my son. I now know what she went through and would she help me find my son because I don't know what to do any more."
After her prayer, she went back to her husband and convinced him to go back to the dormitory. They found their son there. "All I could think to say was it's good to see you."
She said that they had a family meeting with the other children to explain that their oldest brother was sick, not making good judgments, and did not want to receive help.
"When someone goes through a nervous breakdown, they lose a piece of themselves," Smith said. "Something chemically has happened in their brain, in their body. Unfortunately in this society we are not gentle when it comes to mental illness."
She said that one professor "had the love of God, the unconditional love of God, to understand that this child was going through hell and he decided to pass him and allow him to graduate. So there was a gift and it takes only one person to deliver a gift," she said.
"When someone you love is in the dark and in the void," Smith said, "you do go there with them. A part of you almost has to, to understand the compassion and to understand where they are. It is a desolate and very dark place and that's when you reach out to the Lord."
She said that she was on her knees in the kitchen and called on Jesus. "I just told the Lord I can't do this anymore. I'm breaking."
"Then, the most beautiful thing," Smith said, "there was almost a touch on my shoulder and this voice said I never meant for you to do this alone. You are not alone. I am here for you. I'm here with you."
"It was like this lifting," she said. "With those words came the understanding of his presence with us. The Lord is with us in reality. He is with us in the present."
Smith said that her son did leave school and got help but still struggles with shame. He became an EMT and later studied pre-med at Georgia State University and graduated. He was accepted at the Medical College of Georgia after many rejections from other colleges and universities.
She said that this journey was a process. She had to accept what was going on, loving him and experiencing forgiveness.
"Something like this changes your whole family. It does not change one person; it changes everyone. What we have to rely on is faith and each other," she said.
"It's been a very difficult road for us," Smith said. "I'm finding that most relief is when I allow the Lord to take it. I do believe that my family is drawing closer because we are drawing closer to the Lord."
She continued, "Every single one of us has Jesus with us, totally present at all times whether you know it or not. He knows our hearts. All he is asking is will you let me help you?"
The family of the church
Archbishop Wilton D. Gregory, along with Father Bill Williams, AACCW chaplain, concelebrated Sunday Mass. In his homily, Archbishop Gregory talked about who is part of the church's family. "Pope Francis continually reminds us that everyone is invited, all who desire to follow Christ. The family of the church is inclusive, not exclusive."
He continued, "There are a lot of folks who stand on the outside because they once were Catholics, and they somehow have drifted to the outer rings of the church."
"Then there are those who are non-believers, who professed no religious affiliation, and there are those who have chosen to leave the church to join other communities of faith," Archbishop Gregory said. "But all of them are welcomed back to the church."
Archbishop Gregory said, "Everyone has a place. The celebration of family is to extend the understanding of family and to make sure that we all have a welcoming heart."