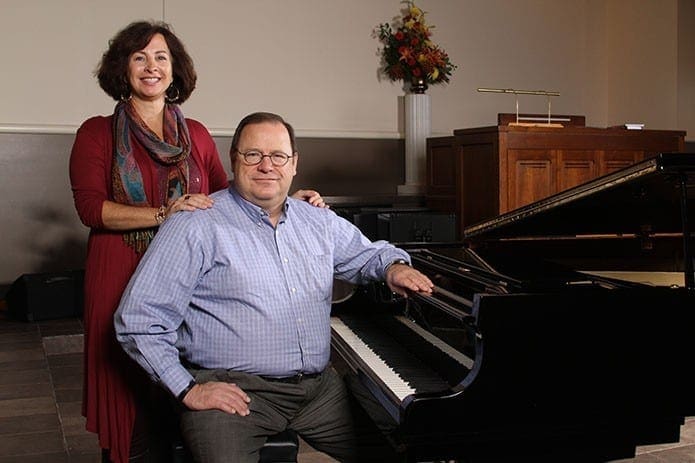 By NICHOLE GOLDEN, Staff Writer
|

Published November 26, 2015

MARIETTA—John Brandt, music director of St. Joseph Church in Marietta, didn't have to look far for a kidney donor. Ann Burkly, a member of his choir, readily volunteered.

"I feel great. I haven't felt this good in years," said Brandt, who received the kidney March 6. "I'm diabetic, and that's what caused the kidney issues."

The choir was discussing their director's need for a kidney, and Burkly said right away, "I'll give you a kidney."

"Honestly, I think it was the Holy Spirit," said Burkly about her eagerness.

A wife and mother of four children, Burkly, 50, thinks her basic nature also played a role in volunteering that day.

"I'm from a military people. We always gave blood," she said. "That's my faith. Honest to God, I knew he was going to get my kidney."

Last Christmas Eve, Burkly presented a special gift to Brandt—an I.O.U. for a new kidney. She pulled up her sleeve and showed him the needle marks from evaluating tests so he would know she was serious.

"She knew before I did," said Brandt about the match.

Brandt has served in the music ministry at the parish for seven years but was acquainted with Burkly prior to that through the Archdiocesan Festival Choir, where he was a steering committee member.

"I think God puts us where we need to be," said Brandt.

The kidney donation and transplant procedure took place at Piedmont Hospital's Transplant Center in Atlanta.

"I felt better when I woke up," said Brandt. He had been on peritoneal dialysis for several months.

"He looked gray," said Burkly.

Brandt, who is 54, was in his early 20s and in graduate school when diagnosed with diabetes. He said he always struggled with energy, continually feeling "chest deep in the water."

Brandt, a Texas native, said his family had always supported organ donation.

"My brother who just died was an organ donor," he explained. Brandt added that even when organs are not viable, they can be given to medical research to help others.
Back to singing in the parish
Brandt said parish support has been wonderful.
"Everyone has been praying for us," he said. Just before the transplant, pastor Msgr. John Walsh blessed Brandt and Burkly at Mass. There were many tears.
Brandt said there's also been a lot of good laughs and comments as well. Burkly was late to choir practice on a recent morning, and a fellow choir member told her, "Your other kidney was here on time."
Both donor and recipient were back into their routines fairly quickly.
"We went out to dinner a couple of months ago to celebrate six months," said Brandt. "I think it's probably not as traumatic as people think."
The transplant team has the process down to a science, including how many pills to take one week and how many the next.
"The perfection part to me is really mind-boggling," said Brandt. "It's really amazing."
"It obviously doesn't hurt the donor," said Burkly. "It's a little thing."
She did research into the process to make sure she was not compromising her family in any way prior to donating the organ. A cantor at St. Joseph, Burkly was back at church singing the weekend after the transplant. She felt this created positive awareness about being a donor.
"It was good for the people to see it," said Burkly.
One of Burkly's four children is still at home, and she admits that her family was a bit nervous. Her husband told her, "I'm not happy, but I know you." Afterward he told her how proud he was.
Others may think about organ donation, but they let the "what-ifs" stop them.
Burkly believed without a new kidney, Brandt might have only lived a few more years.
"If he was in front of a car, I'd push him away," Burkly said about Brandt. "He touches so many lives."
"It's really trust in God," she said about pursuing being a donor. "Worry is arrogance. You do what you can."
In addition to blood work, donors have routine physical exams and a psychological screening.
"They really look after the donors. They watch your blood pressure," she noted. "They're very meticulous."
Burkly is unconcerned about life with just one kidney. Her own grandmother lived to be 100 with a single kidney.
"I gave you two of these things," Burkly imagines God might be saying.
There's much to be thankful for post transplant for Brandt and Burkly, especially good health.
"I've had a great life," she said. "I know it's a blessing."