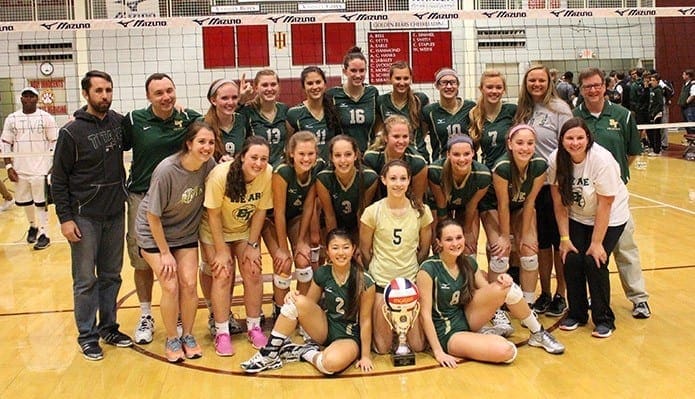 Published November 12, 2015
ROSWELL—For the second consecutive year, Blessed Trinity High School had to go through Westminster School in the Class AAA state finals to earn the volleyball championship Oct. 31. Unlike 2014 when they won in three straight sets, this year it went five sets, 21-25, 25-23, 25-18, 24-26, 15-12.
Blessed Trinity dropped the first set and, behind 22-23 in the second set, the team had to rally with three straight points to eventually win the set. After an 8-8 tie, Blessed Trinity went on to capture the third set, but Westminster came from behind to take the fourth set. In the fifth and final set, Blessed Trinity fell behind early 3-1, but they went on an 8-2 run to establish a 9-5 lead that they never relinquished on their way to a 15-12 victory.
Sophomore Olivia Dukat led the team with a 36.4 percent hitting efficiency and five blocks. Senior Sarah Parker led the team with 14 kills and freshman Anna MacDonald led the team with 36 digs. Senior Juliet Medley and freshman Caroline Cheney were the team's assist leaders with 29 and 23, respectively.
"Both teams went back and forth for almost two and a half hours before this one was decided," said head coach Paul Stevens. "But in the end I'm so proud of the players and their ability to make the necessary in-game adjustments that helped us win the match. This season was not an easy one, with us fighting through so many injuries and so much adversity, but that really makes the championship win that much more meaningful."
For Stevens and Blessed Trinity it's the fifth state volleyball championship since 2006. The team finished the season with an overall record of 42-18.