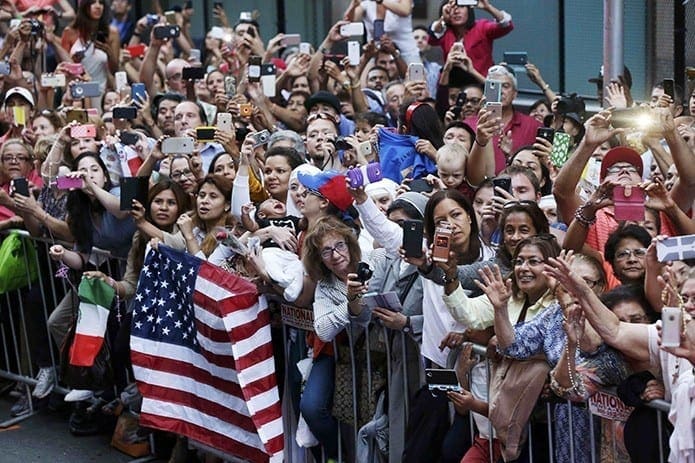 By ANGELA CAVE, Catholic News Service
|

Published October 2, 2015

NEW YORK (CNS)—It wasn't always comfortable waiting for papal events in New York—there were long lines, temperamental security personnel and dashed hopes for last-minute tickets—but when pilgrims did make it into events, the inconveniences quickly became memories when the man of the hour appeared.

"People kept (texting me) asking, 'Was it worth it?'" said Maria Patrick of the four and a half hours she and her son Connor spent waiting in line for the Madison Square Garden Mass Sept. 25. "And our answer was unequivocally 'yes.' That was all part of the experience."

The crowds were civil and cheery and displayed "so many acts of kindness," she continued.

At one point, Catholic school children passed out water bottles; at another, a bag of candy mysteriously appeared in the Patricks' hands. Someone gave up a ticket to a priest looking to do a good deed for a ticketless parishioner, and onlookers sobbed at the sight of the gesture.

In general, there were a lot of tears of joy during Pope Francis' time in New York.

"Nobody was upset they waited this many hours," Maria told Catholic News Service. "It was elation. As soon as he came out (for Mass), that was all washed out. He has that power. He is so calming."

The Patricks, members of St. Pius X Parish in Loudonville, were brought to tears during the pope's homily, which Maria said was "all about peace, love and bringing Christ into your neighborhood. It was a very profound message that you can apply to any city. If you are someone who has gone away from the Church, he wants you to feel welcome to come back."

Connor, 14, called the Mass "emotional, shocking, breathtaking, exciting. The music was beautiful, (as was) seeing the humble presence of Pope Francis and all the bishops and cardinals."

"It definitely made me feel that I'm doing something right," he said. "That I'm in the right place (in the Catholic Church)."

They brought with them for blessing a list of 500 names of people from home in need of prayer. "Our phones had blown up the last 48 hours," Maria said. "The last name we added was added minutes before the blessing. My Facebook page right now is filled with gratitude."
'It makes you want to start getting more involved'
A family of six from St. Mary Parish in Canton also was glad they made a big trip and waited in grueling lines. Debra Gainey felt the Holy Spirit in the Garden.
"I actually cried because I was moved so much," she said. "I have so much respect for what Pope Francis does. He is such a shepherd of all."
When New York Cardinal Timothy M. Dolan thanked the pope at the end of the Mass, inspiring the crowd to erupt in applause, "you could feel the love in the air," Gainey continued. "The genuine smile on the pope's face and the cardinal's face was just amazing. You wonder what the pope whispered to him at the end. You can sense there's a genuine rapport there."
Debra's 11-year-old daughter, Emma, said the Mass was "cool. I've never been to something like that. It was just huge and so many people. I don't know how to word it." She planned to tell her friends "all about it."
Dan Lill of St. Monica Parish in Rochester was amazed to see "the expression on Pope Francis' face" because "not every priest really celebrates Mass. He really does. Just his body language—the way he elevates the host and the chalice. He knows he's doing something special. Not every priest does that—it becomes routine."
Dan and his wife, Ellen, felt their faith strengthened by the experience and tried explaining Pope Francis' popularity. "He just does everything he says we should do," Ellen said, "and he lives what he says."
The Mass also made Caitlyn Piccirillo, a 20-year-old Fordham University student, realize Pope Francis is unique. He's the first pope to spark her faith.
"I'm Catholic, but I'm not the best churchgoer," she said. "It makes you want to start getting more involved."
The event was "kind of like seeing a celebrity but knowing he's way more important than anyone else you can think of," she said. "And seeing how many people he can bring together [was amazing]."
Caitlyn's friend, 19-year-old Fordham peer Robert DiMatteo, a member of St. Anthony Parish in Nanuet, said the Mass reaffirmed for him "how wonderful a community the church is." Being in the front row—an honor bestowed on Robert's group through his friendship with Cardinal Dolan—"was spectacular," he told CNS. "It was surreal."
'A time of religious rejuvenation'
A group of about 50 nuns and novices from the Sisters of Life in Suffern glowed with happiness after the liturgy.
"I feel like we have a father," one said, adding that Pope Francis makes them feel supported in choosing to be daughters of the church.
Another opined, "It's like what Cardinal Dolan said: We pray for him and in unison with him and now he's right here with us."
"Just seeing him reminds us how we're one holy Catholic Church," one novice chimed in. "Today was just mind-blowing … more confirmation that God is real."
The women loudly sang "I Have Decided to Follow Jesus" on their way out of the arena to a clapping and cheering crowd.
On the streets, hopefuls who never made it into the Garden were still lingering outside soaking in the energy of the day and wondering if they would see the pope's motorcade leave.
"We just wanted to get a glimpse of him," said Kristine Ignacio, a member of St. Anne Parish in Fairlawn, New Jersey, who waited for hours with family friends, including two children. "We just wanted to get his blessing."
They were not alone: "People were like, 'Francesco!' and cheering," she said. "He is the leader of the church. Where I grew up (the Philippines), most people were Catholic, so it was easier to follow the faith. Here, it challenges your faith. Pope Francis is able to attract all age groups to go back to the church."
Even though the New York Mass was one of the events fairly restricted to parishioners of local Catholic dioceses, it attracted just as many non-Catholics as other papal events. Angela Green, a nondenominational Christian, stood in line for naught trying to score tickets.
But she was happy to just be on the streets while Pope Francis was in town—and it helped that a group of young Catholic friars gave her souvenirs and prayed over her after the Mass.
"Everyone who's been a part of this feels blessed," Green said. "This is a feeling similar to 9/11. Everyone feels united. So many people came together for one purpose. It's beautiful."
She followed all of Pope Francis' stops in America in the news and said everyone needed the opportunity to take a break from American politics and other stressors.
"This whole week was a time of religious rejuvenation," she said. "Even watching him on television did that. So many people have been born again. You don't even have to be Catholic to feel this way."