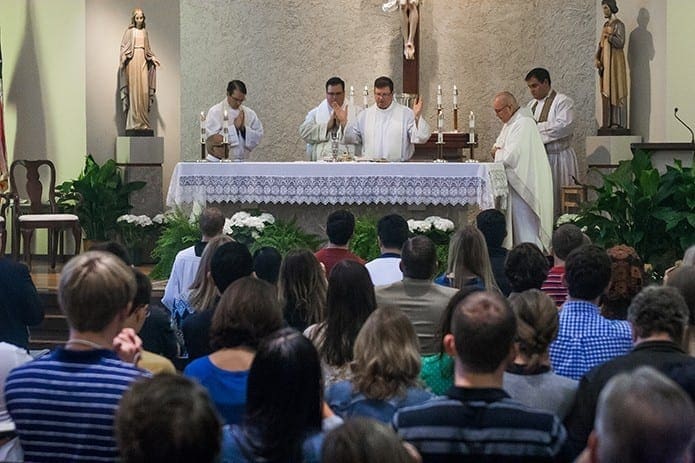 By NICHOLE GOLDEN, Staff Writer
|

Published October 15, 2015

ATLANTA—The Georgia Tech Catholic Center has a prime spot on campus and in the hearts of students, their families, faculty and alumni.

While the Catholic Church has had a presence on campus for more than 85 years, the Georgia Tech Catholic Center marked the 30th anniversary at its 172 Fourth Street location the weekend of Oct. 2-4 with a fundraising gala, football tailgating and anniversary Mass.

Gala co-hosts were Father Josh Allen, Catholic Center chaplain, and Coach Bobby Cremins, who led the Yellow Jackets men's basketball program for 19 years.

The Friday evening gala, held at the university's hotel and conference center, included a live and silent auction, dinner and entertainment with proceeds funding the center's ministries to students. The center is entirely self-funded and staffed by diocesan priests.

At the gala Father Allen announced a $100,000 grant from the Lilly Endowment's Campus Ministry Theological Exploration of Vocation Initiative.

"That will help us in the coming year," said Father Allen.

The grant monies are to be used for programs to help students to find their calling whether to religious life, marriage or other vocations.

Cremins recalled the history of the center and the legacy of Father Mario DiLella, the Franciscan priest who served Georgia Tech as Catholic chaplain for 38 years. The Catholic Center was built during his tenure.

"Father Mario was a great leader. That was one of his main dreams," said Cremins about the building of the center. "He found the property, and he got it done."

Dedicated in October 1985, the center serves 1,000 students with daily Mass, daily confessions, four Sunday Masses, and 16 hours of Eucharistic adoration each day.

"Every Mass is packed with students. It's very, very convenient for them," said Cremins. "We just want to see it continue."

Father Mario, who also served as chaplain for Georgia Tech teams, was encouraging to all. "The kids could stop by and talk to him. He walked around campus every day," said Cremins. He retired in 2008 at the age of 81.
"No better assignment in this diocese"
The current chaplain, Father Allen, a Georgia Tech graduate, is also known as an engaged leader.
"Father Josh gets all that," said Cremins.
"He's got so much energy. It's definitely God's plan," said Patty Schmitt, development director, about Father Allen.
In turn, the chaplain credits the students' involvement and their level of excitement for the faith.
"There's no better assignment in this diocese," said Father Allen.
During his 1981-2000 coaching run, Cremins attended Mass at All Saints Church in Dunwoody and St. Ann in Marietta, but the center was an important part of his daily routine. "To be able to stop by and just relax for 10 minutes," said Cremins. "I love the center."
The center provides students regular instruction in prayer, in Theology of the Body, an introduction to apologetics, and more advanced theological apologetics. Students can take part in social events and Bible studies. A group, accompanied by Father Allen, traveled by bus to Philadelphia to see Pope Francis in September.
"College campuses can be a scary environment to a lot of kids," said Schmitt. "Students need their faith."
With the Catholic Center anniversary being celebrated during family weekend at Georgia Tech, parents and students joined faculty for the anniversary Mass Oct. 4 with Bishop David P. Talley as celebrant and Father Allen as homilist.
The bishop served as a greeter welcoming all who came to celebrate at the front door. "He is the one who brings us together," said Bishop Talley of God's grace.
Father Allen said he never set foot in the Catholic Center as a student, visiting it for the first time as a seminarian.
To those parents who worry about their children and if they are attending Mass, he offered encouragement.
"God knows what he is doing. You keep praying. We'll keep praying, and we'll see what happens," said Father Allen.
On a Sunday when the readings focused on marriage and family, Father Allen said it's important for students to remember that Christ elevated marriage to be a sacrament as a model for our own relationship with the Church.
Because of a culture fighting against us, we humans tend to overcomplicate faith, he said.
"Our faith is actually the simplest thing that exists in the world," said Father Allen. "God loves us entirely and all he wants us to do is to do the same thing in return."
Home away from home for students
According to FOCUS, the Fellowship of Catholic University Students, Georgia Tech's center is the second most active chapter in the United States. It is second only to Texas A&M's center, which is served by four priests.
"I'm sure on a priest by priest basis, we beat them," said Father Allen.
More than 30 priests have come from Georgia Tech and 15 of them serve in the Archdiocese of Atlanta. In January 20 students attended a discernment retreat.
The center has the most active Knights of Columbus college chapter in the nation. The Catholic Students Organization runs the day-to-day student activities there, dividing them into four pillars: spiritual, outreach, community life and formation.
"The ministry here has been strong for a long time," said Father Allen. "We have an extraordinary group of kids here. It's really amazing."
The chaplain asked God to bless what takes place in the building, and the students themselves.
"We ask you to pray for us," he said at the conclusion of Mass.
Freshman Juliana Alfonso of Tampa, Florida, attended Mass with her visiting parents and younger sister.
Majoring in architecture, Alfonso said she was "shocked" to find such a vibrant Catholic ministry on campus.
"I'm in a FOCUS Bible study," she said. During the first few days on campus, she attended Mass with a group of fellow dorm residents.
"I was very involved in church at home," said Alfonso. "It's very nice to have something so familiar."
---
For more information on the Catholic Center at Georgia Tech, including Mass times, visit www.gtcatholiccenter.org or call 404-892-6759.