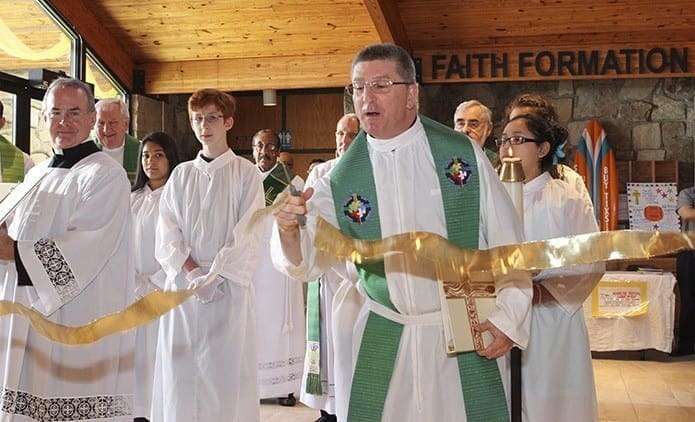 By Nichole Golden, Staff Writer
|

Published July 9, 2015

SMYRNA—The parishioners and clergy of St. Thomas the Apostle Church in Smyrna know that any worthwhile endeavor comes with sacrifice.

Since the beginning of the year, parishioners have been celebrating Mass in the social hall, while Holy Week and Easter Masses were held at Jim Miller Park in Marietta. As many as 14 weekend Masses were held to serve the estimated 5,000 families.

But on Sunday, June 28, they celebrated a bilingual Spanish and English Mass in a newly renovated sanctuary.

La Salette Father Brian Sheridan cut a shimmery gold ribbon at the entrance as Mass began. The sound of joyful drumbeats accompanied the procession of priests, deacons and altar servers into the sanctuary. Children in native African costumes brought in the Book of the Gospels.

Bishop Luis R. Zarama, principal celebrant of the Mass of rededication, acknowledged it can be hard to work on parish improvement projects but said now is the time to rejoice.

"Being in the meetings is no fun. You are looking to do something for the church," acknowledged Bishop Zarama. "We are celebrating today."

In the Gospel reading from St. Mark, Jesus senses in a crowd of people that a woman needing healing has touched his robe.

"Many people were surrounding Jesus," said Bishop Zarama. Yet, only one person had the faith to believe that "if only I could touch him" she would be healed.

In receiving Communion, those at Mass are touching Jesus and are with him, reminded the bishop.

"That is our faith," said Bishop Zarama. "That is why you work so hard to have this beautiful place."

The New Evangelization is not found in books, said Bishop Zarama. It is in sharing what we have and telling others to "come and see."

Bishop Zarama urged the congregation to smile more and complain less.

"We always complain, but very few of us appreciate the gift of life and say thank you," he said. "Let your face be free to smile. One beautiful smile changes everything."

On airplanes, passengers are advised in emergencies to secure their own oxygen mask first to be able to assist fellow travelers, noted Bishop Zarama. Likewise, disciples need to love Jesus and draw their sustenance from him before they can help others.

"We need to be open to loving. Once you love him, you can love your neighbor," said the bishop.

In the rededication of the sanctuary, Bishop Zarama and other clergy made their way to the baptismal font as the congregation prayed the Litany of the Saints. Following a prayer, the bishop blessed the sanctuary with holy water as parishioners sang "Rain Down."
Better access for those with handicaps
In September 2014 to address water leaks in multiple places an overhaul of the sanctuary roof began. Eliminating the perimeter glass roofing meant that a new interior ceiling with lighting was also needed.
Following Christmas, the interior construction project began. Guiding the project was Randy Hood of Catholic Construction Services. Moeller Purcell Construction Co. was the contracting firm. Architects were from Smith Boland.
In an email to The Georgia Bulletin, Father Sheridan, the pastor, outlined the upgrades to the sanctuary, including LED lighting and a new sound and video system. Old flooring was replaced and improvements removed physical barriers to welcome those with limited mobility. The commons area was also renovated.
"Of course, we happily removed the terribly worn and stained carpeting, sloped the floor, thus removing all steps, and tiled all the floor except in the choir area," said Father Sheridan. "Our commons area received new tile flooring as well as tile carpeting."
The project included replacing the wooden main doors of the commons with glass doors, including one with an electric access pad. New interior glass doors were also installed. The sloping floor of the sanctuary allows for easy access for those in wheelchairs. New wooden pews arrived just before Holy Week.
Parishioners were able to return to the space for Mass the weekend of April 19-20.
Father Sheridan's routine over the past few months has been to meet with Catholic Construction Services staff each Tuesday morning.
"I don't know what to do on Tuesdays anymore," he told the parishioners.
The pastor also welcomed his predecessor, La Salette Father James H. Kuczynski, as a special guest at the dedication Mass.
Now serving in the Archdiocese of Galveston-Houston, Texas, Father Kuczynski said he often hears its archbishop, Cardinal Daniel DiNardo, comment on the blessings of such a culturally diverse diocese.
"He hasn't come to St. Thomas yet," he said.
The former pastor said, "I rejoice every time I think of you."
Following Mass, Father Sheridan formally acknowledged the Parish Council, staff, clergy and building committee, led by Ann Corrigan, for their work.
"We took a 30-year-old sanctuary and brought it into the 21st century through the renovation process. It feels more open with lighting and sound having been significantly enhanced," said Gus Scannapieco, a building committee member.
"Also, we have much better accommodations for the physically handicapped for entrance, seating and exiting, which was a main goal from the start," he said.
The project was funded through a parish capital campaign, "Moving Forward in Hope."
"Our parishioners were fantastically cooperative with worshiping elsewhere. It was a positively remarkable experience as to the flexibility of the members," said Father Sheridan.