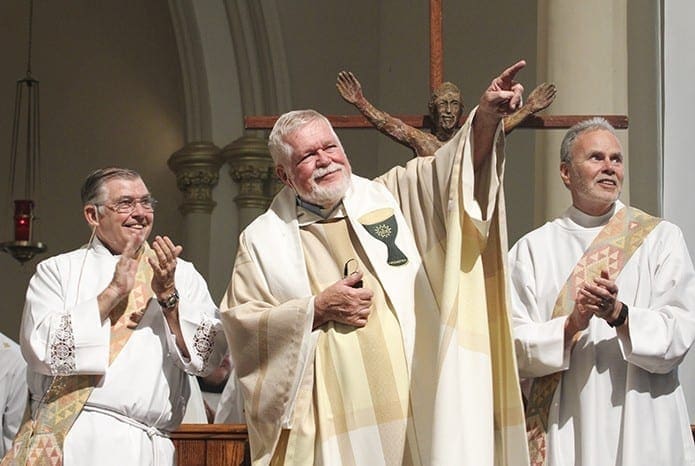 By GRETCHEN KEISER, Staff Writer
|

Published June 25, 2015

ATLANTA—As the Mass was beginning for Msgr. Henry Gracz's priestly jubilee, the words of the hymn "All Are Welcome" resounded off the rafters of the Shrine of the Immaculate Conception, celebrating the mission of the parish and how the pastor embodies it.

"In this setting of word and sacrament, so many of us met Henry Gracz," homilist Father Steve Yander said, pointing out the "beautiful song" that began the Mass.

"I was moved to deep emotion. I felt I was at a closing of a Cursillo," he said.

Father Yander encouraged people to call the Shrine so they could hear Msgr. Gracz's voice on the recorded phone message, welcoming people and describing the Shrine as home to people from 25 zip codes. "I hope Henry stays here until he dies," Father Yander said.

Msgr. Gracz, 75, has been pastor of the Shrine, next door to the state Capitol, for the past 15 years. His pastorates over the five decades of his priesthood have ranged from Marietta to Hapeville, McDonough and Jackson to Athens, Decatur and Atlanta.

The evening of May 16 brought old friends and former parishioners to sit side by side with those at the Shrine who are his current parishioners.

Father Yander said he was a university student in Athens in 1965 when a "new priest" came out to celebrate Mass, and he noticed unlike all others he had seen in gold or silver, the priest had a green glazed chalice with the word "Maranatha" (Come, Lord Jesus) inscribed on it. The same chalice was on the altar May 16.

Msgr. Gracz grew up in Buffalo, New York, in a heavily Catholic region, and graduated from Jesuit Canisius College with a degree in history before entering Christ the King Seminary. He was drawn to the South by its need for priests. He was ordained May 8, 1965, by Archbishop Paul J. Hallinan.

"Henry Gracz responded to a call that he felt very deep within himself … the realization he was being called in some way to be a vehicle of God's love," Father Yander said.

"Our church locally is so much richer because he made the decision to come South, this Yankee from Buffalo. What a difference it made in his life and in our lives," Father Yander said.

He quoted from a prayer by Howard Thurman called "The Work of Christmas."

"When the song of the angels is stilled, when the star in the sky is gone, when the kings and princes are home, when the shepherds are back with their flocks, the work of Christmas begins: to find the lost, to heal the broken, to feed the hungry, to release the prisoner, to rebuild the nations, to bring peace among the people, to make music in the heart."

"In so many ways that is lived here at the Shrine," Father Yander said.

Father Yander said that in his five decades of priesthood Msgr. Gracz dealt with "painful issues" in congregations he led. He cited white flight that took place when he was pastor of Sts. Peter and Paul Church in Decatur and the congregation had to stand up to racial steering by realtors. As pastor of the Shrine, he has continued its outreach, fostering the night shelter, open five winter months in conjunction with Central Presbyterian Church next door, and St. Francis Table soup kitchen that feeds 300 to 500 people every Saturday.

People who work with him say "he allowed you to really feel you have ownership of this. 'He affirms the spirit of Christ within us.' A stranger he has yet to meet."

"Following Father (John) Adamski, Father (Alan) Dillmann in welcoming people of diverse genders, you continue to do here what the Gospel calls us to do—to accept one another," Father Yander said.
'You are the thread who weaves us all together'
Donal Noonan, music director at the Shrine, spoke as the staff gave Msgr. Gracz a gift.
The staff members "have a daunting task each week," said the director, a native of Ireland. "We call it making the magic happen. Henry is not a laid-back, let-things-happen kind of pastor. He is involved. He is a guide."
When he was hired, Noonan said he was fearful, but "he was there. He was with me. He was present with me each and every day."
In honor of "50 amazing, wonderful, fabulous years," the staff gave him a stole embroidered with the words "pastor, shepherd, friend."
"The stole is made of threads woven together tightly. You are the thread who weaves us all together," Noonan said.
It is "an outward sign of how much of a blessing you are to us."
Msgr. Gracz was emotional at the presentation of the stole, his trademark beaming smile and warm bearing momentarily affected by the jubilee limelight.
At the conclusion of Mass, he said, "I really should especially thank you for the tolerance you've had for those times when I have not been what I should be for you, in ministry, in friendship, in family."
He said that the jubilee has been an occasion for him to reflect on what Jesus calls for in the priesthood and how he has fallen short and how much more is expected.
"I do thank my mother and father for their great goodness," he said, also thanking his family members who came to the Mass.
"I really want to thank the religious women and men who have shaped so many of us," he said, and the congregation applauded. After Vatican II, "religious women dug into" the wisdom of the council, its documents, and its implications for living out the faith in this age. "It is a gracious gift to us," he said. "They have even taught people in the Vatican."
He spoke of "great people of courage" he served under, including late archbishops of Atlanta and Cardinal Joseph Bernardin, who was an auxiliary bishop in Atlanta in the 1960s, and Atlanta priests like Father Ray Horan, Father Adamski, Father Paul Berny and the late Father Joe Cavallo.
"Many saints taught this Polish guy from Buffalo. We guys are shaped by the relationships we have—on the altar, off the altar."
He thanked the renewal movements of Cursillo, Marriage Encounter and the charismatic Holy Spirit renewal that have "shaped the church of Atlanta."
He thanked leaders in other churches, like Bill Bolling, founder of the Atlanta Food Bank, the "Presbyterians who led us into the night shelter," rabbis and ministers and priests who "stood side by side in the civil rights movement."
"We are still so broken. We are still so hopeful," Msgr. Gracz said.
Kindness and unconditional love
At a reception following Mass, people crowded the social hall downstairs. Jon and Danielle Chizzolin were married by Msgr. Gracz on June 25, 2005. They came with their children, Jonnie, 7, and Charlie, 4, whom he christened. Msgr. Gracz will be renewing their wedding vows for their 10th anniversary.
"He is a wonderful man to be part of our life," Jon Chizzolin said.
In marriage preparation, he helped them and their families greatly, they said, welcoming the interfaith dimension of their lives. While it did not take place, he was open to a rabbi being part of their marriage ceremony since Danielle was raised Jewish. He helped their marriage preparation be realistic, Jon Chizzolin said.
"Even after we married we came back and talked with him a couple of times. … We allowed Father Henry to help stabilize the foundation and that is why he is … to be part of our 10-year celebration."
"He's a pure man. You can see it, his peacefulness, his sincerity, his overwhelming abundance of kindness and unconditional love. He's forever in your life. He has an amazing soul. He becomes part of the family immediately. He has no judgment, which is so unusual," Danielle Chizzolin said.
Msgr. Gracz's niece Cindy Kearns from Harrisonburg, Virginia, was one of a dozen or more family members who came.
"He's a special uncle to all of us," she said. "I have the letter he wrote me when I was baptized. He was in seminary. He wrote the letter welcoming me into the church. … It was very inspiring, as he is always."
"His concept of love, he shows that to everybody. We try to emulate that in many ways. But he has always been human, too. He is my uncle—the friend, the great guy—not just my uncle, the priest."
The pastor's older sister, Joan Evaniak and her husband, John, moved to Georgia 16 years ago and live in Rex. She said they anticipated his call to be a priest.
When he was in college, "he stopped by church for Mass" every day, she said.
"He was a typical kid who would pick flowers on the way home and make a May altar," she said. Their father was devoted to the church, she said, and the community was a wellspring of religious vocations.
"In his senior class of Canisius, there were seven who went into the priesthood. It was just phenomenal. Buffalo was very, very Catholic," she said.
Her mother and the mothers of two other priests from Buffalo, Father Berny and Father Jim Maciejewski, formed a group they called Mothers of Polish Priests, when their sons all become priests of the Atlanta Archdiocese.
Lee DeSandre said she and her late husband met Msgr. Gracz through Marriage Encounter 30 years ago. For the last three years she has been discipleship coordinator at the Shrine.
"He is a leader who accompanies his flock on their walks of faith collectively and individually," she said. "His skills as a liturgist are reflected in our Eucharistic celebrations. He welcomes all; he has laughed with us, cried with us and supports us. He recognizes his own humanity and that is a strength that helps us as we struggle with ours."
Parishioner Pat Darden said, "We are so blessed with a man with such a gracious, loving heart who brings us closer to God."