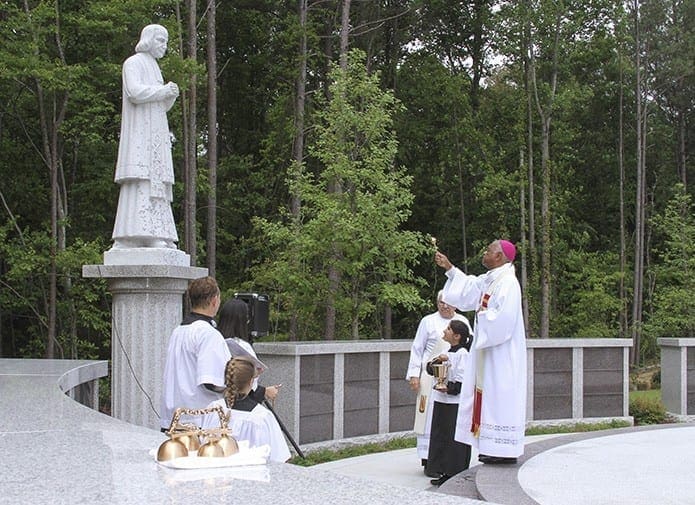 By NICHOLE GOLDEN, Staff Writer
|

Published June 11, 2015

SANDY SPRINGS—A statue of St. John Vianney, patron saint of priests, overlooks the new columbarium and Catholic section of Arlington Memorial Park in Sandy Springs. Archbishop Wilton D. Gregory, joined by Deacon Ray Egan and members of the Knights of Columbus, blessed the columbarium and cemetery space May 26 in an afternoon ceremony.

The Knights Honor Guard, from various councils in the archdiocese, lined the sidewalk leading to the semicircle-shaped columbarium. The altar is situated in the raised center of the space for celebration of Mass.

Bells tolled at 1 p.m. to mark the beginning of the blessing and dedication. Priests attending the service were: Msgr. Hugh Marren, pastor of All Saints Church in Dunwoody; Father Desmond Drummer, parochial vicar at St. Peter Chanel Church in Roswell, and senior priest, Father Ed O'Connor.

Archbishop Gregory said the day serves as a reminder that "we should raise our hearts from earth to heaven."

Following the readings, and responsorial psalm, the archbishop spoke about cemeteries being part of the identity of the Church from the beginning.

"Cemeteries were the first places Christians gathered to worship," said Archbishop Gregory.

Early Christians placed the bodies of martyrs in the catacombs underground. "They would return to those places to celebrate the Eucharist," the archbishop explained.

Although cemeteries are places where there are many tears, they are also places of hope, he emphasized.

"Our faith tells us that death is not the final word God speaks over us," said Archbishop Gregory. "This is not the final place for any of us."

The archbishop censed the altar and blessed the columbarium and adjacent burial grounds with holy water.

The columbarium's interior wall has 168 cremation niches for the cremains of priests and 168 niches on the exterior wall for cremains of lay people.

The staff of Arlington Memorial Park began working in 2013 with archdiocesan staff in designing the area.

The adjacent green areas have space for traditional burial plots for 220 priests and 250 lay people. Trees line the back border of the space.

"I thank all who have made this celebration possible," Archbishop Gregory told Arlington staff, the Knights, and altar servers at the blessing.

The original Catholic section of Arlington, where many bishops and priests are laid to rest, has only a few remaining plots. This new space will help meet the funeral needs of the growing Catholic population in Atlanta.

The older section sits atop a hill; the garden of St. John Vianney is more accessible to visitors in wheelchairs. There are benches situated for those needing rest or reflection.

The small group gathered prayed the Our Father. Archbishop Gregory asked God to watch over the sacred space and to make it holy, hopeful and restful.

"You are our life and resurrection," he said.
---
Arlington Memorial Park is located at 201 Mt. Vernon Highway, NW, Sandy Springs. For directions, visit arlingtonmemorialpark.com.