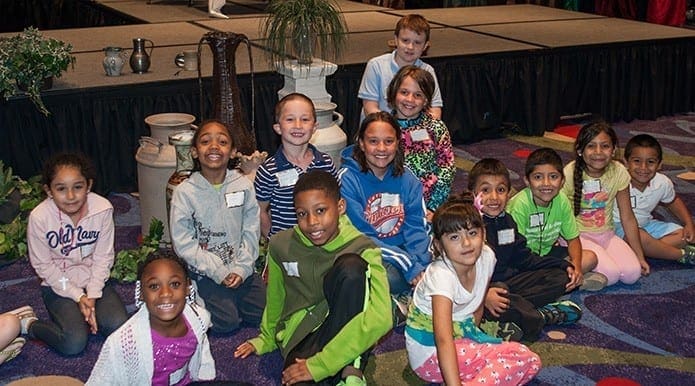 By NICHOLE GOLDEN, Staff Writer
|

Published June 11, 2015

COLLEGE PARK—"Jesus gives us the Eucharist" was the theme of this year's "Adore!" track held June 6 at the Eucharistic Congress.

Cathy Marbury, associate director of religious education for the archdiocese, said 425 children attended "Adore!" There were more than 80 volunteers assisting with crafts and skits.

"The skits are always a favorite of the children," said Marbury.

Drama volunteers spent months rehearsing and the actors were from St. Catherine of Siena Church in Kennesaw, St. Paul the Apostle Church in Cleveland, St. Michael the Archangel Church in Woodstock and St. Mark Church in Clarkesville. Mary Ruth Jones and Pam Hamilton wrote the scripts.

Skits focused on Bible stories connected to the Eucharist, such as the wedding feast at Cana, Jesus feeds the 5,000, and the Last Supper.

"Adore!" was for children ages 5 to 11 and included time for adoration, music and prayer.

Parents pre-registered children and dropped them off at 10:45 a.m. The program ran through 3 p.m. and included lunch. "Adore!" gives parents time to focus on speakers and take advantage of all that is available at the Eucharistic Congress, including receiving the sacrament of reconciliation.

Archbishop Wilton D. Gregory always visits the children, bringing Jesus present in the Blessed Sacrament and talking to them about the Eucharist. Longtime volunteer Mayfern Barron loves to see the interaction.

"The children see him not as far away," said Barron.

Chris Vigil, leader of the Life Teen Band at Atlanta's St. Jude the Apostle Church, provided music for the children. Joined by seven members of the band, Vigil sang and played guitar. Songs included "Father Abraham," "Big House" and "Pharaoh, Pharaoh," sung to the tune of "Louie, Louie."

"They know most of the songs," said Vigil, who has volunteered for the Kids Track five times. "We have a couple of members in the band do hand motions."

Vigil said he would like to see more volunteers helping, so that more children can participate. The registration is determined by how many adult volunteers have signed up.

Marbury said the crafts included a basket of loaves and fishes, a Last Supper scene, and a Catholic teachings' poster. The children made colorful drawings to spruce up brown paper bags used for carrying their crafts.

After "Adore!" ended and before the congress' closing Mass began at 5 p.m., children could be seen throughout the conference center showing off their crafts and affixing stickers to their Last Supper scenes.

Celian Joazard, 7, who attends St. Lawrence Church in Lawrenceville, will celebrate his first Communion next spring.

Celian pulled one of his craft projects out of the bag to reveal a monstrance encircled by a piece of gold doily as a sunburst. He lifted a thin sheet of white paper, saying, "It can open."

Inside was a tiny ruby red jewel. And he knows what the jewel signifies. "Jesus," he said with a toothy grin.