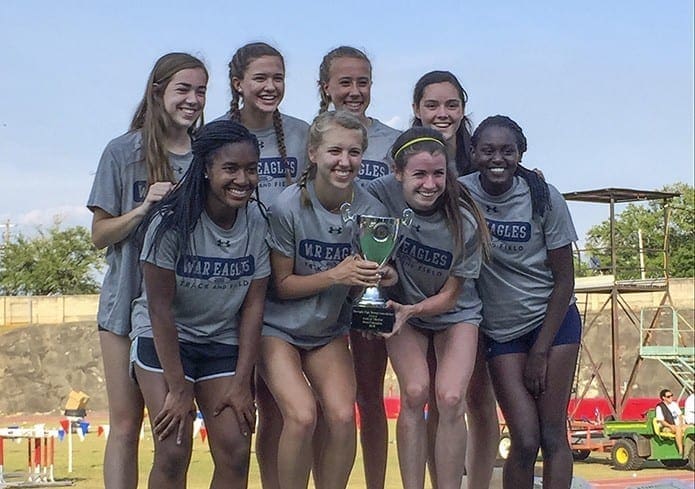 By MICHAEL ALEXANDER, Staff Photographer
|

Published June 25, 2015

ATLANTA—Archdiocesan and independent Catholic high schools captured state championships this spring in sports including baseball, golf, soccer, tennis and track and field. Here is a school-by-school breakdown of the state title winners.
Blessed Trinity High School, Roswell
The girls tennis team defeated Westminster 3-2 to win its seventh consecutive state championship and the eighth in the last nine years. Alan Keel just completed his fifth season as head coach.
The boys golf team captured the Class AAA state championship for the first time with a team score of 299. Juniors Kiley Morrison, Ryan Joiner and Sebastian Darmodihardjo shot a 73, 74 and 76, respectively. Senior Mitch Rostowsky shot a 76. The team's head coach is Tom Hall.
The baseball team repeated as state champion, defeating Jefferson High School in both games of a May 23 double hitter (3-0, 6-4). The winning pitchers were senior Brad Spinner in game one and sophomore Cole McNamee in game two. Led by head coach Andy Harlin, the team finished the season with a record of 33-2. Senior shortstop Jack Dunn, who will be playing for Northwestern University, Evanston, Illinois, went the entire season without committing an error.
St. Pius X High School, Atlanta
The boys and girls soccer teams swept the Class AAAA state championship for the third consecutive season. The boys beat Cross Keys High School, Atlanta, 1-0. It's the team's third successive state championship, the fourth in the last five years. The girls defeated Marist 1-0. The girls have now won six state championships in seven years. David O'Shea is the head coach for the boys and Sara Geiger is the head coach for the girls.
Marist School, Atlanta
At the Waynesboro Country Club, the boys golf team finished with a score of 295 to capture its fourth consecutive Class AAAA state championship, beating out runner-up St. Pius X High School's 314. Junior Will Chandler, who shot an even par 72, led the team. The team's head coach is Matthew Romano.
The boys tennis team defeated St. Pius X High School, Atlanta, 3-0 at the Clayton County International Park and Tennis Center, Jonesboro. It's the team's second championship in two years. Athletic director Tommy Marshall coaches the tennis team.
Under the leadership of head coach Eric Heintz, the girls track and field team has won three Class AAAA championships in a row. This year's individual track and field standouts included:
Boys meet:
Kenneth Brinson, first place, discus throw (185 feet, 6 inches);
Frank Pittman, first place, 1600-meter run (4:16.91) and 3200-meter run (9:23.47).
Girls meet:
Caitie Faust, first place, 400-meter dash (55.22) and 800-meter run (2:11.19);
Morgan Ilse, first place, 1600-meter run (4:56.41) and 3200-meter run (10:25.39);
Josie Wirtz, second place, 1600-meter run (5:16.38) and 3200-meter run (11:15.73).
Monsignor Donovan High School, Athens
The boys tennis team won the state championship in Class AA of the Georgia Independent School Association. Magill Bauerle was tennis singles champion and Ford Smith and Carl Terns were tennis doubles champions. Jason Miller is head coach for tennis.
Carl Terns was an individual standout in track and field, winning first place in 110-meter hurdles (16.80) and first place in 300-meter hurdles (43.42). Scott Murphy is head coach for the track and field team.
Our Lady of Mercy High School, Fayetteville
The girls track and field team won the Class A state championship, its second in two years and third overall under Coach Mark Tolcher. Individual recognition goes to the following:
Leah Banks, first place, long jump (18 feet, 2 inches); first place, 400-meter dash (56.89);
Deja Barthell, first place, 100-meter dash (12.34);
Landy Thomas, Leah Banks, Deja Barthel, Alion Belvin, Arianna Blake (alternate), first place, 400-meter relay (48.14).