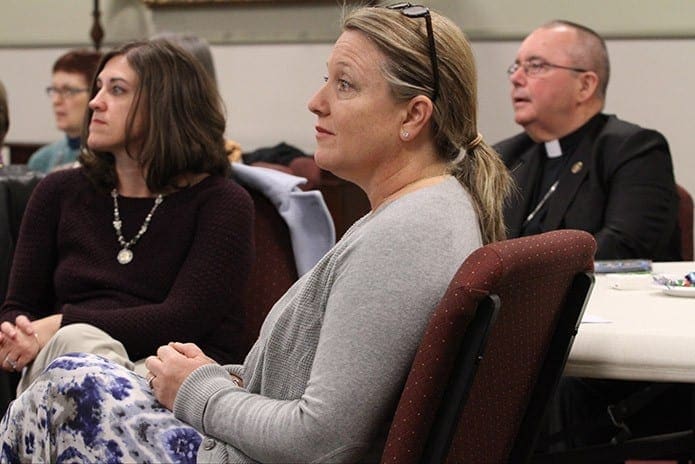 By ERIKA ANDERSON, Special to the Bulletin
|

Published April 16, 2015

SMYRNA—It took dozens of doctors appointments, tests and evaluations—not to mention prayers and tears—for Maria and Ben Vigil to finally discover what was causing their son Abraham's developmental delays.

Abraham was diagnosed with hypotonic cerebral palsy and epilepsy when he was in kindergarten. Today, the 13-year-old takes medication to control his seizures. He is unable to read or care for himself completely and has weekly speech, occupational and physical therapy appointments.

But Abraham is also a deeply spiritual young man. Ben and Maria credit much of that to their parish, St. Brigid Church in Johns Creek, where he participates in a special needs religious education program for middle-schoolers.

The Vigils were among more than 60 people who attended the first conference for parents and grandparents of special needs children and adults sponsored by the archdiocesan Disabilities Ministry. Held March 29 at the Chancery, national and local speakers spoke on topics including the role of grandparents, special needs wills and trusts, Medicaid waivers, transitioning from home to pre-kindergarten, and becoming involved in parishes.

Auxiliary Bishop David P. Talley opened the conference and spoke about his cousin, Joe, who was born with Down syndrome and inspired the bishop's passion for the Disabilities Ministry.

"I loved him, and I knew that he was different from me, but no one really talked about that. But I saw him made fun of and isolated when we were playing together. And I remember my heart hurt with this," he said. "Because I saw Joe, whom I loved, and though he was different, he was mine. That's the first experience of my heart when I was a young teenager."

He went on to talk about Toni Miralles, who started a ministry at St. Jude Church in Sandy Springs for those with disabilities. That ministry eventually evolved into the archdiocesan ministry of today. As a young priest, Bishop Talley met Miralles, who encouraged him to get involved.

"Every time a brand new priest came to St. Jude, Toni Miralles would throw out a fishing line with a hook of love on it. And she would troll the sea and see if any of the new priests would bite," he said. "I'm the one who bit—26 years ago. And so I thank God for mothers and fathers who are disciples and who are powerful in your commitment to your children. Because great things can happen from a parent's commitment to their child."
Learning to listen to the voice of God
Keynote speakers Mercedes and David Rizzo spoke of their journey to have their daughter Danielle, who has autism and is nonverbal, catechized. The Rizzos, who live in New Jersey, have since developed adaptive sacramental preparation materials to help parents and catechists of children with special needs. The Rizzos said when Danielle was diagnosed at the age of 4, they first turned to their faith.
"What we thought was that if we prayed to the right saints, and said novenas and the rosary, and went to healing services, that this would lead to a cure for our daughter's autism, and she would be able to speak. All these things are very good things to do, don't get me wrong," David Rizzo said.
"Ultimately what we found out, though, was that there wasn't going to be this sudden, miraculous cure," he said. "Instead what we were learning was to listen to the voice of God as it was expressed in our lives and through Danielle. And really, what we were praying for, or learned to pray for, was for God to make Danielle the person that God wanted her to be. And for God to make us the parents that he wanted us to be."
The Rizzos spoke about the process of preparing Danielle for catechism classes, in contrast to the ease with which their two older sons prepared for their sacraments.
"We knew because of her lack of language and her inability to read, she was going to need a very modified program," Mercedes Rizzo said.
A nearby parish offered a program for those with special needs. The Rizzos were grateful for the program but ultimately wanted Danielle to make her first Communion in their own parish. When they approached their pastor, he allowed them to work with a program called Special Disciples, which sent a catechist to their home. Danielle was able to make her first reconciliation, first Communion and confirmation at their home parish. Since going through that process, the Rizzos have used what they learned to develop their program, an Adaptive First Eucharist Kit published by Loyola Press.
The Rizzos have seen their daughter's life transform through "sacramental grace."
"There's just been this wonderful transformation within her. It truly was, for us, an observable difference. Maybe it's just Danielle getting older, but we truly do believe it's sacramental grace," David Rizzo said.
Son with autism changes father's life
Later, during separate breakout sessions, author Randy Hain, a parishioner of St. Peter Chanel Church in Roswell, spoke to fathers about his faith journey since his son Alex's diagnosis with autism 15 years ago. At the time of his diagnosis, the Hains did not regularly attend a church and had no faith community.
"We didn't think about faith back then. I thought about family and my career," he said. "But something happened within that diagnosis. When Alex got that diagnosis, the wall around my heart was starting to erode. And as the years went by, something was nagging at me—something was tugging on me. I didn't know how to describe it. But as I got older, I felt something was missing."
Alex was starting to thrive. Their other son, Randy, was doing well, and the Hains' marriage was solid. But Randy still felt something was missing. His wife, unbeknownst to Randy, was going through something similar. She ended up speaking to a friend who had recently embraced her Catholicism. Her friend encouraged Hain's wife, who spoke to her husband about it.
"I said, you know, I don't know if this is it for me, but something is missing for me. And I need to learn more about Catholicism."
Randy became a Catholic in 2006.
Hain emotionally spoke about his faith journey and the ways his son inspires him.
"He is a blessing to us. Prayer really, really helps us. We pray together as family. We pray together over every meal. … And Alex is right there with us," Hain said.
Alex recently became a lector at St. Peter Chanel.
"It was the biggest day of his life, dare I say, our lives," he said. "It is such a blessing. Everyone rallies around him. God chose to show people it's possible—for a kid who doesn't have the same abilities everyone else does, he does this and does it well."
Longing to worship with your child
The parent conference brought people to the Chancery in Smyrna from all over the archdiocese. Maria Vigil said she hopes the event will be an annual offering because so many parents of children with special needs struggle to fit in at their parishes.
"I really believe that parents with special needs children have a deep desire for their children to be able to worship alongside them," she said. "It can be challenging when you feel the eyes of others staring at you or the whispers of those who may not understand why your child may be distracted or disruptive during Mass. But God desires all to be with him, and he wants us to be light and love to all."
Maggie Rousseau, director of the Disabilities Ministry, said many parents had approached her with the desire for this type of conference.
"We have many families, here in the Atlanta area, who are truly living their faith through their special efforts in their parishes and other organizations," she said. "I wanted to share those stories. Additionally, I thought it important to help special families know that there are good resources for sacrament preparation and faith formation."
She said she hopes to offer the conference annually and hopes participants will reach out to her to serve on a planning committee or offer ideas for the future.
"I was approached after the event by many of the attendees who were very thankful for the day of spiritual renewal and information sharing," she said. "Having a time and place for our Catholic families living with disabilities to gather together, share and learn is so very important."
---
Find information on programs and events of the archdiocesan Disabilities Ministry at www.archatl.com/ministries/disabilities.
Contact Maggie Rousseau, director, at 404-920-7682 or mrousseau@archatl.com.