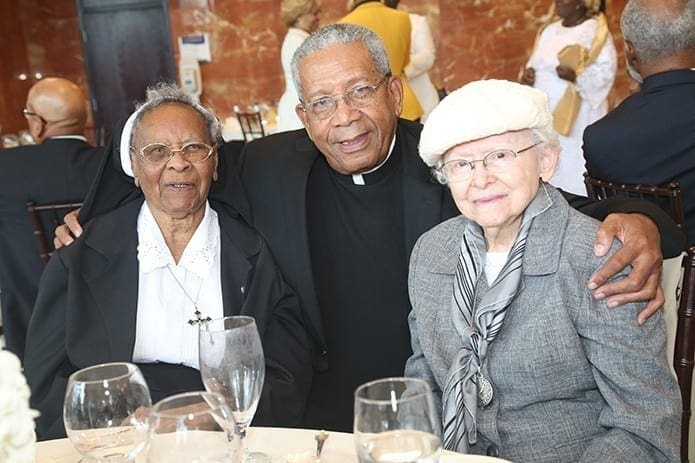 Published April 2, 2015
ATLANTA—Father William L. Norvel, the Society of St. Joseph of the Sacred Heart superior general, was in Atlanta to commemorate three different family celebrations of 25, 50 and 75 years. Father Norvel was observing the 50th anniversary of his priestly ordination as a Josephite, his sister Paulette and her husband Marion Lewis were celebrating their 25th wedding anniversary, and his other sister Kirticina ("Kirt") Twine was celebrating her 75th birthday. Father Norvel's sisters and brother-in-law live in Atlanta.
The special occasions were marked with a Mass of celebration at St. Anthony of Padua Church in Atlanta's West End. Joined on the altar by six other priests and two permanent deacons, Father Norvel served as the main celebrant. Josephite Father Michael Okechukwu, pastor of St. Brigid Church, Los Angeles, was the homilist. Not only does Father Okechukwu serve in the parish Father Norvel once served as pastor, but he is also the product of the Josephite House of Spiritual Formation that Father Norvel opened in Iperu-Remo, Nigeria, for the Josephites to select and spiritually prepare Nigerian men for the priesthood from 1999 to 2005.
The Mass was followed by a luncheon at the Morehouse School of Medicine with family and close friends.
Father Norvel is the first African-American elected superior general of the Josephites.