By ERIKA ANDERSON, Special to the Bulletin
|

Published March 5, 2015

ATLANTA—Michaela Pocock started playing the violin in the fourth grade. Today, what began as a hobby has become a ministry—one that Michaela hopes will inspire other teens around the country.

The Roswell High School junior and parishioner at St. Jude the Apostle Church in Sandy Springs was looking for a way to give back.

"I feel like I was a typical teenager. I found myself acting selfish and entitled," she said. "I was focusing on what others could do for me, rather than what I could do for them."

One day, listening to music, she remembered her mom talking about how older relatives would always respond to songs from their generation.

"I just thought that I could do that," Michaela said. "I could play for older people."

"I talked about doing it for two years, and my mom finally told me that I needed to just start it."

Michaela's idea went beyond her own involvement. She created Teens Reaching Out Through Tunes, a nonprofit group of young singers and musicians who bring music to those who cannot readily access it—like patients in hospitals and nursing home residents.

Twice a month, Michaela and other TROTT members go out, most often to St. George Village, the Catholic retirement community in Roswell, or Our Lady of Perpetual Help Home, the Atlanta cancer hospice run by the Hawthorne Dominican sisters. The teens play several genres of music, including pop, jazz, classical, hymns and some traditional folk songs.

At first, it was just Michaela and a few friends playing for the patients and residents. But her eagerness inspired more to join.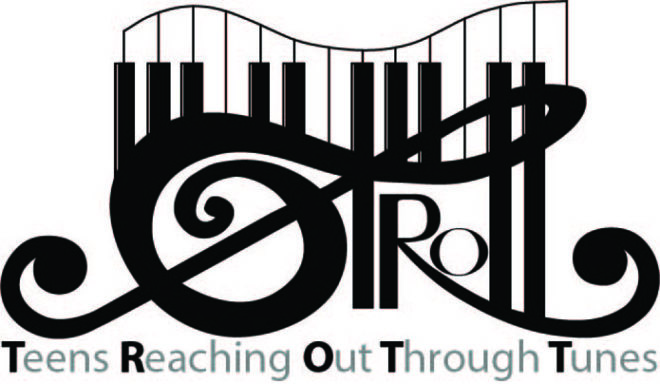 "I know people have crazy schedules and can't put in that much effort, so this is perfect. People can get involved when they have time," she said. "I started telling everyone I knew about it. I really think this helped me with my communication skills."
Michaela reached out to Catholic high schools, where students are required to complete community service hours. She created a flier and sends monthly emails to anyone who has expressed interest.
More than 30 teens are now involved from public and Catholic schools and parishes, including singers and others who play the guitar, clarinet, piano, viola, ukulele and percussion.
"You have to use talents"
When the teens arrive at St. George or Our Lady of Perpetual Help, they spend time talking to the residents and then play for them. Michaela said that her time with TROTT is something that always uplifts her.
"Just seeing the happiness that we bring to the patients—when you realize they're actually listening and how much comfort and joy it brings them, it is just so amazing," she said. "It's made me realize that you are given talents, and you have to use those talents for God."
Emma Flynn, a friend and parishioner of St. Andrew Church in Roswell, said when Michaela told her about TROTT, it immediately interested her. The 16-year-old has been playing the clarinet and Irish dancing since elementary school and often does parish service projects. But her involvement in TROTT is a special experience, she said.
"It's so fun to see them recognize a song and start clapping along," she said. "It's almost like it brings life back into them. They appreciate every little thing you do."
Emma said she tries to participate as often as possible.
"I just really like going. When I have something else going on and I can't make it, I'm really disappointed," she said.
Mary Margaret Cozart, 14, heard about the ministry through a flier at her high school, St. Pius X in Atlanta. As a guitar player and singer-songwriter, the freshman was at first drawn to the promise of service hours for doing something she loved.
"It's really become so much more than that," she said. "I feel like we're bringing happiness to them. It's such a great thing and it can only do wonders for me."
"This has become something that truly matters to me," the St. Jude parishioner said.
"I know when I listen to music and I hear songs from when I was little, it really brings back memories," she said. "If I can impact someone with my songs, who knows what it can do for them? It definitely humbles me to see them so grateful."
"Really a great feeling"
Luke Donovan, 17, a St. Ann parishioner in Marietta, has been playing the piano for more than 10 years and, like Mary Margaret, believes his experience has gone beyond the service hours he receives.
"I love being able to directly see my impact on the people in the home. When you're playing a piece, you often see different people smiling or tapping their feet to the beat," the Blessed Trinity High School junior said.
"Occasionally, you'll even get someone brave enough to sing along to a song they're familiar with," he said. "I absolutely feel like it went beyond service hours. I enjoy playing piano as it is, so getting to see that actually turned into something beneficial for someone in need is really a great feeling."
Michaela's mom, Marisa Pereira, is proud of her daughter's initiative and said serving others is important to her family.
"As far back as I can remember, even as a young girl, my family was involved in St. Vincent de Paul. Giving back to others was always part of our lives. I think it would be a travesty if I didn't encourage Michaela to use her gifts and talents to give back to others," she said. "She's done a wonderful job. She's been very dedicated. There have been times when she's had to play alone, but she always follows through with her commitment. I'm proud of her."
Michaela is excited by the growth of TROTT and dreams of more ahead.
"My goal is to grow the group and to create leaders in other cities and even other states," she said. "It's such a rewarding experience that I want more people to become a part of it."
---