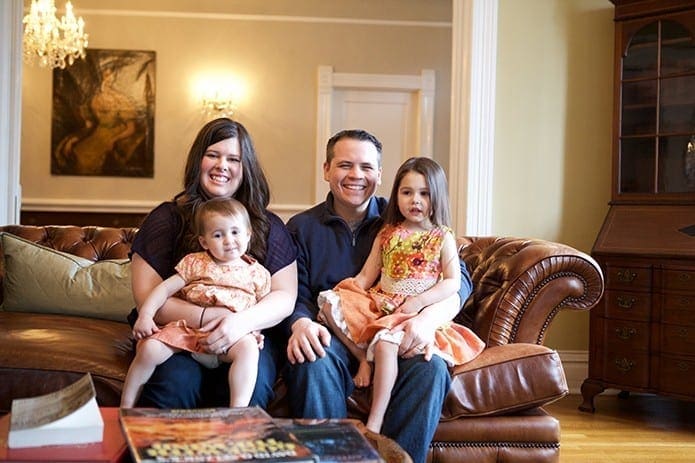 By NICHOLE GOLDEN, Staff Writer
|

Published March 20, 2015

MONROE—When Shauna Cantrell decided to participate in Christ Renews His Parish at St. Anna Church in Monroe, she had no idea how important a revitalized faith and support of new friends would become.

A year ago, Shauna and Tim Cantrell's oldest daughter, Grace, was diagnosed with restrictive cardiomyopathy, a rare heart condition. The news came March 27, 2014.

At first when 3-year-old Grace became ill, doctors suspected allergies, pneumonia or a childhood respiratory illness called parainfluenza.

Instead, doctors at Children's Healthcare of Atlanta found she had an enlarged heart. In restrictive cardiomyopathy, the walls of the lower chamber of the heart are too rigid and cannot expand as the ventricles fill with blood. On average, two cases a year are diagnosed in Georgia. A heart transplant offers the only chance for survival.

There is no genetic presence of the condition in her parents or baby sister, so it is likely a genetic mutation, Shauna Cantrell said. "It just happened."

The diagnosis marked the beginning of a 280-day wait for Grace in the hospital for a donated heart.

It was the longest wait ever endured at Children's for a "severe status" or 1A patient who has to stay in the hospital while on the transplant list.

The family celebrated birthdays, Easter, the Fourth of July, Halloween, Thanksgiving and Christmas in the hospital.

Cantrell said her "how-to" book on how to make it through a child's transplant process, would read: "You have to join St. Anna."
Volunteers sleep at hospital to give parents respite
Parishioners provided meals, offered prayers, organized fundraisers, and brought the Eucharist to the hospital.
"They have been amazing," said Shauna Cantrell about the parish community.
Having participated in Christ Renews His Parish, a spiritual renewal program offered at the parish level on weekends, also helped Cantrell during the crisis.
"It really strengthened my faith," she said.
Most days, women from St. Anna's Christ Renews His Parish were at the hospital from 10 a.m. to 2 p.m. to help the young mother care for Grace and her baby sister, Juliette. Each Monday, a volunteer spent the night with Grace so her parents could rotate evenings and be at home with the baby.
Dad Tim Cantrell continued to work full time at the Wal-Mart Distribution Center in Monroe and Shauna part-time as a radiologic technician at Children's.
Because she spent so much time at the hospital with Grace, Juliette's walking was delayed. "I felt really terrible," said Cantrell.
The parish volunteers brought in foam puzzles and other activities to keep the baby occupied and away from the medical equipment and lines.
"It was a huge deal," said Cantrell about the support. "They had a tent in the room."
St. Anna is in the process of building a new church to meet the needs of the growing parish, but its sense of community remains.
"There's a closeness in our parish we're striving to continue," said Father Dan Toof, pastor.
While the people are constructing a new church, God's grace is working in other ways, said Father Toof. "He's building the people," said the pastor.
Parishioners selected the family as recipients of the annual Jesse Tree program last December, collecting $10,000 for the family as well as assistance with utility bills.
For Father Toof, the women of the parish really come to mind in exemplifying Christ by staying with Grace each week.
"It gave the parents a break and meant the world to them," he said.
The pastor said the weekends where Christ Renews His Parish is presented allow parishioners to share their stories.
"You get to know one another and bond as members of Christ's body," he said.
Christmas Eve archbishop given 'Grace' bracelet
As days ticked by, doctors waited for a heart that would be appropriate for Grace's small size.
The nurses provided encouraging words. "I'm sure it's going to be soon," they would say. "You could see the pain on their faces," said Cantrell.
The days of waiting turned into months and Father Toof visited Grace several times at the hospital.
Shauna Cantrell said the pastor "does a good job of making you feel special."
A onetime bookworm, Grace's illness prevented visits to bookstores and libraries. She became more reliant on an iPad for entertainment during her confinement in the hospital. Grace was unable to keep food down and was nourished by a tube.
On Christmas Eve, the Cantrells went to Mass at the Cathedral of Christ the King in Atlanta, visiting with Archbishop Wilton Gregory afterwards. They gave the archbishop a bracelet with Grace's name, and asked for his prayers.
On Jan. 5, Grace celebrated her fourth birthday and the gift of a new heart. It was the first transplant of the year at Children's, where an average of 12 are performed annually.
Father Toof returned to the hospital to be with the family on the evening of the transplant.
The Cantrells are mindful that another family, although suffering with tremendous loss, decided to give a heart.
"We're extremely grateful that someone was able to think of somebody else," said Cantrell. "What they did was amazing. It changed her quality of life tremendously."
'She's bouncing around'
Grace returned to her Loganville home Jan. 16. Following a cardiac catheterization and blood work in early February, doctors noticed signs of a rare form of organ rejection, antibody-mediated rejection.
According to Shauna Cantrell, organ rejection occurs in 25 percent of patients in the first year post-transplant, and 15 percent of those in rejection have this form.
Antibody-mediated rejection is caused when antibodies treat the new organ as foreign matter in the body. Grace has already undergone two IVIG or intravenous immunoglobulin treatments for the rejection. She suffered a reaction to the first treatment in February, but fared better in the second treatment in early March.
Since her homecoming Grace has been to the library, to get a haircut, and enjoyed ice cream at a restaurant. She has returned to reading books more and playing with her sister, but doesn't talk much about her hospital experience.
Grace is taking a steroid and two anti-rejection medications, which cost $200 a month. She is good about taking her medicines and, according to her mother, "it's really nice" being home.
Supporters in the community established a medical fund for the Cantrell family, as insurance does not cover all costs of surgeries, prescriptions or future procedures.
Grace will need regular lab work, heart biopsies to check for rejection, as well as frequent visits to specialists.
Out-of-pocket expenses could exceed $100,000 for the family.
The transplant team predicted that Grace's new heart would last 15 years, at which time a second transplant would be needed.
Grace now looks the picture of health. "She's bouncing around," her mother said. "She's so resilient."
Father Toof said the Cantrells have provided a "wonderful witness" to the Holy Spirit and the presence of God. He said their immediate prayers were with the donor family upon receiving word of a new heart.
"Timothy and Shauna are remarkable people," said the priest.
---