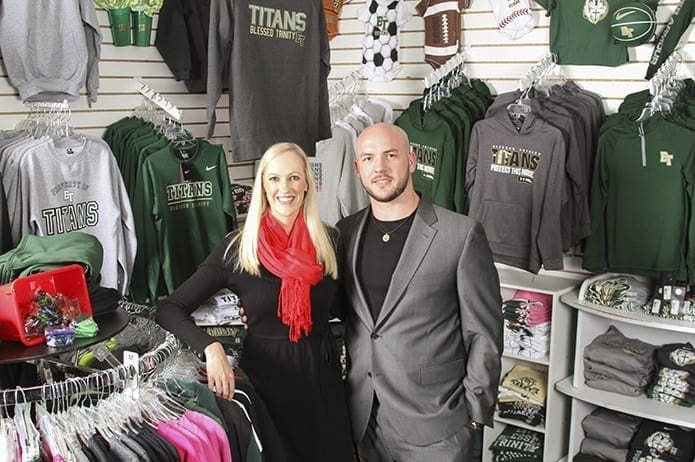 By MICHAEL ALEXANDER, Staff Photographer
|

Published March 5, 2015

ROSWELL—Brooke Alexander Nooney and Tyler Flowers, 2004 graduates of Blessed Trinity High School, Roswell, were inducted into the school's new Athletic Hall of Fame at the end of January. Alexander helped lead the girls golf team to two state championships and the volleyball team to a state Final Four. Today she is responsible for field marketing events and promotions for Golfsmith, a golf specialty retailer. Flowers played fullback and linebacker on the football team, and in baseball was a catcher, infielder and pitcher. He is currently starting catcher for the Chicago White Sox.

Here are their interviews.

Georgia Bulletin: Brooke, who introduced you to golf and do you remember when and where your first golf outing occurred?

Brooke Alexander: My dad, Dean Alexander, has been a golf pro for almost 40 years. He got me started at a very young age. I believe I played in my first golf tournament at 8 or 9 years old.

GB: What is your fondest memory at Blessed Trinity as a member of the golf and/or volleyball team?

BA: Winning the golf state championship in 2003. It was BT's first state championship in any sport, so it was a very exciting thing not only for the girls golf team, but the whole school.

GB: Is there something you learned as a student athlete at Blessed Trinity that you carried forward and draw upon in your life and career today?

BA: I learned a lot about leadership and teamwork. I was the captain of the varsity volleyball team and the vocal leader on the golf team. I was always encouraging my teammates to play their best and to work hard at practices and during our games/matches. I couldn't have achieved anything on my own, so I was thankful to have great teammates that gave it their all and worked hard everyday.

GB: Tyler, you were an exceptional two-sport athlete. How did you arrive at the decision to choose baseball over football?

Tyler Flowers: Making the decision on baseball over football wasn't very complex. In reality I believe I lacked the speed needed to be a possible professional football player. Then combine that with professional baseball scouts coming out to watch games my last couple of years, and that pretty much solidified my decision. Also, looking at the health aspects and risks within each game, I'd say it's a safe bet that there are less ways to get injured or at least seriously injured in baseball, which allows a much better opportunity for longevity.

GB: What baseball play or game during high school is most memorable for you and why?

TF: The last game I played in high school stands out to me the most. We were playing Wesleyan in the baseball playoffs and we went to a third game. All three games were especially competitive and close scoring games. We ended up losing the game, but what really stands out in my mind is the time spent after the game with my teammates and coaches. While that time was mostly sad and disappointing, as I look back on that moment, it was one of the more enjoyable times of my high school experience. Teammates were just talking with one another and reminiscing about the good times throughout our high school careers and that season. It was a sad moment, but a moment that often comes to my mind and one I look back on fondly.

GB: Which game were you introduced to first, baseball or football?

TF: I started playing football and baseball when I was 5 years old. I had a few close friends that I played baseball and football with growing up, all very athletic and good players in both sports. So, we had a lot of fun and grew accustomed to winning.

GB: Brooke, now that you're married and have a career, do you still have an opportunity to play golf? If so, is it strictly for fun or do the competitive juices still flow through your veins?

BA: I haven't played competitive golf since I was 18; however, I introduced my husband to the game about four years ago, and he's hooked. We play almost every weekend. We definitely compete with each other, but he has yet to beat me in an 18-hole round. I also play in three or four charity scramble outings each year with a family friend. He recruits me to play with him because I can tee off from the ladies tee, which gives us a huge advantage. We've won several times.

GB: If you could play on any golf course around the world which one would it be and why?

BA: Definitely Augusta National. I was born in Augusta and have attended the Masters several times. It's such a beautiful, iconic golf course with such rich history and tradition.

GB: Tyler, was there a professional player or any other person that served as an inspiration to you when you were playing at Blessed Trinity?

TF: There were players I looked up to throughout my childhood and into college. In baseball it was Chipper Jones. I also had lunch with Chipper when I was in fourth grade, so when I went to spring training with the Braves and told him about that lunch, all of a sudden we had a unique relationship. In football it was Mike Alstott. He was such a hard-nosed guy that played the game the right way throughout his career.

GB: If you could win any Major League Baseball award at the end of the season, which one would it be and why?

TF: I would have to say World Series MVP. If that were to happen then my team would have won the World Series and that would be something special!