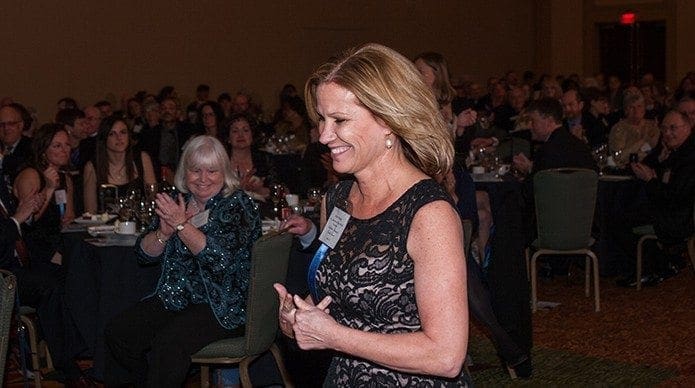 Published February 5, 2015
ATLANTA—National Catholic Schools Week, the annual celebration of Catholic education in the U.S., ended Jan. 31, a day on which employees of Catholic schools in the Atlanta area gathered for their annual banquet and recognition event with Archbishop Wilton D. Gregory.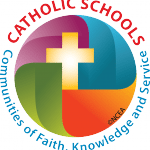 The national theme for this year's observance was "Catholic Schools: Communities of Faith, Knowledge and Service."
The eighth annual Archbishop's Banquet for Catholic Education for those who work in the Catholic schools of the Archdiocese of Atlanta, was held at the Renaissance Atlanta Waverly Hotel. Over 300 attended the event.
Each year this Atlanta event includes a celebration of those who work at 18 archdiocesan schools and six independent Catholic schools, including directors, teachers, custodians, principals, administrative assistants, coaches, and all who strive to offer the value that Catholic education provides to young people and the Catholic community.
At the banquet, an outstanding employee from each of the Catholic schools is honored, chosen by the staff and faculty at their school. In addition, a principal of the year and preschool director of the year are announced, also chosen by their peers.
Principal, preschool director of the year
The principal of the year is Lauren Schell of Holy Redeemer School, Johns Creek; the preschool director of the year is Karen Pickens, director of the St. Catherine of Siena Church Preschool in Kennesaw.
Schell, in her fifth year as principal, was a founding teacher at Holy Redeemer when the school opened in 1999 and then became its religious education coordinator until named principal. She has served on the steering committee for AdvancED district-wide accreditation of Catholic schools in the archdiocese and on the planning committee for the archdiocesan pastoral plan in 2014.
Pickens has been preschool director for 19 years at St. Catherine of Siena and was recognized for innovative programs that meet the needs of parish families, whether expanding to serve new age groups, or building an outdoor classroom and new playgrounds with Mary's Garden.
A summary of all of the educators and staff honored this year follows, along with profiles of four of these outstanding honorees.
2015 Catholic school honorees
Blessed Trinity High School, Roswell: Amy Muller, calculus teacher, whose love of math led her from a career in engineering to teaching, where she helps students excel and devotes extra time before and after school to make them successful.
Christ the King School, Atlanta: Chris Brown, the facilities manager for the past 14 years, whose patience absorbs all challenges that come his way.
Holy Redeemer School, Johns Creek: Jan Hartzell, founding faculty member 15 years ago, second-grade teacher and the faculty representative on the Home and School Board with 32 years of teaching in Catholic schools.
Holy Spirit Preparatory School, Atlanta: Michael Verlander, theology department chair and classroom teacher, on the staff for 11 years, who also leads the annual senior class trip to Rome, Italy.
Immaculate Heart of Mary School, Atlanta: Beverly Moody, second-grade teacher for 29 years, whose example has inspired her students to become teachers themselves.
Marist School, Atlanta: Patricia Glidewell, academic dean and dean of faculty, who has devoted her 36-year career to the school, serving in many roles, most recently assisting faculty and guiding and advising students and parents.
Monsignor Donovan High School, Athens: Nathan Edwards, department head of theology and spirituality, service and retreat coordinator, and soccer coach.
Notre Dame Academy, Duluth: Mandy Crock, second-grade teacher for the last seven years, who welcomes the privilege of helping students prepare for their first Communion and first reconciliation.
Our Lady of Mercy High School, Fayetteville: Lorian Wright, Spanish teacher, and volunteer moderator of student government and the house system at OLM, who is in her 13th year at the school.
Our Lady of the Assumption School, Atlanta: Kelly Senay, a 20-year teacher at the school, who has taught fourth grade, middle school math and K-5 technology and is recognized for helping middle school students grapple with questions of faith.
Our Lady of Victory School, Tyrone: Doug Crane, middle division social studies teacher, student council coordinator, and girls basketball coach, on the staff for the past 10 years.
Pinecrest Academy, Cumming: Debbie Terry, middle school math teacher for 11 years, whose drive to show children math is part of everyday life has led her to begin a popular math club and spearhead school involvement in math competitions.
Queen of Angels School, Roswell: Regina Rapier-Chismar, middle school social studies teacher since the school opened 15 years ago, chosen for her modeling of the Catholic faith.
St. Catherine of Siena Church, Kennesaw: Vinita John, media specialist for the last nine years at SCS and literacy volunteer tutor and literacy program coordinator in the community.
St. John the Evangelist School, Hapeville: Angela Bush, art teacher, in her 11th year at the school, who has brought students' art into Hapeville civic, park and business environments.
St. John Neumann Regional School, Lilburn: Karen McConnell, academic resource teacher for 19 years who devotes herself to helping students with unique learning needs.
St. Joseph School, Athens: Robin Kelly, kindergarten teacher for the past 17 years, a mentor for new teachers and a support to school parents.
St. Joseph School, Marietta: Mistie Jean, second-grade teacher, who also has helped students create products and market them in an annual event for the benefit of children with cancer and their families.
St. Jude the Apostle School, Atlanta: Chris Adamczyk, science and religion teacher, whose varied teaching styles have helped students embrace science and faith.
St. Mary's School, Rome: Kelly Armstrong, middle school math teacher, on the staff for the past 17 years, whose teaching of math has helped graduates excel in high school and beyond.
St. Peter Claver Regional School, Decatur: Caitlin Neal, who brings to the school her own love of Catholic education and makes each student her highest priority.
St. Pius X High School, Atlanta: Kyle Johnson, director of information technology since 2002, a St. Pius alumnus who has brought 100 percent of the students into the "Bring Your Own Device Program."
St. Thomas More School, Decatur: Kathy Merritt, faculty member since 1981 at the school, who has taught every grade level, loves kindergarten teaching, and began the "No Place for Hate" program at the school.
Sophia Academy, Atlanta: Christy Wallace, who embraces the challenge of teaching religion and has helped the school achieve designation as an independent Catholic school.