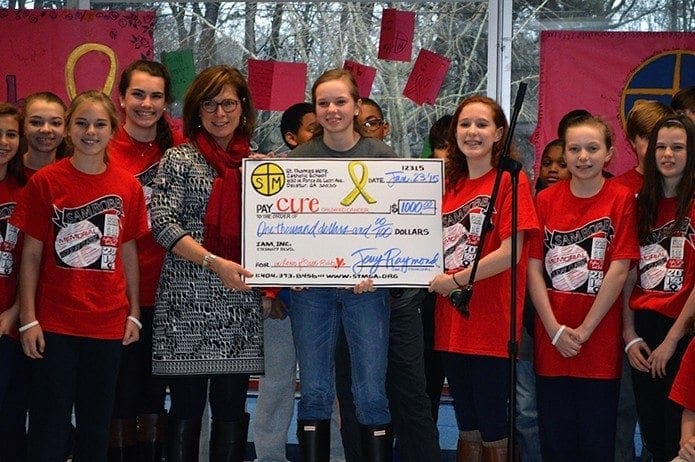 Published February 19, 2015
DECATUR—For the past five years, the St. Thomas More girls basketball team has participated in the Sam Robb Memorial Holiday Classic tournament.
The tournament benefits the Sam Robb Fund of CURE Childhood Cancer and funds a pediatric research fellowship at the Aflac Cancer and Blood Disorders Center of Children's Healthcare of Atlanta and Emory University.
The girls at the archdiocesan elementary school wanted to do more, so for the past few years, they organized a holiday cookie swap, raising several hundred dollars. It wasn't enough. Eighth-grade girls approached their principal, Jerry Raymond, and asked to host an out-of-uniform day to benefit CURE.
On Friday, Jan. 23, the students gathered—out of uniform—in the St. Thomas More cafeteria to hear Annamarie Robb speak about her late son, Sam, and about how the money raised supports CURE's pediatric cancer research and funds a research fellow who is about the same age Sam would be if he had survived.
The eighth-grade girls from the basketball team surprised Mrs. Robb with signs, personal notes, and a check for $1,000, which has since grown to $1,231 to support the Sam Robb Fund at CURE.