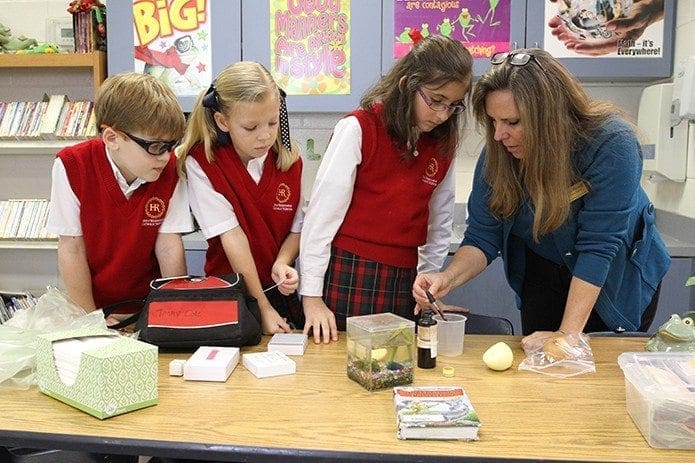 By NICHOLE GOLDEN, Staff Writer
|

Published January 22, 2015

ATLANTA—If you're the parent of a school-aged child, you are likely familiar with the acronym STEM—curricula that focus on science, technology, engineering and math.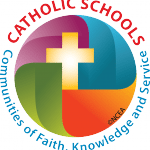 In the Archdiocese of Atlanta, there's a new initiative driving the revision of science standards and instructional practices in the classrooms of elementary Catholic schools.
"We call this STREAM," said Rebecca Hammel, associate superintendent of schools for the archdiocese.
STREAM incorporates religion and the arts into the emphasis on science, math and technology, helping link the Catholic faith to the discussion of other subject materials.
"We have a cycle of curriculum review," explained Hammel about the timing of the new initiative.
By the end of the 2014-15 school year, all of the kindergarten through eighth-grade schools will be on board with the new standards, said Hammel. There are 15 archdiocesan elementary schools.
Teachers and administrators are part of the curriculum review and revision process and help drive the decisions.
The curriculum will be rooted in the Next Generation Science Standards, a joint project of the National Research Council, the National Science Teachers Association, the American Association for Advancement of Science and the organization, Achieve.
The standards are based on work completed by the National Research Council and presented in "A Framework for K-12 Science."
Hammel said that the new science standards for schools in the archdiocese will meet national and state standards but will also be enriched further with a strong Catholic identity.
"We're talking about the blending of objectives," said Hammel.
For instance, if third-grade students are learning about life cycles, then the lesson can be tied to creation or that God made all things. If another class is learning about evolutions of cultures, this section can also be linked to religion and belief.
The teachings and beliefs of the church are at the core of a quality Catholic education, and the new science standards will be in line with the teachings.
"That's our distinguishing factor. We're so committed to religion as our first priority," said Hammel.
More experiments, hands-on projects
The Next Generation Science Standards have several dimensions, including "practices" or the carrying out of investigations, analyzing and interpreting data and communicating the findings. Students learn the relevance of engineering in everyday life. Another dimension is "crosscutting concepts" or learning about ideas that span all fields of science and engineering, such as patterns, cause and effect, or scale and proportion.
There are 26 states currently implementing the Next Generation Science Standards, including Georgia.
"It's better. It's more engaging," said Hammel about the standards' revision.
The instruction will move from being more teacher-led to more inquiry-based. Students will not be primarily listening or defining. The shift is from low-level to high-level thinking.
Studies have shown that when children drive the lesson with natural curiosity and questions, they will outperform those taught with traditional methods.
"Students understand the concepts because their hands were in the dirt," said Hammel.
In this form of teaching, the meaning of the lesson comes from the students experiencing it firsthand through experiments and trials.
"How do we engage our children in learning?" is the central question, said Hammel.
Developing prototypes, dissecting
At St. John the Evangelist School in Hapeville, STREAM is up and running. Principal Karen Vogtner gave an example.
"The fifth grade made solar ovens," said Vogtner. "They used shoe boxes. They had to pick different materials to use."
The students had been studying insulation and some selected foil as a material, while other selected felt. Lamps were used as a heat source to provide a constant temperature above the ovens.
Vogtner explained that what she loves about the engineering concepts is that they are always about developing better prototypes, and there is always more to learn.
"You're never really done," she said.
After trying their first designs, the students will look around to see which box ovens had higher temperatures, what worked and what didn't. Prototype one is improved to develop prototype two, and so on.
"It's a long-term project. There's a lot of learning that takes place," said Vogtner.
And how does a solar oven project promote a discussion of faith?
"It's so easy to talk about being good stewards. God created us, but he wants us to be good stewards of the resources he gives us," said the principal.
By using recyclable materials and discussing energy sources, the students learn about ways to be good stewards.
For a math lesson, Vogtner heard about a teacher developing a lesson on surface area based on how large the table for the Last Supper would have been to accommodate 12 apostles.
ACE, the Alliance for Catholic Education, hosted a STEM summer camp at St. John the Evangelist in 2014. Rising seventh- through ninth-grade students dissected fetal pigs. Naturally, this promoted a discussion about human life at its earliest stages.
"Imagine what life looks like in the womb," said Vogtner.
Parents at the school are kept informed about STREAM through newsletters and regular stakeholders' meetings.
There are, however, challenges for teachers, including finding available resources to plan and develop activities.
"There's not a lot out there," said Hammel.
Teachers have been participating in webinars and even visiting Pinterest for Teachers and the online resource, Teachers Pay Teachers, to explore creative ideas.
"They're using social media," said Hammel. "Mostly our teachers are relying on each other."
This revision of standards also means that students will be acquiring knowledge needed for success in a changing world.
"It's also incorporating 21st-century skills," said Hammel.
These skills, as defined by the nation's educational and business leaders, include technical literacy, problem solving, scientific literacy, communication through a variety of means, and collaborating with diverse populations.
"Schools are rolling this out to parents as they feel ready," said Hammel. "This is definitely the direction of the archdiocese."