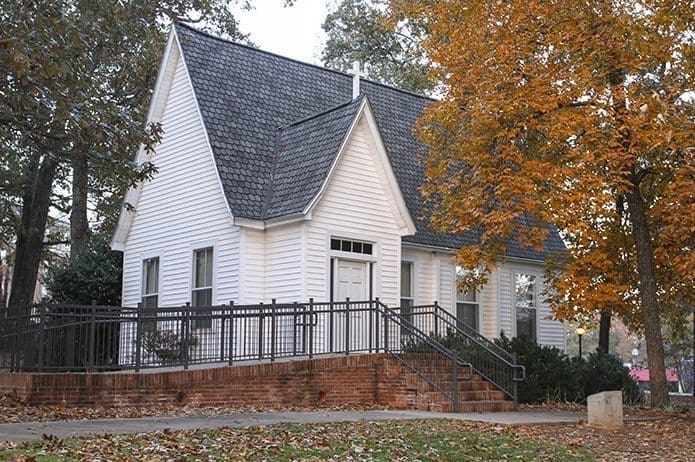 By ANDREW NELSON, Staff Writer
|

Published December 11, 2014

CARROLLTON— College students, some carrying backpacks and others in shorts, left their dorm rooms on the University of West Georgia campus as the temperature hovered in the low 30s. They filed into the white frame chapel with an exposed beam ceiling and took up half of the wooden pews of the John F. Kennedy Chapel.

This weekly Monday night Mass is the center of faith life for the two-dozen students who regularly attend services.

Living the faith here is a different experience than in their home parishes. It's a face-to-face Catholic community, where students share intimacies and know each other more than as a stranger in a pew. Students organize Bible studies and guest speakers, along with team building activities and shared meals, to foster their faith.

There's hope a new Catholic center may open with surroundings away from dorms and classrooms where students on this campus of 11,000 can unwind.

Senior Mitsy Levy said the university Catholic community changed her.

"It has changed the way I worship and led me to be more committed to my faith, and not being ashamed of who I am. Even though I am in such a small community, I wouldn't change being Catholic for any reason," said the 23-year-old sociology major. She attends St. Pius X Church when she is at home in Conyers. "If anything it has made my faith in God stronger."

This small building was memorialized as the JFK Chapel after the president's assassination in November 1963. Students voted to rename it in his honor. Robert F. Kennedy, brother of the slain leader, accepted an invitation to the 1964 memorial event, recalled Father Richard Morrow, who was the spiritual leader of the Carrollton parish at the time. The chapel building, which dates to 1893, was moved to the campus that year, donated by Our Lady of Perpetual Help.
Ku Klux Klan picketed in 1964
Father Morrow returned this November to concelebrate a Mass with Father Rafael Carballo, who now serves the college Catholics, to mark the 50th anniversary of the naming ceremony. "It seems strange to be back up here," Father Morrow said to the congregation, students and parishioners of Our Lady of Perpetual Help Church, who support the ministry to Catholic college students.
Father Morrow recalled how Robert Kennedy spoke off the cuff at the ceremony, talking about the Catholic beginnings in Georgia. Sign-waving Ku Klux Klan members walked a picket line nearby.
"He, as attorney general, was very much pushing integration, plus they didn't like Catholics either," Father Morrow recalled. "He wasn't fazed at all about their being there. He was as calm as could be."
Father Morrow also attended a reception afterward. He came away impressed by Ethel Kennedy's grasp of Latin, in addition to seeing how devoted the family was to their Catholic faith. They wanted to attend Mass, but their travel schedule interfered, he said.
Father Morrow told the students faith is hard, but comes with rewards. He said the chapel on the edge of campus can serve as a beacon to students.
"This is a place of sanctuary. This is a place of refuge," he said.
After Mass, students made their way to the campus center used by Methodist students, which hosted them for a Thanksgiving meal. That's nothing extraordinary here. The JFK Chapel's existence was born out of Christians putting aside their differences. The building first served as an Episcopal church beginning in 1893 and then as the first home of Our Lady of Perpetual Help in 1953. A plaque that year from the Catholic Extension Society, which gave financial aid to Catholic missions, asks visitors to "pray for the souls of Matthew & Catherine O'Donnell and family."
Father Morrow said once the new parish campus was built nine miles outside Carrollton in 1962, maintaining the old chapel was a drain on the budget. A collaboration between the Catholic priest and his friend, a Baptist preacher, convinced university leaders to accept the chapel, move it on campus, and pay for its upkeep. The building today is an interfaith chapel serving different groups on campus. Mass is celebrated there on Mondays by Father Carballo, who makes himself available for students' needs while he covers the spiritual needs of his parish and two surrounding counties. The ministry is known as West Georgia Catholic Life.
Father Carballo said, "Many of our students are very faithful Catholics trying to live and develop their faith in a new environment, away from their homes and in a mixed faith population."
'We need a Catholic student center'
A Catholic center for students is a dream project. Some feel a place of their own would help to anchor the community. There are an estimated 900 to 1,000 Catholic students on the campus.
Caitlin Teknipp, 18, is a first-year student studying sports management. She's from McDonough and her home parish is St. James the Apostle. She'd like to see a place for Catholics to come together.
Said Teknipp, "Right now all we have is Monday night Mass. I would love for us to be able to have a place to hang out and plan activities to get more people involved in Catholic life here on campus."
Edwin Espino, 21, a junior studying history, said a permanent chaplain would help students grow in their faith. He is from Jonesboro and attends San Felipe de Jesus Mission in Forest Park.
"I think we are really missing a place to call our own," said Espino. "Out here you have your Baptist Center, Methodist Fish House, and the Christian Campus Fellowship center, but you don't have a place to really rally and draw in the Catholic student base."
He said Father Carballo is "awesome," but a chaplain to serve college students "would be a great sign of commitment from the Catholic community that shows they are here to tend to their flock."
Father Carballo shares the goal.
"We need a Catholic student center where the students could gather, study, meet, eat, relax, and find spiritual comfort in the support of their Catholic faith and peers. For 50 years, we have had the chapel, and we are all very grateful for that," he said. "But we need a student center since the chapel is not the appropriate place to hang out, outside of liturgical events."
Talks are ongoing with Catholic Construction Services in a review of this project, he said.
The small community has made the young adults consider their faith and whether to stay engaged in their church.
Theresa Daugherty, 18, found friends of similar morals and broadened her circle of friends beyond other first-year students. Daugherty studies math with a concentration in education. Her home is Peachtree City where she attends Holy Trinity Church.
After nearly a semester, Daugherty said her choosing to go to Mass weekly, "regardless of how much homework I have, makes me realize how much I value being a Catholic."
Brittany Ricciardi, 18, is juggling classes for a pre-nursing degree. She also grew up in Peachtree City and attended Holy Trinity Church.
A small community has challenges but has made her stronger, said Ricciardi.
"Being an involved and faithful Catholic in college is extremely difficult, but with UWG's Catholic Life I am able to step back, take a breath, and build myself up again."