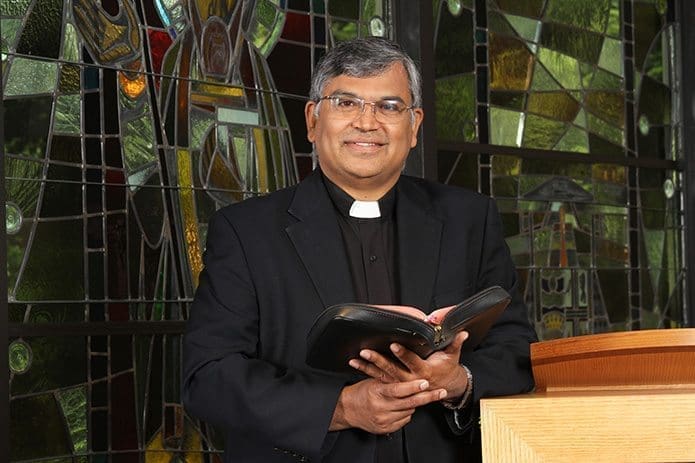 By NICHOLE GOLDEN, Staff Writer
|

Published December 23, 2014

KARNATAKA, India—Father Balappa Selvaraj, former chief advocate in the Metropolitan Tribunal of the Atlanta Archdiocese, returned to his native India in June for a period of five years. With the permission of Archbishop Wilton D. Gregory and at the request of Bishop T. Anthony Swamy of the Chikmagalur Diocese in south India, Father Selvaraj is establishing The Little Way Messengers religious congregation there.

The Georgia Bulletin wrote about the new project in June.

Father Selvaraj will return to Atlanta from February to May 2015. He will be available for pastoral work and is also "more than happy" to speak about the seminary project at parishes or to ministry groups.

Calling from India in mid-December, Father Selvaraj said that workers have completed two classrooms, a kitchen, dining room, chapel, dormitory and bathrooms at the seminary. The administration building is also finished.

"We are completing everything by next month," he said.

Two students are on the waiting list to enroll as seminarians. First-year seminarians will experience a year of discernment, learn English, spirituality, the Catechism of the Catholic Church, and have biblical studies.

Father Selvaraj is grateful to all of the Georgia benefactors of the project. He is also using his own savings. Every single cent is appreciated. "No matter what it is," he said. "We are making use of it."

The congregation is envisioned to form missionary priests who will go wherever needed, including serving in the archdiocese. Donations to support the seminary are now tax-deductible as the congregation recently received its nonprofit designation.

Father Selvaraj continues to offer prayers and Masses for those supporting the formation of priests.

The priest's family has been helping with the project, as have the would-be seminarians. Another priest from India will be helping with educating the future priests.

To learn more about the seminary, visit www.littlewaymessengers.org or email balappaselvaraj@gmail.com. Little Way Messengers has a local advisory board. Donations may also be sent to Little Way Messengers, 885 Woodstock Road, Suite 430-240, Roswell, GA 30075-2274.

St. Therese of the Little Flower, known for "doing little things with great love," is the patron saint of the community.

To see the original article, visit: http://bit.ly/gb-FrSelvarajupdate.